Found March 15, 2012 on Grits Blitz:
Eric "Special" Weems is taking his talents to Soldier Field With the departure of Eric Weems via free agency the Falcons lost a very good playmaker. No matter the NFL's kickoff rules it is vital to have a big-time playmaking threat returning kicks and Weems provided that. That said, the Falcons, as you more than likely know, are right up against the NFL salary cap and don't have much room to do anything big. Weems replacement won't come from far or wide, or from a big name not currently on the roster. The Falcons' best option is to replace Weems with a player currently under contract and use Weems' roster spot to try and fill depth at another position, which will be difficult in reference to quality depth without a series of roster moves cutting salary (editor note: Sam Baker says hello). Nonetheless, options are limited to some degree but certainly not bleak. Following is a list of potential replacements for Weems. Three are currently under contract with Atlanta and the fourth could be a good fit as both a kick-returner and fourth receiver.
Harry Douglas-
Now that the team has Douglas locked up he is one of the best options to return kicks for the Falcons. Before his knee injury in 2009 Douglas showed legitimate playmaking ability, flashed of which returned last season with 2011 being his second year removed from the surgery. Now three years removed from the injury there shouldn't be much concern in having Douglas in a high-impact role.
Julio Jones-
I know, I know, everybody is screaming at me right this moment that there is no way the Falcons should put their prized possession in such a high-impact position. Well, I'd argue that his value is a big reason that they should. Jones has proven to be one of the best playmakers in football already (and still is not finished maturing into a pro). The Falcons are already facing a season where game-breaking plays could be at a minimum. It only makes sense to put your single best weapon in position to make plays.
Jacquizz Rodgers-
In Rodgers the Falcons have yet another speed guy who's role must increase in order for point production to be average, let alone rise. While Rodgers first season didn't offer anything noteworthy by way of stats (not his fault), he has proven for years his ability to maximize every ounce of his 5'6" sub-200 pound body. He is no doubt an open field threat to go the distance, but he is also quite compact and strong for a smaller player which will allow him to shed & bounce, a primary function in returning kicks.
Ted Ginn, Jr-
While I'm not in favor of the Falcons adding skill players in light of the major deficiencies at other positions they may choose to do so in order to save their front-line running backs and wide receivers from having to be returners. Ginn has been one the better returners in the NFL during his career and just came off being a big part of the San Fransisco 49er's run to the NFC Championship Game. Ginn is a quality player overall who could provide the Falcons athletic flexibility overall in addition to being a very good return man.   Joe McCollum is a contributor to the Grits Blitz Blog. Follow him on Twitter @Joe_Mac_ and read his college football writing at ChuckOliver.Net. [follow]
Original Story:
http://gritsblitz.com/2012-articles/m...
THE BACKYARD
BEST OF MAXIM
RELATED ARTICLES
The Chicago Bears have agreed to a three-year contract with special teams star Eric Weems. Weems spent his first five seasons with Atlanta and was the NFC's special-teams selection for the Pro Bowl in 2010. Signing Weems could help ease the loss of Pro Bowl gunner Corey Graham if he does not re-sign and it adds depth to the return game, with Devin Hester hobbled at times by...
ATLANTA- In a marriage that was meant to stay together, the Atlanta Falcons and their defensive leader/DE John Abraham have decided not to break up after all. The Falcons announced today on their website that the deal is a three year deal. As all reports indicated, the team did let the man that the fans call "The Predator" dip his toes in the free agency waters. The defensive...
Hot News for WR Eric Weems
The most viable MLB in the 2012 free agency class is headed to Philadelphia. Players View does not have an official statement yet but Gerald McCoy of the Bucaneers who targeted Lofton just tweeted "Sorry #bucnation I tried but it looks like @CurtisLofton50 is an Eagle.Business is business he did what was best for him. Understandable." Please click the link to read the rest of this story.
Defensive end John Abraham has agreed to a three-year deal to remain with the Falcons, according to Adam Schefter of ESPN. Financial terms were not disclosed. Fantasy Spin: Abraham may be 33, but collected 9.5 sacks in 2011, and was regarded as the best pass rusher available in free agency prior to re-signing with Atlanta today. Tennessee was among the teams trying to reel him in.
Either way, Falcons cornerback Brent Grimes is set to hit the jackpot. The former undrafted free agent, who was discovered by former Falcons coach Bruce Plummer out of tiny Shippensburg University, was slapped with the team's franchise tag. He could walk into the office at the start of free agency, sign the tender and be in line for 10.281 million big ones. However, because...
  Atlanta made a big splash with Turner in Free Agency in 2008 In the weeks leading up to free agency, Falcons fans (including us) worked ourselves into a bit of a frenzy full of expectations as we awaited March 13th like kids on Christmas Eve. What presents would we unwrap on our free agent holiday? Would Thomas Dimitroff and Arthur Blank give us the ultimate present of a fierce...
In Dimitroff We Trust? Matt Smith and Bucky Brooks of the NFL Draft Tracker Podcast on NFL.com had Falcons GM Thomas Dimitroff on to talk about free agency. TD said that he was interested to see how the free agent market panned out and that it has turned out (so far) as he expected. He said that because they do not have a first or fourth round picks it means that free agency will...
Hot News for WR Eric Weems
Bears GM Phil Emery talked about recent free-agent acquisition Eric Weems and how he will impact the role of the team's current kick and punt returner, Devin Hester.
In a bit of a head scratching move the Bears signed Pro Bowl return man Eric Weems from the Atlanta Falcons.  The Bears already have Devin Hester in place, the best return man in the history of the NFL so the move is a bit surprising. Speculation has already gone in a number of different directions, are the Bears now putting Hester and his bigger salary cap number on the trade...
NFL News

Delivered to your inbox

You'll also receive Yardbarker's daily Top 10, featuring the best sports stories from around the web. Customize your newsletter to get articles on your favorite sports and teams. And the best part? It's free!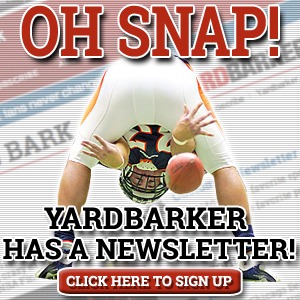 Latest Rumors
Best of Yardbarker

Today's Best Stuff

For Bloggers

Join the Yardbarker Network for more promotion, traffic, and money.

Company Info

Help

What is Yardbarker?

Yardbarker is the largest network of sports blogs and pro athlete blogs on the web. This site is the hub of the Yardbarker Network, where our editors and algorithms curate the best sports content from our network and beyond.