Found May 16, 2012 on The I in Team:
The College Football Hall of Fame announced their inductees yesterday. A whopping 17 individuals were added to the ranks of the best the NCAA has boasted. After casually reading the headline, I immediately assumed Orlando Pace and Tommie Frazier were amongst those 17. After clicking through, I quickly became confused, then a little bit angry, and finally dismissive. Let me take you through those three steps real quick. Confused The first handful of articles I read were in essence puff pieces on Jimmy Johnson. He was one of the individuals elected (rightfully so) yesterday. The pieces focused more on the possibility of him coaching again. Under normal circumstances, focusing on the remote chance that he would coach again (Joe Gibbs aside, he's been out of the league for 13 freakin' years), would strike me as odd. It's even stranger still when there are 16 others that deserve a mention at some point even if you gloss overs that didn't make the cut. So to begin with I was confused why Johnson was devoted so much column space for such an insignificant reason, and I was also confused by thinking that while skimming I had simply missed the words "Pace" and "Frazier" in the article. Anger So after not finding Pace and Frazier upon my initial skimming, I decided to take matters into my own hands. I pulled a Ctrl+F and nada. Nary a mention of the two, meaning they inexplicably were not voted into the Hall of Fame. For those of you who may not have seen them in college or have only slight memories, let me refresh you: Pace was an absolute terror in college. He was a big man on campus the first day he arrived. He became the 2nd ever true freshman to start at Ohio State University (nope, not putting in the "the"). He went on to become a two-time consensus 1st team All-American. He won the Outland Trophy (best interior lineman, either offense or defense) and twice won the Lombardi trophy (best lineman or linebacker). He's the only person to ever win the Lombardi. He even finished freakin' 4th in the Heisman…as an offensive lineman. There's constant griping that only the skill position players (and even then, QB's and RB's) get serious consideration for the Stiff Arm Trophy and yet Pace finished in 4th playing the least glamorous position of all. Hell, they practically invented the term pancake block for him while he was at OSU (I'm having trouble sourcing this, but I've heard it many times). I could really go on an on about Pace, but I'll close with two more thoughts. In his last two, All American seasons, he didn't allow a single sack. As far as Frazier is concerned, well, there's this: Plus, you know, leading his team to back-to-back titles (hadn't happened since the 50′s). MVP of both championship bowl games. Runner up for the Heisman. Names SI's back up quarterback on its All-Century College Football team. As well as a plethora of highlights like this: Dismission I'll be honest, I'm not as familiar with the College Football Hall of Fame as I am with the various pro Hall of Fames, so I momentarily cut the Hall some slack. Perhaps they are rather rigorous when it comes to electing individuals to the Hall. Well, upon closer inspection, there are over 233 offensive linemen in the College Hall of Fame (granted some played multiple position). That means on average, since 1951 when it was established, the HOF has elected 3.8 O-linemen per year to the Hall of Fame. Some how Orlando Pace doesn't warrant selection. There are 128 QB's in the Hall, or just over 2 elected per year and Tommie Frazier isn't one of them. That means the College Football Hall of Fame is a joke and to be honest isn't even worth the effort I just put into this article. Hopefully, things are set right next year, but either way, I wash my hands of this group from here on out.
Original Story:
http://theiinteamblog.com/2012/05/16/...
THE BACKYARD
BEST OF MAXIM
RELATED ARTICLES
Chicago Bears franchise quarterback, Jay Cutler, is literally all thumbs when it comes to leading his significantly upgraded offense in 2012.  Cutler had season ending surgery after injuring his right thumb in Week 11 last year but says it is all better and is ready to return. According to NFL.com Cutler had this to say
Getty Images According to Michael C. Wright of ESPNChicago.com, the Bears plan on moving guard Chris Williams over to tackle this season. Bears offensive coordinator Mike Tice just said last week that if they felt like tackle was a position of need they would have addressed it during the draft. "I think (general manager) Phil (Emery) and (head coach) Lovie (Smith) — with the...
Chicago Bears second-round pick, wide receiver Alshon Jeffery, was impressive at rookie minicamp last weekend. Here are some highlights from the final day of practice.
The lawyer for Brandon Marshall says no charges will be brought against the Chicago Bears wide receiver for an altercation outside a nightclub in March. Harvey Steinberg says Marshall won't be charged after a woman filed a complaint that he punched her in the face outside Manhattan's Marquee club. Steinberg says: ''We maintained all along he is a victim and there...
Dave Teggart kicking against Westboro in 2006 Perhaps I'm more enamored by this story because I played football for a year with him, but former Algonquin Regional High School and University of Connecticut kicker Dave Teggart is going to get a shot at the NFL. Quick back-story: You know you're awful as a football school when it is a huge deal that your kicker is going to go Division...
DODGED A BULLET
According to the attorney of Brandon Marshall, the Bears wide receiver will not be charged in connection with an incident that occurred at a New York nightclub in March.
Getty Images Chicago Bears quarterback Jay Cutler completely understands why running back Matt Forte hasn't shown up for offseason workouts. Cutler's optimistic that at the end of the day, Forte will be on the field for their first game of the season. "Last time I saw him, he said he was lonely. I get it," Cutler said. "Everyone was gone last year, with the lockout, and...
The Bears today signed third-round draft pick Brandon Hardin, who is transitioning from cornerback to safety this season. All six of Chicago's 2012 selections are now under contract.
Since being drafted 14th overall in 2008, Chris Williams has played every offensive line spot for the Bears, except for center, with minimal success anywhere. Now it appears that Williams, their starting left guard last season, will be going back to where it all started for him, left tackle. Williams would provide competition for J'Marcus Webb, an athletic kid that offensive coordinator...
(Nick Laham/Getty Images) It's no secret that the Chicago Bears have had glaring needs on offense from(before acquiring Brandon Marshall) wide receiver to offensive line. But would've thought that the star quarterback would be the one to publicly criticize the situation. "You know, the offensive line is definitely going to be a concern and seeing where those guys are going...
Chicago Bears placekicker Robbie Gould is one of the more interesting and articulate athletes out there. When his days draining field goals are over, he has a bright future in broadcasting. Wednesday night, when the Chicago Cubs hosted the Philadelphia Phillies, Gould was part of a three person social media panel. He cracked jokes, dropped one-liners and made an announcement that...
We've heard speculation over that last few days, but Michael C. Wright says it's going to happen: Former 1st-round draft pick Chris Williams will move back to Offensive Tackle for the 2012 season. Williams has had an unfortunate start to his career in Chicago, to say the least, but did show significant signs of improvement last season while playing Guard.
Bears News

Delivered to your inbox

You'll also receive Yardbarker's daily Top 10, featuring the best sports stories from around the web. Customize your newsletter to get articles on your favorite sports and teams. And the best part? It's free!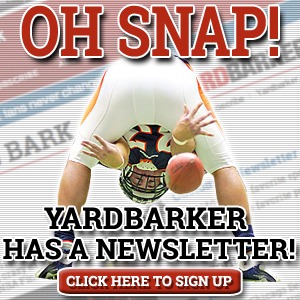 Latest Rumors
Best of Yardbarker

Today's Best Stuff

For Bloggers

Join the Yardbarker Network for more promotion, traffic, and money.

Company Info

Help

What is Yardbarker?

Yardbarker is the largest network of sports blogs and pro athlete blogs on the web. This site is the hub of the Yardbarker Network, where our editors and algorithms curate the best sports content from our network and beyond.