Found November 27, 2012 on The Rhino and Compass:
I admit it. It's important to admit fault when you are wrong. I had the Vikings winning only 2 more games back when they were 3-1, but it turned out the Detroit Lions are in the midst of a catastrophic, ball-kicking season, so the Vikings were able to sweep the season series. What I have noticed, thought, is a turn in the overall mood of the Vikings fan base. So now, Vikings fans who predicted 9-7 or 10-6 for this team need to be talked down from a ledge. It's still possible, guys! The Vikings are only 6-5! If they finish above .500 for the rest of the season, they will be at least 9-7! But no, that isn't what people are talking about. Instead, they are talking about making a coaching change. They are talking about how bad Christian Ponder is. Suddenly, people think a team that has gone 3-4 in their last 7 (better than I expected!) is an unmitigated disaster. Now, I'm not going to say I told you so (not again, anyways) and instead will remind you of something I made a point to address in the post back in September. The Vikings are better. They were never going to be great this year, but they have doubled their win total, and you know what you are going to get from Christian Ponder. The Vikings are more aware of where their deficiencies lie, and where they have room for improvement. This is exactly what should be happening in Minnesota. If anything, an easy early season schedule made them look better than they actually were, and probably soured everyone on a positive rebuilding process. The Vikings now know they need to find receivers for Christian Ponder, as well as some pass blockers to go along with Matt Kalil. The team should be aware that they will eventually need to replace Antoine Winfield. Despite these holes, they doubled their win total already, and they might still win a game or two. Isn't that what you want? Additionally, their front office under Rick Spielman has proven to be good drafters. It's only been the 2012 draft, and we are only 11 games in, so it's way too early to make any far reaching conclusions, but a lot of holes were patched this season because of astute drafting. It's hard to imagine the 2013 draft would be any less significant to next years squad. By golly, with the right couple of picks (Walter Cherepinsky has Minnesota taking WR Justin Hunter from Tennessee) the Vikings could be a solid playoff team next year. Next year. As for Leslie Frasier, I have to believe he deserves at least another season. Like I said, the team has improved significantly in his second year. Not only that, his team is still hustling in games they are out of, even if they are making devastating, illegal hits (see picture above). A guy that helps a team improve and keeps his players focused is the kind of coach you want to keep around. So keep the faith, Vikings fans. They aren't great this year, but they ARE getting better.
Original Story:
http://ryanhenning.com/?p=4907
THE BACKYARD
BEST OF MAXIM
RELATED ARTICLES
 It's not often that a team with a winning record is deemed to be dead in the water, but it sure feels that way for the Minnesota Vikings after last week's dismal performance against the red-hot Chicago Bears. Jay Cutler and Brandon Marshall shredded the Vikings defense while Christian Ponder and the Vikings offense fell completely flat in an important NFC North game. Even with...
Amazing or macabre? YOU DECIDE! This is Minnesota Vikings linebacker Audie Cole getting into the holiday spirit a bit earlier than usual this season. That's him rocking an outstanding Christmas sweater vest, going beyond just the normal "Ugly Christmas Sweater" mode and going full blown with the vest and everything. And ONLY the vest. Doing so pushes this dangerously...
EDEN PRAIRIE, Minn. The Minnesota Vikings are in the most important stretch of their season and are now dealing with several injuries that could linger into the week. Minnesota coach Leslie Frazier said Monday that running back Adrian Peterson, who leads the league with 1,236 rushing yards, suffered a shoulder strain in Sunday's game. Meanwhile, tight end Kyle Rudolph and rookie...
EDEN PRAIRIE, Minn. Receiver Jerome Simpson had his man beat to the inside on a simple slant route and quarterback Christian Ponder put the ball on target for what should have been a first down and a potential momentum-advancing play early in the Minnesota Vikings' 28-10 loss on Sunday. Less than three minutes had gone by on the game clock and Minnesota had gained the advantage...
EDEN PRAIRIE, Minn. Two days ago, Minnesota Vikings head coach Leslie Frazier didn't have much good news to share when it comes to injuries to several key players. Two days later, Frazier approached the podium for his Wednesday press conference with a bit more optimism. Frazier started his press conference by saying Minnesota should have everyone available for Wednesday'...
GREEN BAY, Wis. -- Adrian Peterson has fielded thousands of questions from the media in his six NFL seasons, but on Wednesday, the Vikings star running back was asked one he's never heard before: "How would you try to tackle Adrian Peterson?" When the question came up in his conference call with Wisconsin media four days before a NFC North divisional showdown with...
Minnesota Vikings defensive end Jared Allen was fined $21,000 by the NFL for his hit on Chicago Bears guard Lance Louis, multiple media outlets reported Wednesday. As a result of Allen's blindside hit on Sunday, Louis tore his anterior-cruciate ligament and was placed on injured reserve Monday. The hit occurred after Vikings cornerback Antoine Winfield intercepted a pass...
These are the types of hits that the NFL is trying to get removed from the game.  Louis had no idea that Allen was there and Allen launched himself at Louis, trying to blow him up.  Leaving his feet for this block is not only unnecessary but extremely dirty.  Had Allen not left his feet, I would be okay with this hit, but the fact that he targets Louis' head is a huge problem...
EDEN PRAIRIE, Minn. Off of last week's disappointing loss at Chicago, Minnesota Vikings coach Leslie Frazier polled his team whether any motivational speeches need to be delivered prior to Sunday's game at Green Bay. Minnesota still has playoff hopes, and possibilities, but time is running short for the Vikings to make their run. Frazier's players didn't need any...
Leslie Frazier was critical of the Vikings' numerous dropped passes Sunday, saying it would be an emphasis in this week's preparation for the Green Bay Packers.
C.J. Wilson and Clay Matthews are unlikely to play with Adrian Peterson and the Vikings coming to town.
NFL News

Delivered to your inbox

You'll also receive Yardbarker's daily Top 10, featuring the best sports stories from around the web. Customize your newsletter to get articles on your favorite sports and teams. And the best part? It's free!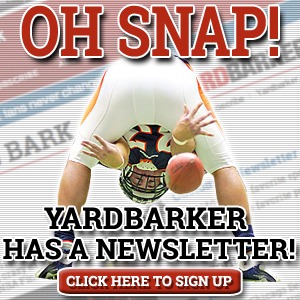 Latest Rumors
Best of Yardbarker

Today's Best Stuff

For Bloggers

Join the Yardbarker Network for more promotion, traffic, and money.

Company Info

Help

What is Yardbarker?

Yardbarker is the largest network of sports blogs and pro athlete blogs on the web. This site is the hub of the Yardbarker Network, where our editors and algorithms curate the best sports content from our network and beyond.