Found June 23, 2012 on Down and Distance:
At the height of "Tebow Time", when the Denver Broncos pulled off an unlikely 29-23 overtime victory against the Pittsburgh Steelers in the Wild-Card round of last year's NFL playoffs, one man felt the hurt more than everyone else on the Steelers. That man is cornerback Ike Taylor. The man who was burnt repeatedly that game by Denver receivers, including the 80 yard touchdown that sealed the Broncos win. Demaryius Thomas stiff armed Taylor into oblivion en route to the winning touchdown, and he says he still thinks about it every day.
"I remember it every day. People remember you for things you do, and I don't want to have that game be what people remember me for."
Humbling words from Taylor, who has been the Steelers #1 corner for years, and before that game had a Pro-Bowl caliber season. Being a Steelers fan, it was hard for me to stomach the loss the way it went down. Taylor had an excellent regular season, some even saying he was snubbed for the Pro-Bowl. At the end of the day, the loss can't be blamed on Ike. But it's refreshing to see that he hasn't completely put what happened in Denver behind him. I expect it to be his driving force this upcoming season, to make sure he is remembered for something other than that one game, that one play.
Original Story:
http://sports-kings.com/downanddistan...
THE BACKYARD
BEST OF MAXIM
RELATED ARTICLES
Rookie quarterback Brock Osweiler (6) sets to throw a pass during the Denver Broncos NFL football rookie minicamp at the team's training facility in Englewood, Colo., on Friday, May 11, 2012. Running back Ronnie Hillman (34) looks on at right. (AP Photo/Ed Andrieski) With training camp less than a month away, the Denver Broncos still have several contracts to get done. The team...
Getty Images Pittsburgh Steelers cornerback Ike Taylor told the New Orleans Times-Picayune that he believes that his teammate, wide receiver Mike Wallace will show up for training camp. "He's going to be there (training camp)," Taylor told Albert Buford of The Times-Picayune on Saturday. "They'll get it done. When you talk about that kind of money, it's not an overnight...
We have heard Pittsburgh Steelers head coach Mike Tomlin utter the statement, "The more that you can do, the more that you can do," more than once over the years. When it comes to seventh round draft pick Kelvin Beachum, he is doing just that. Beachum has shown his versatility ever since the Steelers drafted him and recently received accolades from General Manager Kevin...
When the season opens in 2012, there is a great possibility that two starters from the 2011 campaign will be on the PUP list for the Steelers, running back Rashard Mendenhall and nose tackle Casey Hampton. Ironically, this was to be (and is) a huge season for both players as the Steelers weigh their contract options moving into 2013.This is especially true for Mendenhall...
Everyone knows Peyton Manning is an android football supercomputer built with alien technology, so the very idea of him having a quarterback coach is laughable to the hahaha degree. Still, the Broncos employ a QB coach anyway, because someone has to coach up Brock Osweiler and pretend like they can make Caleb Hanie game ready in case Manning goes down, because Pey-Pey sure as sh...
That's right the round up is back!  It feels good to have to time to do this again.  I know I've missed so much since my last round up!  So, let's dive right in. James Harrison hasn't changed one bit since my one.  The NFL has all kinds of crazy things going on now with the bounties and the referees association filing unfair labor practices against the NFL.  Harrison...
By Jeremy Hritz Back on April 23, I posted my first edition of the Pittsburgh Steelers season prediction prior to the NFL Draft, noting that I would update it multiple times leading up to the season. This is the second version of the season prediction, and it takes into account the draft, OTAs, and mini-camp. In the first edition, I had the Steelers finishing the season 11-5 and...
By Christina Rivers June 15, 2004 - No "big" deal for Tommy Maddox On June 7th, 2004, Steelers quarterback Tommy Maddox signed a new contract that could have earned him $14 million, according to the Pittsburgh Post-Gazette.  Maddox's contract extended him past the 2007 season, but there were conditions. One, Maddox would have to remain the starting quarterback with...
By Christopher DiMarino This is another entry in a set of early looks at the teams the Steelers will play in the 2012-13 season. The goal is to acclimate the average Steelers fan to the offseason changes each team they will face has made. This will make the in-depth analysis in the week before the game more familiar and understandable. Who: New York Jets vs. Pittsburgh Steelers...
By Cian Fahey After active off-seasons for each of the four AFC North teams, the Pittsburgh Steelers appear to be in good position to compete for another crown to add to the collection. What is less clear however, is which team the Steelers will need to overcome, or if there will be more than two competitors for the division this year. Despite the Cleveland Browns addition of Brandon...
LaDainian Tomlinson, a future Hall of Fame running back who scored 132 points against the Denver Broncos during a ten-year career, retired a San Diego Charger five days ago without a Super Bowl ring. In hopes of getting a ring, Tomlinson considered signing with one team — just one — during the weeks leading up to his retirement. "The only team I really gave a thought to...
// > These are the most up-to-date mock draft results from a fantasy football mock draft that I participated in on June 22nd, 2012.  Players are starting to even out in their ranks as we gear up for fantasy football, and it is interesting to note the early risers like Trent Richardson of the Cleveland Browns, and the guys whose value is dropping like Michael Vick (Who I was...
NFL News

Delivered to your inbox

You'll also receive Yardbarker's daily Top 10, featuring the best sports stories from around the web. Customize your newsletter to get articles on your favorite sports and teams. And the best part? It's free!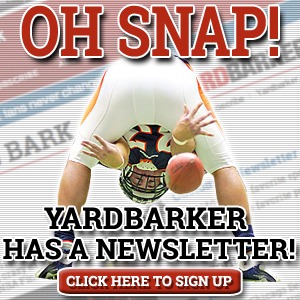 Latest Rumors
Best of Yardbarker

Today's Best Stuff

For Bloggers

Join the Yardbarker Network for more promotion, traffic, and money.

Company Info

Help

What is Yardbarker?

Yardbarker is the largest network of sports blogs and pro athlete blogs on the web. This site is the hub of the Yardbarker Network, where our editors and algorithms curate the best sports content from our network and beyond.