Found October 25, 2012 on Grits Blitz:
PLAYERS:
Michael Turner
,
Lousaka Polite
,
Garrett Reynolds
,
Ovie Mughelli
,
Jacquizz Rodgers
,
Jason Snelling
,
Corey Peters
,
Akeem Dent
,
Adrian Peterson
,
Marshawn Lynch
,
Alfred Morris
,
Peria Jerry
TEAMS:
Atlanta Falcons
,
Buffalo Bills
,
Seattle Seahawks
,
Washington Redskins
  Atlanta got a great time for a bye week and allowing them to retool their team and take a well deserved breather.  After a too-close-for-comfort win over the Panthers, then a lopsided effort against the Redskins, followed by a terrifying performance against the Raiders that they had no business winning, Atlanta can use our recent play as an illustration for how to not play football.   A good loss or two will usually help put some things into perspective, such as weaknesses in a team that need to be addressed.  I think those problems tend to get glossed over in wins but the Falcons got their bye week just after winning as ugly as you can win.  This becomes a bit more important with new coordinators working with our team, as the tweaks and changes will be bigger than perhaps a coordinator with personnel they are familiar with.  So what needs work?   Does Michael Turner no longer run like he operates a motor vehicle?  You know, with reckless abandon.     Check out our two biggest issues after the jump.   The run offense is terrible.  Atlanta will continue to struggle to keep a lead if they cannot run the ball effectively, as it will be impossible to maintain drives over the course of the game going pass heavy.  Atlanta is 25th in the league in YPC (3.7) and 29th in rush yards per game (86.5).  Unsurprisingly, Atlanta is 28th in longest run (27 yards) and 27th in attempts per game (23.2).     In just about every imaginable category Atlanta scrapes the bottom of the barrel and if you have watched the games it is pretty clear we struggle to run the ball.     Michael Turner maintains his inconsistency from late last year, with half of our games he produced 3.0 YPC or less.  In my opinion, Turner is a volume runner who is too old to get the number of carries he needs to be beneficial to this offense.  I don't think he quite has the explosion or strength to break through a good defensive line, but manages to use his size against a linebacker or defensive back to crack off a bigger run when he gets a big enough hole through the big bodied linemen.     The Burner needs a good 25+ runs a game to get the wide open blocking that he needs to get the big runs against the next level to create his yards.  Problem is he is 30 years old with over 1500 career carries and does not have the tread on his tires to be a volume back.   Atlanta needs to improve on their run blocking, which will perhaps happen once the OL gels, or Atlanta improves on fullback Lousaka Polite.  Clabo has been injured and fairly ineffective and Garrett Reynolds is still working his way back from being a disaster, but our fullback blocking has not been as effective as it once was with Ovie Mughelli.  Our run game needs all the help it can get and we need more than what we can get from Polite.   Perhaps most important is Burner needs some help and Jacquizz Rodgers cannot carry the load.  I had high hopes for Quizz but after tallying 2.5 YPC this year it is clear he is at best a 3rd down specialist.  I have thought Jason Snelling should be getting more carries for awhile but he is only plugged in every blue moon on short run situations that Turner cannot convert.  Snelling has the size and physicality to carry the rock and wear out defenses and is great at picking up the blitz and catching the ball but spends most of his time on the bench.     We need more Snelling or Atlanta needs to trade for a competent running back or this team may sputter out against a quality defense with a physical run game, such as the 49ers or Seahawks.   The run defense is not much better.  This could have been predicted with the loss of the Falcons two best run stuffers, but being short on Curtis Lofton and Corey Peters has decimated our run game.  While Corey Peters will hopefully be back soon, our defense plays plenty of nickel to keep Akeem Dent off the field.  I am almost surprised Atlanta has given up the 28th most YPG considering few teams have had the chance to go run heavy outside of the 1st quarter.  For reference, Atlanta is about average in opposing team rushes per game.   How about per carry?  Atlanta trails only the Buffalo Bills in allowing an ridiculous 5.2 YPC.  I cannot find a premier RB with that YPC.  Arian Foster, Adrian Peterson, Marshawn Lynch, even Alfred Morris have not produced at this high of a level.  Simply put: we are terrible.   I suppose this is part scheme and part personnel.  Our biggest problem last year was our terrible pass defense and Nolan has managed to alleviate that problem.  However, stuck in nickel formation we are lacking the run stuffing linebacker we want.  Problem is Dent hasn't looked very good even in base formation.   Corey Peters was a great run stuffer who quickly got the starting spot over Peria Jerry.  With Peters out Jerry has started next to Babineaux, basically two defensive tackles more equipped at pushing the pocket than stopping the run.  Currently our best run defense is forcing the other team to pass the ball to score.   All in all our 6-0 team is not too bad.  That sounds weird, but Atlanta lacks the elite aspects you would expect from a top team.  Not really elite in much of any category, short of passing offense, but Atlanta has been pretty good all the way around.  However, without the above changes Atlanta will be in trouble if and when our pass game sputters.
Original Story:
http://www.gritsblitz.com/2012-articl...
THE BACKYARD
BEST OF MAXIM
RELATED ARTICLES
The Falcons are undefeated and at the top of the league.  Matt Ryan has had a lot of success in the regular season, but it has not translated into the post season.  The Falcons offense has not been in question, now is their defense good enough to win it all? Here's a look at their remaining schedule, predictions and the rest of their division. @ Philadelphia - The...
FLOWERY BRANCH, Ga. -- Philadelphia fans infamously booed Santa Claus and yet Falcons cornerback Asante Samuel, a former Eagle making his homecoming on Sunday, has insisted for weeks now that some of the country's toughest fans will cheer him when he and his unbeaten team takes the field as an opponent on Sunday. "Oh, they better cheer for me," Samuel said. "They...
Linebacker Casey Matthews hinted at what he thought of Juan Castillo's coaching when he summed up the first meeting of the Philadelphia Eagle defense in the Todd Bowles era on Monday: "We're not going to be predictable anymore." Brandon Graham took those comments further on Wednesday by blaming Castillo for the Eagles defensive woes in the games of which he presided. Graham...
While talking to the media on Thursday, Falcons cornerback Asante Samuel pretty much demanded that Eagles fans cheer for him when he returns to Philly on Sunday. "They better cheer … Continue reading »
Asante Samuel can't wait to return to Philadelphia with his unbeaten Atlanta Falcons. The brash cornerback says he still has ''nothing but love'' for Eagles fans despite getting traded to Atlanta six months ago for a seventh-round draft pick. It was an unceremonious departure for a four-time Pro Bowl pick who lost his starting job when Philadelphia acquired...
Last week: 3 (+0) Record: 6-0 On bye.
Up to this point in the season, the NFL has produced several surprises, ranging from under performing teams like the Detroit Lions and San Diego Chargers, to overachievers such as the Minnesota Vikings and Arizona Cardinals.Each week there are several upsets, and Week 8 in the NFL will be no different.As we enter the second half of the season, teams will continue to deal with key...
Atlanta Falcons @ Philadelphia EaglesAtlanta:  Coming off their bye week, the Falcons sort of slept walked through their week 7 game at home against the Raiders, and it took a last minute score to avoid overtime and squeak out the win.  This week, expect the Falcons to be more prepared in playing against a dangerous Eagles team.Matt Ryan has been very good this season, although...
It's been a story of two seasons between the Falcons and the Eagles.While the Falcons have reached new heights and claim the NFL's only undefeated record left this season, the Eagles are once again sputtering to find a rhythm and make their Superbowl dreams a reality.Come Sunday though, we will truly find out if the Eagles will finally get it together and if the Falcons are...
Coming off their week 7 bye, the upcoming home game against the Atlanta Falcons hopefully marks the turning point for the Philadelphia Eagles. In the wake of their collapse at home against the Detroit Lions in week 6, Head Coach Andy Reid terminated defensive coordinator Juan Castillo and replaced him with secondary coach Todd Bowles, formerly the Dolphins' interim head coach....
NFL News

Delivered to your inbox

You'll also receive Yardbarker's daily Top 10, featuring the best sports stories from around the web. Customize your newsletter to get articles on your favorite sports and teams. And the best part? It's free!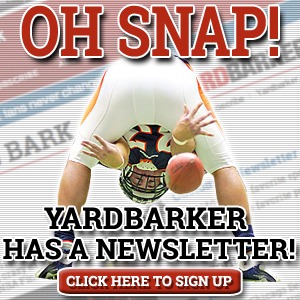 Latest Rumors
The Backyard

Today's Best Stuff

For Bloggers

Join the Yardbarker Network for more promotion, traffic, and money.

Company Info

Help

What is Yardbarker?

Yardbarker is the largest network of sports blogs and pro athlete blogs on the web. This site is the hub of the Yardbarker Network, where our editors and algorithms curate the best sports content from our network and beyond.