Raiders fans got a bit of a heart attack out of last week's win over the Steelers, but a win is a win. The team pushed its way to 3-4 and is squarely in the mix for the sixth AFC wildcard spot. To get to .500 and continue this push, the team must first put up a solid effort against a banged-up Philadelphia Eagles team (3-5). It is surprising that the Eagles are favored by the Vegas line, suggesting that most bettors seem skeptical of the Raiders' success season and optimistic about Foles' ability to run the Eagles offense. While the matchup should be a good game, and likely closer than many expect, I believe that the Raiders will start to build their winning streak and prove to the NFL that they are a legitimate force for this season and beyond. Here's what the Silver and Black will need to do to beat the Silver and Kelly Green (midnight green…? …whatever). Philadelphia's Offense vs. Oakland's Defense  Chip Kelly's offense hasn't been lighting up the NFL since the first half of opening day, but it still has been more effective than the casual fan may expect. The Eagles have the fourth-best offense in the league in total yards, with 246.8 passing yards per game (15th) and 150.4 rushing yards per game (2nd), thanks to a high-octane no-huddle offense that heavily uses read-option schemes that keeps defenses off-balance. When fully healthy, the Eagles have some of the best offensive talent in the league, but the team has suffered a number of key injuries that nullify the importance of these statistics. While Michael Vick has had his share of criticism this season, he was quietly directing Kelly's offense with extreme efficiency while healthy. He started the season incredibly well as he threw for a combined 631 passing yards and 4 TD's in his first two games, also adding 88 yards rushing and running for 2 TD's on 14 carries. His 9.1 yards per carry would be first in the NFL by almost a yard and a half if he had enough carries to qualify, and it is no secret that his presence opened up the field for LeSean McCoy and made it possible to run their read-option packages much more effectively. McCoy doesn't need much of an introduction as he is obviously the Eagles' best threat to take down the Raiders defense, leading the league in rushing yards per game (91.6) and in total yards (733) even after two below-average games. Chip Kelly has shown a willingness to feed his star running back this season, giving McCoy at least fifteen carries a game in all but the loss to San Diego, so the opportunities will definitely be there for him to succeed. The Vick-led offense was just about everything that football fans were hoping to see from a Chip Kelly offense, but his fickle hamstring acted up again last week and is forcing him to miss this week's matchup. In his place, the Raiders will instead face second-year quarterback Nick Foles. Foles has played well this season in shootout wins over the Giants and Bucs, throwing for a combined 493 yards and 5 TD's, but he also has played pretty miserably in a 17-3 loss to the Cowboys, where he had just three passing plays of over ten yards and 80 yards on the day. Even after the below-average performance against Dallas, the Raiders shouldn't be expecting a backup QB performance from Foles; he was in a quarterback battle through all of training camp and is basically a second starter for the Eagles at this point. Chip Kelly seems to run a lot of plays out of the no-huddle and give his quarterbacks control of the offense, which should be good news for the Eagles with Foles under center. The young QB shows a pretty strong arm and better-than-expected accuracy and footwork on tape, especially throwing while on the run. He may not be a Vick-like runner in the open field, but the Raiders should still be aware of his mobility and ability to take advantage of being left open and take what the defense gives him. Chip is aware of Foles' mobility, and while the threat of the read-option is diminished when Vick isn't taking off, the Eagles still heavily use the package to keep defenses honest. Philadelphia has used read-option plays on a ridiculous 170 snaps this season (no other team has more than 86), or an average of just over 21 snaps a game. Again, the opportunities for the Eagles' offense are definitely there, especially with how often they operate in no-huddle situations. It will be interesting to see the two strengths of these teams go head-to-head all afternoon, as the Raiders' biggest strength this season has been an incredibly stiff run defense. Philadelphia is the best rushing attack that the Raiders have faced this season, but the Raiders have shown an ability to shut down their opponents' run game while controlling their own. If there is any team more prepared for the read-option defense, it is likely the Raiders; Oakland has been one of the most effective users of read-option packages this season with Pryor at QB and McFadden in the backfield. Facing off against this offensive duo seems to have prepared the Raiders' defense well, as they are statistically a top rush defense in a number of key statistics: sixth in rushing yards per game, fourth in yards per attempt at 3.6, and they are still being the only team in the NFL to not allow a 20-yard run. While the Raiders have allowed 67.6% of passes to be completed on them, 30th in the league, they have still done well in limiting the damage of these completions. The Raiders allow a lot of underneath passes to be completed, but the team is eleventh in points per game and tenth in net passing yards as they typically keep teams out of the endzone. The team has twenty-one sacks on the season, four shy of their total from 2012, and generally has been mixing complex defensive schemes with solid execution to produce a very good defense. Charles Woodson has been a wonderful veteran presence for such a young team, Sio Moore is coming off of a performance that earned him Rookie of the Week honors, and Lamaar Houston is looking very much like he will be with the Raiders for his entire career at this rate. I expect the solid play to continue against a good Eagles offense. McCoy is one of the best runningbacks in the league, and the speed of the Eagles' receivers could allow for a fewer big plays than the team has been used to in recent weeks, but the defense matches up very well in a number of key places. In even matchups such as this, it's best to go to the home team, especially for a team that seems to thrive off of its fanbase so much. The Raiders' defense has allowed a combined 16 points through the first halves of their home games this season, allowing just one first-half touchdown to the Redskins. Unfortunately, the youth and inexperience of this team has shown up in previous weeks in the second half, as the team has shown a tendency to become hyper-conservative with a lead. After allowing fifteen fourth-quarter points to the Steelers, the Raiders have shown that they have growing to do in order to become an elite NFL defense. This seems to be a common problem with young, defense-oriented coaches, as Ron Rivera of the Carolina Panthers had undergone similar criticisms after his Panthers were 2-14 in games decided by a score or less. In his team's three-game winning streak, the Panthers' offense has been ruthlessly aggressive on fourth down and bucked a number of trends of conservative coaches. The Raiders need to learn to close out a game, and to do that, they must get more help from their offense. Oakland's Offense vs. Philadelphia's Defense  Terrelle Pryor didn't take long to show the NFL that he's capable of doing things that other players can't do, running for an NFL-record 93 yards to a Raiders' touchdown on the first play from scrimmage. He and the Raiders' offense exploded to three offensive touchdowns in the first half and looked like they were set to run wild on the Steelers…before being shut out in the second half and managing just one first down. This allowed for the Steelers to claw their way back into the game. This is the second week in a row in which the Raiders have been shut out in the second half, a running problem that the team has faced this season. The offense has shown glimpses of being one of the most explosive in the league when everything is clicking, especially the running game. Pryor and McFadden are 20th and 27th, respectively, in rushing yards in the NFL, combining for 121.9 yards per game on the ground alone and being an effective force to keep defenses off-balance. The team has done an incredible job running the ball, especially with how bad the offensive line play has been this season. Credit Tony Sparano for fielding an offensive line that is capable of blocking at all with the ridiculous amount of shuffling the team has been forced to do this season, but the end product is still very below-average by NFL standards. The team had good news earlier this week regarding players coming back in the next few weeks, but the line for this game doesn't seem to be much better than in the past few weeks. Right tackle Tony Pashos didn't practice at all this week, so rookie tackle Matt McCants will likely be making his third start after solid efforts against the Chiefs and Steelers. The Raiders received good news with rookie tackle Menelik Watson, who began practice in a limited fashion this week. He may be introduced along slowly after suffering a number of setbacks from a knee injury that has sidelined him almost his entire time with the Raiders, but he will likely see game time sometime in the next few weeks. The inside of the line is still a war zone, as Andre Gurode is injured, Mike Brisiel has been playing better but still isn't very consistent, and Lucas Nix is just downright terrible. The inside running game of the Raiders has been borderline pathetic all season, despite the team's successes on the ground, and an eventual return to health will do wonders for the interior of the line, but the team must tough through a patchwork O-line for at least another week. The team's abysmal interior running game isn't likely to get any better this week, though. The Eagles statistically have one of the league's best run defenses in the league, allowing 99.5 yards per game (8th), 3.7 yards per carry (9th), and a season-long run of just 24 yards, second only to the Raiders. More importantly, their defense has been even stronger in the past few weeks, holding the Bucs, Giants, and Cowboys to an average of 74 yards per game and 3.5 yards per carry. Like the Raiders, the Eagles' run defense has been highlighted by solid play that keep the offense to minimal gains and getting the high-octane offense back on the field. It will likely be tough sledding for McFadden and company, especially if Greg Olson is dedicated to making the inside run game work like he has done in weeks past. If the Raiders want to highlight their strength, they are going to have to loosen up the coverage by exposing Philadelphia's weakness in their pass defense. While the Eagles were very susceptible through the air early in the season, this weakness may not be as large as many would assume at first glance, especially in recent weeks. I believe that Philadelphia's 31st-ranked pass defense may be partially due to their high-octane offense and forcing opposing teams into catch up (they have had the most attempted passes against them, which may help prove this theory). They have allowed just one touchdown in the past two games and had two interceptions against Tony Romo, suggesting that they may have a defense designed to give yardage but keep their opponents out of the endzone. Like the Raiders, the Eagles have been installing a new defensive scheme after being abysmal last season, so it is to be expected that the group is getting better with every passing week. The Raiders haven't had consistent success through the air this year as Pryor is learning on the job how to consistently throw without much of a pocket. However, this style of "backyard football," as many commentators like to call it, has actually seemed to have a unique effect on the Raiders offense. With teams constantly worrying about Pryor's running ability, it is his scrambling and throwing ability that is able to keep defenses honest and catching up at all times. The Raiders have shown a league-high 196 different offensive lineups this season, forcing defenses to abandon their responsibilities and play basically on pure instinct. Against disciplined defenses, like the Pittsburgh Steelers, this can allow for a complete offensive breakdown, like in the second half of last week's game. Against an average or below-average defense, like the Eagles, this could mean for a huge day. Pryor has been consistently hitting receivers with passes, only being let down by inconsistent receiver play. If one of the receivers besides Moore and Streater or any of the tight ends show up on Sunday, it could be the offensive explosion that Raiders fans have been hoping to see all season. Denarius Moore and Rod Streater have been some of the most effective receivers in the NFL in the league at catching their targets this season, but the team's other receiving options need to develop consistency. Pryor has played well against weaker secondaries this season, so it should be exciting to see him grow as a passer on Sunday. Special Teams and Final Prediction With how much special teams impacted last week's game for the Raiders, I feel obligated to cover it a little bit, starting with the dominance of second-year player Marquette King. King and gunner Taiwan Jones have paired to be one of the best punting duos in the league as he leads the NFL in average per punt and is third in net yards per punt. The offensive inconsistency's impact on games has been severely lessened by King's Pro-Bowl quality season and booming leg. If there is an area that Raiders fans have been concerned about all season, it has actually been the other guy kicking the ball. It is concerning to see Janikowski departing from his elite form, as the Raiders are last in the league in field goal percentage a year removed from an NFL-best 91.2% of field goals made. Janikowski has hit just one field goal of 50+ yards this season on four attempts after going 13/19 on such attempts in 2011 and 2012, but much of these stats could be due to his lingering injury and working out chemistry with Marquette King as his holder He only had three field goal attempts in October, hitting two of them, so it is difficult to say if fans should still be concerned over Janikowski or not. Raiders fans should also hope that the team can find a consistent returner after Ford's three forced fumbles in last week's game. Taiwan Jones was returning kickoffs against the Steelers, so it will be interesting to see if the Raiders can take advantage of his blazing speed in more ways than one. It seems like these in-depth previews are getting longer and longer each week, but I guess that's the point. I expect the Raiders to showcase a nearly dominant performance before letting this game get uncomfortably close in the second half. While Dennis Allen and the Raiders are still learning on the job, he has enough experience to pull out a tough win against a raw coach in Chip Kelly. Both teams are still figuring out how to win, which should make this a very interesting game for everyone, but I believe that the Raiders will pull themselves to .500 (something many believed was downright impossible going into the season) and be in the thick of the playoff hunt in the second half of the season (something everyone believed was downright impossible).
Original Story:
http://www.baysportsreport.com/2013/1...
MORE FROM YARDBARKER
Raiders News

Delivered to your inbox

You'll also receive Yardbarker's daily Top 10, featuring the best sports stories from around the web. Customize your newsletter to get articles on your favorite sports and teams. And the best part? It's free!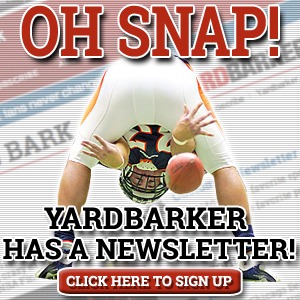 Latest Rumors
Best of Yardbarker

Today's Best Stuff

For Bloggers

Join the Yardbarker Network for more promotion, traffic, and money.

Company Info

Help

What is Yardbarker?

Yardbarker is the largest network of sports blogs and pro athlete blogs on the web. This site is the hub of the Yardbarker Network, where our editors and algorithms curate the best sports content from our network and beyond.