Posted December 15, 2011 on AP on Fox
PLAYERS:
Tim Tebow
,
Roy Helu
,
Trent Williams
,
DeMarco Murray
,
Sav Rocca
,
Jammal Brown
,
LaRon Landry
,
Mike Sellers
TEAMS:
Denver Broncos
,
Washington Redskins
,
Seattle Seahawks
,
Dallas Cowboys
,
New England Patriots
(Eds: With AP Photos.) By JOSEPH WHITE AP Sports Writer Like Tim Tebow, Roy Helu has become the most exciting offensive player on his team. And like Tebow, the Washington Redskins running back isn't shy about sharing his Christian faith, interspersing his answers to reporters' questions with phrases like: ''I've been praying to be a better steward and a better representation of Jesus on the field.'' Helu also realizes that some can be turned off by such talk, while others find it inspiring. Just as Tebow has become a polarizing figure during an amazing run with the Denver Broncos over the last few weeks, Helu is gaining more attention now that he's become the first Redskins rookie in franchise history to rush for 100 yards in three straight games. That creates a challenge: how to sound genuine - and not sanctimonious. ''I'm being cautious of that,'' the fourth-round pick from Nebraska said. ''My prayer's actually been that just keeping in a close relationship with God through prayer ... and also that he's going to lead me, like in opportunities like this, to share - and that it won't come off as fake or anything but authentic. ''Once I became a Christian I just have this ambition to share, kind of like what you see with Tebow. But obviously he's on a great scale right now.'' As he gets more comfortable with the media in his first NFL season, Helu's answers are becoming more about football and less about faith. He said he was especially conscious about his choice of words after a victory over the Seattle Seahawks three weeks ago, lest anyone think he was being thankful to God just because the Redskins had won. In just a few months, Helu has earned two spots in the team's record book. His 14 receptions against the San Francisco 49ers on Nov. 6 bettered the single-game mark held by Art Monk and Kelvin Bryant, and his tallies of 108, 100 and 126 yards over the last three weeks are unique among Redskins players fresh out of college. The feat is even more remarkable given that the team has constantly had to shuffle the offensive line because of injuries and Trent Williams' suspension. Just don't expect Helu to brag about either accomplishment. Asked if he feels he's ''arrived,'' he said: ''I don't like that word at all.'' ''`Comfortable' or `arrived.' That's not my style,'' he said, ''because I don't feel that way at all. Complacency is one of my enemies, and those are kind of synonyms for that.'' Helu held out his hand. Before Sunday's game, when he ran for 126 yards against the New England Patriots, he wrote the word ''uncompromising'' in ink on his left arm. He said he did it to settle himself because ''there's so much stuff going on throughout the game.'' Helu said a turning point in his life came during his freshman year at Nebraska, when team chaplain Matt Penland helped him discover a new relationship with God. He feels the discipline required to practice his faith has helped him become a better football player. He's usually one of the last players to leave Redskins Park at the end of the day. ''Sometimes I just sit down in here and do nothing,'' he said. ''Sometimes I go and do cold tub and some type of stretch, extra film, but nothing too serious.'' From a football perspective, coach Mike Shanahan and teammates have nothing but praise. Helu is showing the ability to balance the patience he needs to wait for a block with the aggressiveness to hit the hole quickly. He has the strength to break tackles, and his ability to pick up the blitz - a weak link at the start of the season - has steadily improved. ''He's got the power and speed to make the big play, and he sees that as times goes on,'' Shanahan said. ''And I think a guy like him just is going to get stronger and better. He works at it.'' Even though he's only started four games, Helu has a decent shot at finishing the season as the NFL's top rookie running back. His 582 yards are second to the 897 posted by the Dallas Cowboys' DeMarco Murray before he went on injured reserve. But when it comes to having a platform of success for talking about faith, Helu knows he's way behind Tebow. ''I think he's a very tough-minded individual,'' Helu said. ''I think God protects him from a lot of the really negative stuff.'' Notes: An Australian television crew was on hand Wednesday to do a story on punter Sav Rocca. When the reporter asked Shanahan about the Aussie punter, the coach responded with some 30 seconds of compliments - and then added: ''The bad thing is he's been probably been our best offensive weapon, and that's not good.'' ... T Jammal Brown (groin), S LaRon Landry (groin, Achilles), FB Mike Sellers (elbow) and WR Donte' Stallworth (illness, ankle) did not practice Wednesday.
Original Story:
http://msn.foxsports.com/nfl/story/In...
THE BACKYARD
BEST OF MAXIM
RELATED ARTICLES
Ask and ye shall receive.  Responding to an outpouring of demand from fans looking for a Fathead of the Broncos quarterback in his now iconic pose, the Dan Gilbert owned company released the Tim Tebow "Tebowing" Fathead this past Tuesday, and I'll give you one guess as to which giant wall graphic is the top seller for the week. The 4-foot-5 by 4-foot-8 image of Tebow doing...
Ladies and gentlemen, you may not have realized this, but until today, Tim Tebow's stranglehold on the media and pop culture wasn't quite complete. But now with the "Tim Tebow in 10 Hot Shots" "photo special" treatment from People, the Denver Broncos quarterback has finally arrived. The star treatment usually reserved for Hollywood hunks like [...]
He's got folk hero status across the country. He's winning when everybody was betting against him. He's won over fans outside of football. Could Tim Tebow one day win elections like he's winning football games now? It's clearly way too soon to predict, before you scoff at the notion of an athlete leveraging success on the field or court to success in politics, remember...
In the updated fan vote totals for the Pro Bowl, the Broncos' Tim Tebow has the third-most tallies among AFC quarterbacks. This is significant because three quarterbacks are named to the Pro Bowl team. According to Mike Reiss of ESPNBoston.com, New England's Tom Brady has the most votes among AFC quarterbacks with 1.1 million. Pittsburgh's Ben Roethlisberger is second. Tebow...
Tim Tebow vs. Tom Brady:  Are they similar?  With the impending Sunday matchup of the New England Patriots and the Denver Broncos in Mile High Stadium, much has been made of the differences of the two quarterbacks Tom Brady and Tim Tebow.  Yes we know, Tom Brady is a pocket passer who meticulously reads defenses and uses his mind to overcome the opposition and Tebow uses his...
It has been a hectic, Tim Tebow-filled week in Patriots land. Sure, sure, we discussed other things, but no one dominated the discussion like the Broncos quarterback. Before we ship out to Denver to get ready for Sunday's matchup, colleague Karen Guregian and I broke down the week that was in our weekly video. Here it is, as edited by Bob Greim:
By Jeremy Gottlieb, Patriots Daily Staff It's finally here. The Patriots trip to Denver comes in just two days and that means it's time for them to get their taste of TEBOWMANIA! The Broncos QB is Tim Tebow, in case you haven't heard of him, and at last look, he's 7-1 as a starter, has his team in first place in its division and primed for the post-season and is able to leap...
The visitors tend to win ugly, but the home team has been downright ugly all year. However unpleasant in appearance at times, the Titans were most impressive in Week 2 with a 26-13 home victory over Baltimore. The rest of the time, well, they got blown out by Pittsburgh and Houston, almost beat New Orleans last Sunday (nice no calls on the final play when Saints defenders were knocking...
Power rankings. You hate them. They're so arbitrary and pointless, especially when they include all 32 NFL teams. All you want to know after a good week of NFL action is who the bestest team in the NFL right now, and which one is the absolute barrel-scraping worst. That's why we have TOP AND BOTTOM OF THE NFL, where we go to great lengths to tell you who's the top dog in...
NFL News

Delivered to your inbox

You'll also receive Yardbarker's daily Top 10, featuring the best sports stories from around the web. Customize your newsletter to get articles on your favorite sports and teams. And the best part? It's free!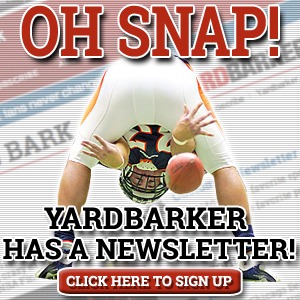 Latest Rumors
The Backyard

Today's Best Stuff

For Bloggers

Join the Yardbarker Network for more promotion, traffic, and money.

Company Info

Help

What is Yardbarker?

Yardbarker is the largest network of sports blogs and pro athlete blogs on the web. This site is the hub of the Yardbarker Network, where our editors and algorithms curate the best sports content from our network and beyond.