Found December 06, 2012 on isportsweb.com:
The Indianapolis Colts have seemingly been blessed. Or, if you prefer, Luck-y. See what I did there? In all seriousness though, if you could show me one single person – press or fan – who thought the Colts would be 8-4 with a decent chance at 11 wins in the pre-season, then I could show you a big fat liar. There's no way anyone, even the most diehard fan (of which I unshamefully include myself) would have thought that this team, lead by a rookie quarterback playing in place of a legend would be 4 games over .500 at this point in the season. Yours truly only saw the Colts winning 5 games all year. But here we are, after week 13 (and the 12th game) and the Andrew Luck and the Colts are in prime position to make the playoffs only one year after going 2-14 and cutting ties with Peyton Manning. Luck has been on a pace that no rookie quarterback before him has ever achieved, and could end up with 4,795 yards. AS A ROOKIE. Wrap your head around that number real quick. Nearly 4,800 yards in his first NFL action. Peyton Manning only achieved 3,739 yards (a rookie record at that time). The current rookie record, held by last year's NFL Offensive Rookie of the Year Cam Newton is 4,051 yards. Luck will likely surpass Manning's number this week, and Newton's the week after. And he'll still have two games to play after that. Oh, and let's not forget that he already has the most wins by a rookie quarterback taken #1 overall. That is immensely impressive. So now let's compare how Luck has done in direct comparison with his predecessor, now through 12 weeks: Overall Record Since we last checked in, the Colts have improved their 3-1 record to 6-2 in the last 8 games. The difference between this quarter and the last quarter is that the Colts found ways to win despite two pretty terrible performances by Andrew Luck. The season's third quarter began with a 27-10 win over Jacksonville that saw Luck run for two touchdowns. The next game at New England was by far the worst overall performance for the team as a whole, getting demolished 59-24 at Gillette Stadium. Luck himself threw three interceptions, two of which were returned for touchdowns. They followed that with a 20-13 win over Buffalo that was probably a bit tougher than it should have been. Then came the Detroit game. Luck was stupendously horrendous through the first three and a half quarters, but came alive when it really mattered. Down 12 points with 4 minutes to play, Luck threw two touchdowns (one as time expired) to win 35-33. That puts the current Colts team at 8-4 and it will be a real stunner if they don't qualify for the playoffs. Through his first 12 games, Manning only managed a 2-10 record. Where Luck went 3-1, Manning wound up 1-3. However, in those four games, Manning played slightly better on average than Luck did. They both had two bad performances (Luck against New England and Detroit, Manning against Miami in week 10 and Buffalo in week 12), but Manning's other games were statistically better than Luck. Unfortunately for Manning, though, the thing that matters – in this category anyhow – is the W. And Luck simply blows Manning out of the water. Advantage: Luck Career Stats to Date We've kind of touched on Luck's stats through 12 games, but let's go into a little bit more detail. He's completed 279 passes on 503 attempts (55.5%). He's already notched 3,596 yards as we mentioned earlier, and has 17 touchdowns through the air. His quarterback rating stands at an average 76.1. On the ground, he's run 44 times for 216 yards (4.9 average), and added an additional 5 scores. That's the good. The bad? He's thrown 1 less interception than he has touchdowns (16), and has fumbled the ball 9 times, losing 5. He continues to have some major troubles in road games, where 13 of those 16 interceptions have occurred. He's thrown three interceptions in a game 3 times, two of those games coming in this quarter of the NFL season. Manning overall faired a bit worse through 12 games. He completed 250 passes on 449 attempts (55.7%). He logged in 2,810 yards, and 19 touchdowns, a +2 differential for Manning as far as passing scores go, but a (-3) difference in total scores. His quarterback rating through 12 was a measly 68.2. Manning doesn't and never will compare to Luck's athleticism in the pocket or outside of it, as he only ran 13 times for just 56 yards (4.3 average). Manning has the edge only in passing touchdowns, and that's not enough to eclipse where Luck is right now. Advantage: Luck   3rd Quarter Individual Game stats Once again, the career stats don't necessarily tell the whole story as to how each player is progressing or did progress, which is why we break down each NFL quarter by individual games. Luck Week 10, Jacksonville – 18/26 (69.2%), 227 yards, 0 TDs, 1 INT, 80.1 QB rating (2 rushing TDs, 1 fumble, 1 lost). Week 11, New England – 27/50 (54%), 334 yards, 2 TDs, 3 INTs, 63.2 QB rating (1 fumble, 1 lost). Week 12, Buffalo – 20/37 (54.1%), 240 yards, 1 TD, 1 INT, 71.9 QB rating. Week 13, Detroit – 24/54 (44.4%), 391 yards, 4 TDs, 3 INTs, 70.8 QB rating (1 fumble). If you go purely on completion percentage, than the sharp decline from week 10 to week 13 is tough to ignore. Also easy to pick apart (pun intended) are the 8 interceptions Luck has thrown the past four games. But some good did come out of it – not the least was the team's 3-1 record this quarter. He threw for a career high 4 touchdowns against the Lions in week 13, the last two coming in the final four minutes of the game to cap a stunning comeback victory. And his best game QB rating wise was a game in which he didn't throw a single touchdown pass. The completion percentages and interceptions we can blame on a combination of coaching (interim Head Coach Bruce Arians is known for his love of the deep pass), rookie mistakes and poor protection from the offensive line. But if the Colts want any kind of realistic shot at making some playoff noise, Luck will have to be a lot smarter with the ball. Manning Week 10, Miami – 22/42 (52.4%), 140 yards, 1 TD, 2 INTs, 47.7 QB rating. Week 11, New York Jets – 26/44 (59.1%), 276 YARDS, 3 TDs, 2 INTs, 81.3 QB rating. Week 12, Buffalo – 14/29 (48.3%), 164 yards, 1 TD, 2 INTs, 48.6 QB rating. Week 13, Baltimore – 27/42 (64.3%), 3 TDs, 1 INT, 105.0 QB rating. The third quarter of Manning's rookie season maintained the roller coaster pace it had been on since week 1. He had some good (the Baltimore game) and some ugly (Miami and Buffalo). You could see that progress was being made, though, as he was able to score three touchdowns for the second and third times of his career. And he notched a QB rating of over 100 for the second time. But with that being said, over the four game spans in each player's rookie year, Luck has more yards (1,192 to Manning's 937), a slightly higher average QB rating (71.5 to 70.7), and more importantly, 2 more wins. Yes, Luck threw one fewer touchdowns and 1 more interception, but don't forget to count the two rushing scores he had against Jacksonville. Advantage: Luck At the end of the NFL's 3rd quarter, it is apparent that Andrew Luck will have – if he hasn't already – a far better first season than Peyton Manning. Don't misunderstand, I am and always will be a huge Peyton Manning fan. And even though Luck is playing like no other rookie quarterback before him, we don't know that will necessarily translate to future success. But right now, there is no doubt that Luck is better at this point than Manning was, and he's doing it with a team that has far fewer talents on it than Manning's first Colts team. Follow me on Twitter @expertfan1
Original Story:
http://feedproxy.google.com/~r/isport...
THE BACKYARD
BEST OF MAXIM
RELATED ARTICLES
The Detroit Lions let another victory slip through their fingers last Sunday when Indianapolis Colts QB Andrew Luck hit Donnie Avery for a last-second, game-winning touchdown. Continue reading →
Andrew Luck's dynamic rookie season is even more impressive when considering that most of the people he's throwing to are new to the NFL, too. Five of the Colts quarterback's top seven pass catchers are in their first season. Receivers T.Y. Hilton and LaVon Brazill, tight ends Dwayne Allen and Coby Fleener and running back Vick Ballard are all learning the ropes along...
Tennessee Titans (4-8) vs Indianapolis Colts (8-4) The Titans travel to Indianapolis with revenge on their mind from an overtime thriller with the Colts, in what started Andrew Luck's run of brilliance over the course of the last few weeks. If you recall, Luck executed a swing pass to fellow rookie Vic Ballard in overtime, who torpedoed his way through tackles to catch the pylon...
It's official, the Andrew Luck hype mobile is going off the rails like a crazy train. Luck has been impressive. And Luck can make throws on a football field that even Tom Brady and Peyton Manning would have a hard time completing. But, that does not automatically put him in their category, and that certainly does not make him an MVP candidate, as Adam Schein — who has a vote...
The Colts selected Andrew Luck who is considered by all experts to be the heir apparent to Peyton Manning. If Luck proves to be anything close what Manning was to the Colts over his reign, then Jim Irsay has got to be one of the luckiest new owners in the history of the NFL. No one at this point can look at the history of the Colts over the Irsay Era and not think that a curse or...
The Indianapolis Colts take the field Sunday in a rematch game from week 8 that saw the Colts win their first road game at LP Field in the Ryan Grigson/Andrew Luck era. In that game, the Colts trailed the Titans 13-6 with 10:26 to play. Andrew Luck led the Indy offense on a 14 play, 80 yard touchdown drive that consumed 7:02. That tied the game at 13-13. The Colts defense was able...
It's time for another installment of my pre-Colts game Q&A with Nate Dunlevy. This is our fifth season doing this, and in that time, Nate has moved from his own site 18 to 88 to bigger and better things as Lead Writer for Bleacher Report at their AFC South blog. He's also written two books, including Blue Blood, a history of the Colts in Indianapolis, and Invincible,...
(Eds: Updates. With AP Photos.) By MICHAEL MAROT AP Sports Writer Andrew Luck is getting a crash course in rematch etiquette. The man who seemingly did it all in college never played the same team twice in one season until he jumped to the NFL. On Sunday, he'll get a second chance at playing a team twice when Tennessee visits Lucas Oil Stadium. ''It's different...
The Colts most recent win was impressive – even among a collection of impressive 2012 victories. They stole a win from a team they weren't supposed to beat. They did it in style. They scored twice in the final three minutes to defeat a team that had kept them pressed firm against the ropes for most of the first 57.Andrew Luck and Donnie Avery hooked up with just four seconds...
  For another look at the 2012 Indianapolis Colts, I went ahead and watched last week's Colts game. Last week, the Colts went to Detroit and defeated the Lions, 35-33, to improve their record on the season to 8-4. They were down for most of the game, but Andrew Luck threw two touchdown passes in the final three minutes, including the game-winner as time expired, to lift...
The Tennessee Titans will play at the Indianapolis Colts this weekend at Lucas Oil Stadium. Scheduled for a 1 p.m EST kickoff the game will be aired on CBS. Indianapolis struggled until the end of last season to find a win. This year the team has 8 and appear headed to the playoffs despite losing head coach Chuck Pagano early in the season to leukemia cancer. Andrew Luck is clearly...
There are a lot of factors that determine who goes where on a list like this, especially in 2012, a year that will go down in infamy. Power rankings can't predict how injuries will affect the next game, but it can take into account how a team has dealt with the many unpredictable situations it has faced and what that could mean against other teams' unpredictable situations...
Colts News

Delivered to your inbox

You'll also receive Yardbarker's daily Top 10, featuring the best sports stories from around the web. Customize your newsletter to get articles on your favorite sports and teams. And the best part? It's free!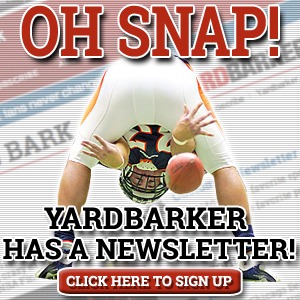 Latest Rumors
Best of Yardbarker

Today's Best Stuff

For Bloggers

Join the Yardbarker Network for more promotion, traffic, and money.

Company Info

Help

What is Yardbarker?

Yardbarker is the largest network of sports blogs and pro athlete blogs on the web. This site is the hub of the Yardbarker Network, where our editors and algorithms curate the best sports content from our network and beyond.