Found July 19, 2012 on Turn On The Jets:
PLAYERS:
Rex Ryan
,
Mark Sanchez
,
Tim Tebow
,
Stephen Hill
,
Terrance Ganaway
,
Demario Davis
,
Shonn Greene
,
John Conner
,
Joe McKnight
,
Santonio Holmes
,
Woody Johnson
,
Mike Tannenbaum
,
Joe Namath
TEAMS:
New York Jets
TJ Rosenthal was fortunate enough to sit down for a lengthy interview with Connie Carberg, the NFL's first female scout. Yesterday, she discussed her career with the New York Jets and today she and TJ discuss the 2012 Jets roster. Enjoy and make sure to follow both TJ and Connie on Twitter -
2012 Jets
Let's Fast Forward to the 2012 Jets and start with Rex Ryan. Assess his body of work so far and what he has to do to improve as an HC.
When I worked for the Jets, the best record we had in 8 years was 8-8, so to consider that we went to back-to-back AFC championship appearances (under Ryan) is pretty darn good. We had so many lean years, that you can appreciate good coaches. I went to Super Bowl III at the Orange Bowl.
Jet Fans seem to forget our history was so bad for so many years and we've been to the playoffs many times with Herman Edwards, Eric Mangini and now Rex.
He said the locker room got ahead of him, and while it may sound strange, I believe the 2 years we were at Cortland made a huge difference in terms of team chemistry.  Last year, the team wasn't even staying together in a hotel or dorms. You never had a chance to connect with folks you might normally not have. Hopefully this year at Cortland will make a big difference, and this Rookie class appears to be very tight and close together, with very good character.
Rex's hirings of Sparano and Dunbar and his involvement on all facets of the team will make a big difference.
Mark Sanchez: Can the Jets win with him?
YES, I believe the Jets can win with Mark Sanchez. Even Namath took his 4th year before the Super Bowl, and with how many INT's he threw, you realize how much seasoning it can take to be successful in this league. Also, let's not forget that he has had to deal with new receivers every year, lacking consistency. Fans often want to discount this, but Namath knew who he would be throwing to every year, and that made a difference. We need consistency. I believe in Mark.
What do you make of the arrival and skill set of Tim Tebow?
I was shocked by the arrival of Tebow, but I was always an admirer of his emotional leadership and skills, and I think that if the press and fans will allow it, he and Mark can coexist.  I am real excited about this.
Assess the current draft class and is it realistic for the Jets to expect major contributions from too many rookies?
(Quinton) Coples has all the physical skills for a guy at 16 who has top 7 talent. I love Stephen Hill, and today, I watched an interview and if he can play as well as he can interview, we'll have a deep threat we haven't had since Wesley Walker. I know he went to an option college, but hopefully with others who have succeeded, he will do well especially in the red zone. I like Terrance Ganaway and Demario Davis has the skill set be very good.
Can the Ground and Pound get the Jets to a Super Bowl?
The Ground & Pound CAN WORK if it's not ALL on Shonn Greene. We need John Conner and Joe McKnight and (Bilal) Powell and Ganaway in case anybody gets hurt. Our offensive Line has to get more consistent and I believe Sparano will help with that.
Let's go back to the word association but this time, to cover some thoughts on the 2012 Jets and "friends."
The Revis Contract Situation–– I hate it. Take care of the man. He's an amazing ballplayer and some could argue that the last holdout severely injured the team with him being hurt throughout the season.
Santonio Holmes – I'm a fellow Buckeye and rooting for the Tone of 2 years ago, and for he and Mark to be on the same page.
Woody Johnson – Fan friendly owner who truly cares about the team and is doing everything in his power to make the team a winner.
Mike Tannenbaum – Genius salary cap/contract negotiator with a flair for the extraordinary and a willingness to take risks with the players he brings in.
Met Life stadium – I haven't been there, but I still wish we didn't share a stadium with the Giants. I will go there sometime and watch a game, but Shea will always be home to me.
Brady and Belichick – Enemy. Enemy. Enemy.
Local Rivalry with the Giants – When I was growing up, the Jets were always treated like 2nd class citizens, and then we won the Super Bowl but were still second banana. However, then we played the Giants at the Yale Bowl (August 1969), an exhibition game, and even Joe Namath has said that the Yale Bowl Game means as much if not more to him that SB III. Todays Jets don't have that feeling, but I do, and I'll forever hate the Giants and will NEVER root for the Giants as long as I live (that includes in Super Bowls against the Patriots).
Connie Carberg in 2012
What are you doing these days? 
I live in Coconut Creek FL, doing PR for Al Hendrickson Toyota as my full time job. My husband and I have been married for 33 years. My step daughter Lisa lives in Mystic,Connecticut and my Son, Chris lives in Orlando with his wife, Jenna. Both Die Hard Jet Fans. Everywhere I go, people know me as the biggest Jet fan there is down here.
Do you still go to training camp?
Yes, when I go back every summer, whether it's at Hofstra, Cortland, or Florham Park, they treat me like family, and I NEVER take it for granted.
Tell us about your new Website and how the fans can contact you.
My website is www.ConnieScouts.com and has lots of great information to share, as well as stories from the past. I've probably had the luckiest life in the world (You can also find Connie on Twitter)
Original Story:
http://turnonthejets.com/2012/07/inte...
THE BACKYARD
BEST OF MAXIM
RELATED ARTICLES
On December 6 2010, the New York Jets were beaten to within an inch of their football lives by the Patriots on Monday Night Football 45-3. The reason why the Jets needed to get even in the first place was credited to the sudden loss of safety Jim Leonhard who fractured his right tibia the Friday before the Monday night game. Please click the link below to read the rest of this story.
Normally talkative New York Jets coach Rex Ryan is now ready to chat about his weight-loss surgery. Once weighing 348 pounds, Ryan wanted to wait until he lost at least 100 of that. More than two years after having the Lap-Band procedure, Ryan is down to about 243 pounds. Ryan said Thursday the device forces him to practice portion control. He still eats Mexican food, but where...
Rex Ryan— the larger than life and bigger than an offensive tackle NFL personality— taped a television talk show Thursday and showed off the new slimmer version of himself. After dropping over 100 pounds and sporting a new hairstyle, the New York Jets head coach taped an interview with CBS-NY's "The Couch" (to be broadcast Friday) and looked like he stepped off...
Getty Images According to Rich Cimini of ESPNNewYork.com, team insiders have told him that the Jets plan on replacing quarterback Mark Sanchez in the red zone with Tim Tebow in order to help their running game have more success. I understand what the Jets are doing, but they're opening themselves up for a mid-season quarterback controversy if and when Tebow looks better running the offense.
Santonio Holmes is entering his third season with the Jets, but apparently he is still somewhat unfamiliar with the way things work in New York. The media are not your friend. Writers and reporters may try to build close relationships with the players so they can get quotes for their stories and successfully do their jobs, but they are just as happy with a locker room that is in...
Jets receiver Santonio Holmes knows all about getting bad press. Mainly because he has a penchant for doing things that causes the media to write negative things about him. For example, remember just last season when he supposedly quit on the Jets in the final two minutes of their season-ending game? Holmes apparently even got into a shouting match with teammate Wayne Hunter during...
We are kicking around new features on TVF, and this may be one of the ones that sticks, or not. Tim Tebow of the New York Jets is currently the 2nd greatest backup QB in the NFL, squarely sitting behind the first in Mark Sanchez. Ideas about how Tebow might be used have been volleyed [...]
If you ever needed proof that owning an NFL franchise is a very fruitful endeavor, Forbes Magazine has it. Forbes ranked the 50 most valuable sports franchises around the world and all 32 NFL teams made the list. The New York Jets checked in at No. 12 on the full list and are the fifth [...]
With less than a week to go before the New York Jets report to Cortland for the start of training camp, there have been countless topics and stories emerging on the Gang Green front, some good, some not so good. Regardless of what most sports books are predicting, we are carrying on as usual here at Turn On The Jets. For this week's edition of New York Jets Fact Or False, we'll...
Kicking Off There are so many ways I could go with this story about the Cowboys' Dez Bryant attacking his mother, but I'll choose this one; NFL Commissioner Roger Goodell has been anything but consistent when handing out fines and suspensions, but he needs to get this one right or risk losing the ounce of respect fans around the league still have for him. If Goodell is going...
I just don't understand how anybody in the world – besides the competitors – gets fired up for the Olympics. I mean, who cares? Who really cares if we have the best gymnasts in the world, or the best skiers or whatever? If anything, I think everyone who competes in the Olympics is really weird, and it makes me uncomfortable. They get up at like 4 a.m. every day and train. They...
Jets News

Delivered to your inbox

You'll also receive Yardbarker's daily Top 10, featuring the best sports stories from around the web. Customize your newsletter to get articles on your favorite sports and teams. And the best part? It's free!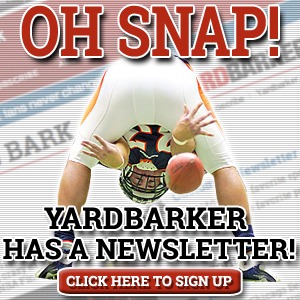 Latest Rumors
The Backyard

Today's Best Stuff

For Bloggers

Join the Yardbarker Network for more promotion, traffic, and money.

Company Info

Help

What is Yardbarker?

Yardbarker is the largest network of sports blogs and pro athlete blogs on the web. This site is the hub of the Yardbarker Network, where our editors and algorithms curate the best sports content from our network and beyond.