Found March 01, 2013 on More Than Stats:
Yesterday afternoon me and my Photographer Mike The Law headed to a elegant hotel lounge in Manhattan where I graciously had the opportunity to do a one-on-one interview with Detroit Lions linebacker Justin Durant, D-Town! For our meet-up Justin kept the attire simple wearing a beanie hat, solid dress shirt, dark denims and fresh pair of Nike Air 'Galaxy' Foamposite sneakers. Justin is currently in NYC for the week doing an awesome internship with MTV, yes pro athletes intern too. Justin was super cool, as  he sat down with us, allowing me to conduct an interview consisting of a few questions about his MTV internship, his love for music, and of course fashion. Check out our discussion below in Q&A form. Ya boy, J Rich & Justin Durant. MTS: How is your MTV internship going?and can you elaborate on a few of your tasks? JD: Its been good, definitely a great opportunity for me,I'm really appreciative of what their doing.Some of my tasks for the week is really just shadowing, seeing how they produce a show from the creative side to the actual taping and now were in the editing process of the show(MTV2 The Week In Jams) right now.Their just showing me the ropes basically. MTS: Is this your 1st internship? JD:Yea it is, I was just joking about not having had a real real job since probably my junior year of college when I was working at a temp service working on a jackhammer on a construction site. The internships been fun though, I'm definitely having a good time, enjoying it. MTS: Who are some of your favorite music artist? JD: Right now definitely Kendrick Lamar, I like Drake, I been getting more into alternative and electronica music as of late. I'm also into 'The passion pit', they got some good music, 'M83′, I'm kind of all over right now. Solange, I like Solange she definitely put out a good EP, the 'True' EP that she dropped. I'm still playing that heavily MTS: Yesterday I see you Tweeted you were at the Ab-Soul Concert at S.O.B in NYC, how was that? JD: It was dope, definitely put on a good show, it was my first time getting to see him live. He brought out Schoolboy Q, Kendrick Lamar, It was live. I had never been to S.O.B's before either, just the whole essence of the show was nice. MTS: My website focuses on fashion, I was told your really into sneakers, whats your go-to kicks right now ? Whats hot in your closet? JD:Probably the Air Jordan retro 6 black and red joints, Air Jordan 'Cement' III's are always good.Right now all red foams, got the Galaxy Foamposites on right now. Foams are really the safe pick right now, You can wear foams with basically anything, you can kind of flip them and put them together with anything.Any kind of foams, I have all the colors. MTS: Any designers or brands your into at the moment? JD: Scotch & Soda is cool, French Connection right now is a good look for me, they fit me well. Rag & Bone is cool. Scotch & Soda my favorite, they switch it up, they have a whole lot of different fits, they put combinations together that you wouldn't expect. So Scotch & Soda is probably my favorite. MTS: Other than yourself, who would you consider the most stylish on the Detroit Lions Roster? JD:Probably my man Nate Burleson, especially when it comes to dressing up, he change it up.He had something like he was a 50′s gangster or something one time. He had the holster and all that stuff, it was crazy. Nate real creative with it. MTS: Say you have a big event to attend this weekend, you have to dress to impress, what are you wearing? Probably Armani, I'm not real big on dressing up, I'm more of a casual dude, but If I do dress up I'm probably wearing something Armani. MTS: Straight black and white? JD:Yep, black and white maybe a little red accent somewhere, you know to throw a little something into it. Black and red my favorite combination.   Photos by Mike Law
Original Story:
http://morethan-stats.com/interviewde...
THE BACKYARD
BEST OF MAXIM
RELATED ARTICLES
RESTORE THE ROAR
A Lions fan named Chris Pruett is collecting signatures in an attempt to convince the team "to let fans vote live via internet to make the draft picks for the Lions".
Offensive tackle Corey Hilliard, who was inactive for every game last season, has been re-signed by the Detroit Lions to a two-year contract extension. Hilliard, 27, was eligible to become an unrestricted free agent on March 12. He played in all 16 games in both 2010 and 2011 with the Lions, mostly on special teams. The Lions' offensive line is in transition. Right guard Stephen...
NFL.com's Albert Breer reported Wednesday that a team source says the Detroit Lions have begun talks with quarterback Matthew Stafford on a contract extension. At this point, it's nothing more than talk, rather than serious negotiations, but the Lions have said all along that they wanted to get a new deal done with the 25-year-old Stafford.
A sneaky, early round pick in my Fantasy Football league in 2011 was the Detroit Lions defense/special teams. Not much changed on the line for 2012, and their D/ST was Fantasy GOLD the season before…so I picked them up again. Thankfully, I'm a complete nut and either manage or am a part of at least three Fantasy leagues every year. And I had the smarts and the homerism to pick...
So many needs, so little cap space. The big question that rests on the Detroit Lions shoulders is this; what will this team look like after free agency? Let's take a look at the possibilities and then let's narrow down what could happen for the Detroit Lions. With players like Dominic Raiola and Nate Burleson restructuring their deals last week, the Lions are looking to have...
Most irate Monday Morning Quarterbacks call up their local sports-talk radio station to vent. Or they take out their frustrations on co-workers around the water cooler. Or, worse yet, on their football widows back at home. It happens every year for Detroit Lions' fans, even during the offseason. Chris Pruett, who's had his heart broken by the Lions too many times to count...
ESPN's Adam Schefter reports that that Detroit Lions have reached an agreement on a two-year contract with OT Corey Hilliard. Hilliard is expected to be given a shot at playing right tackle next season, which is a sign that the Lions are prepared to move on with our impending free agent Gosder Cherilus next season. We'd still expect to see 2012 first-round pick Riley Reiff...
  The Detroit Lions have struggled over the years with some of their draft picks. Picks that have left fans of the team always wishing they could decide for the franchise. Chris Pruett is from Lansing, Michigan and has been a supporter of the team for over 50 years. The Lions are well known for their struggles on the field and this year Pruett has decided to take a more hands on...
The New England Patriots recently extended quarterback Tom Brady to help their salary cap number, and the Detroit Lions are hoping to complete a similar move with Matthew Stafford. The Lions have begun talks with Stafford on a contract extension, according to Albert Breer of NFL.com. Talks are still in the preliminary stage, as nothing is pressing at this point, according to Breer...
Free agency always affects NFL Draft decisions, but perhaps never more so for the Detroit Lions than this year. The Lions have numerous holes to fill coming off a 4-12 season, but there could be even bigger ones at certain spots if some key unrestricted free agents don't come back. One piece of this puzzle in free agency can change what is the best direction to take in the...
Lions News

Delivered to your inbox

You'll also receive Yardbarker's daily Top 10, featuring the best sports stories from around the web. Customize your newsletter to get articles on your favorite sports and teams. And the best part? It's free!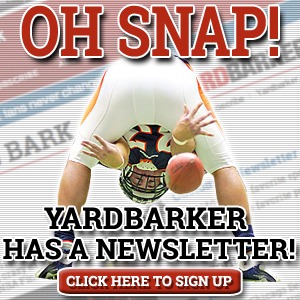 Latest Rumors
The Backyard

Today's Best Stuff

For Bloggers

Join the Yardbarker Network for more promotion, traffic, and money.

Company Info

Help

What is Yardbarker?

Yardbarker is the largest network of sports blogs and pro athlete blogs on the web. This site is the hub of the Yardbarker Network, where our editors and algorithms curate the best sports content from our network and beyond.