Found January 23, 2013 on Purple Jesus Diaries:
No, silly, not a DALLAS Cowboy (Although I wouldn't really mind if he was), I'm talking about a real Cowboy. A Western, gun totin', cowboy boot wearing, Django Unchained lookin', steer wrastlin' Cowboy. Jerome Simpson, Minnesota Vikings receiver (for the time being, anyway) has developed a surprising affliction for the rustic wear. And I have no real idea why. These photos all come from his Instagram account, where he's certainly shown an appreciation for flair and randomness. It's not Michael Beasely level randomness, but it's still enough to make me like him as a person probably a lot more than I ever have as a football player. Dropped passes anyone?! As best I can tell, this all started about a week ago when Jerome went shopping for the outfit you see below: A week ago would still put this new Cowboy fascination past when the movie Django Unchained was released, which began (rekindled post-Blazing Saddles?) the Black Cowboy phase. At least in Minnesota. I'm pretty sure there's tons of black guys who are Cowboys all over the world, but I would posit it to be a rarity in Minnesota. But Jerome hits the ground with spurs clicking, giving the thumbs up with his tight jeans, big ass belt buckle, decorated Cowboy shirt, big ass Cowboy hat, and some shades at night just to look like a boss. He followed this picture up with an appearance in the same outfit a couple days later at a Timberwolves game, so yes, Jerome went out in public like this, which makes me like him a whole lot more: I can't get exact details on the belt buckle, but the floral print on the shirt is absolutely top notch. One Cowboy outfit wasn't enough, though. Jerome apparently wanted more, so the next day (according to Instagram photo post dates) he hit the outfitters once more looking for the next, best gitty up. First, he went all blue denim, as you saw in the header photo. It's not bad, but it doesn't hold a candle to the other option he tried: Has anyone ever regretted wearing red pants? I think not. And so that's where we're left, with a grip of photos of Jerome Simpson in Cowboy outfits, and no reason to know why. At least none that I know. If you DO know, please share in the comments. And even if the Minnesota Vikings decide not to re-sign him next year (you could make arguments both ways, I suppose, depending on the price tag), just be happy that we have these glorious images occurring under our watch. [follow]
Original Story:
http://www.purplejesusdiaries.com/201...
THE BACKYARD
BEST OF MAXIM
RELATED ARTICLES
Now that the 2012 season is over, the Minnesota Vikings and their fans have turned their attention to the 2013 NFL Draft. This week was the first step in that long process, as many college players are showcasing themselves (with shirts on, apparently, which will do them ABSOLUTELY no good, I promise you) for various NFL teams in hopes of being drafted at the Senior Bowl. Vikings...
Lauded sports journalist source, The Onion, has broken an exclusive story about one of the Minnesota Vikings - and the NFL's - most popular players, running back Adrian Peterson. In a statement released this week, Peterson has confirmed that in order to be prepared for the 2013 NFL season, ready to come back better than ever and not only break Eric Dickerson's single...
EDEN PRAIRIE, Minn. Blair Walsh acclimated quickly in his rookie season for the Minnesota Vikings. Turns out he understood quickly how to uphold tradition as well. Walsh, the sixth-round draft pick last year by Minnesota, set several team and league records in his first season for the Vikings and was named the NFC's Pro Bowl kicker. But Walsh also wanted to recognize one of...
The physical gifts that allowed Minnesota Vikings running back Adrian Peterson to return better than ever from major knee surgery apparently run in the family. Peterson, in Hawaii for his fifth Pro Bowl, told NFL.com that comparisons can't be made between his return from torn anterior cruciate and medial collateral ligaments in his left knee and the recovery ahead for dynamic...
That's BYU 4-star defensive end recruit Troy Hinds and NFL legend Brett Favre in some Mississippi garage where Hinds did his Mormon missionary duty by tracking down the Gunslinger for a conversion. It's been about 10 days since we last spotted Favre doing church work by firing dodgeballs at opponents in some Baptist church tourney. Now comes word that Hinds (6-5, 23rd rated...
ST. PAUL, Minn. Kyle Rudolph's breakthrough season has earned him a trip to the Pro Bowl. Rudolph, the Minnesota Vikings' second-year tight end, was named to the NFC team Tuesday, replacing the Atlanta Falcons' Tony Gonzalez, who won't play due to injury. Rudolph was Minnesota's second-round pick in 2011 and developed into one of the top receiving options for...
Chad Greenway's nomination for the Byron "Whizzer" White Award might not seem like much, but the backstory on White shows its significance.
As Vikings fans wait for the announcement of the NFL MVP in 10 days, the debate is still out there on who will win it. Will it be Adrian Peterson or Peyton Manning? We approach the debate from a different angle.
Robert Griffin III is in the process of going through a rigorous rehab process that will test his mettle.  RG3 has torn an ACL before, so mentally he knows what to expect. With people watching the remarkable way Vikings running back Adrian Peterson was able to return to form, many will question and wonder if Griffin III can pull off the same feat. Peterson via NFL.com warns pundits...
When it was discovered that Washington Redskins quarterback Robert Griffin III sustained an injury similar to the one Minnesota Vikings running back Adrian Peterson endured prior to his monster 2012 campaign, the comparisons started pouring in. However, Peterson told reporters, including Andy Fenelon of NFL.com, that it's not fair to compare the injuries of the two players. ...
As the Packers and Colts moved on without Brett Favre (2008) and Peyton Manning (2012), their moves affected numerous franchises over the next several years, and it's still having an effect on the Super Bowl.
Vikings News

Delivered to your inbox

You'll also receive Yardbarker's daily Top 10, featuring the best sports stories from around the web. Customize your newsletter to get articles on your favorite sports and teams. And the best part? It's free!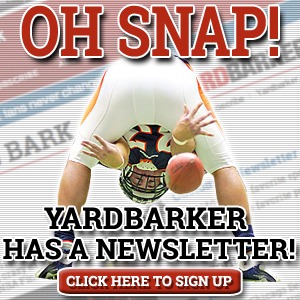 Latest Rumors
Best of Yardbarker

Today's Best Stuff

For Bloggers

Join the Yardbarker Network for more promotion, traffic, and money.

Company Info

Help

What is Yardbarker?

Yardbarker is the largest network of sports blogs and pro athlete blogs on the web. This site is the hub of the Yardbarker Network, where our editors and algorithms curate the best sports content from our network and beyond.