Found December 19, 2012 on Fox Sports North:
EDEN PRAIRIE, Minn. Reggie White altered the future of NFL free agency when he signed with the Green Bay Packers in 1993, leaving the Philadelphia Eagles in the middle of one of the most dominant careers of any defensive player in NFL history. He continued amassing sacks he currently stands second to Bruce Smith in league history with 198 -- while with Green Bay and became perhaps the greatest defensive player ever. All the while, one kid in the Wisconsin town of Pewaukee was taking notice. J.J. Watt tried to pattern his game after White's, but Watt has done a lot of studying now that he's grown up way up, into the Houston Texans' 6-foot-5 295-pound beast of a candidate for Defensive Player of the Year. "Obviously, living in Wisconsin, I was a big Reggie White fan," Watt said Wednesday on a conference call with Minnesota reporters ahead of the Texans' Sunday game against the Vikings. "Ever since I moved to defensive line in college, I've watched film on guys like Howie Long. I'm learning more about Bruce Smith now, all these different guys. But I don't want to be compared to any one guy. I kind of want more of a combination of every guy's game, and that's what I'm trying to do; take the best of everyone, put it together and see what I can make of it." Coincidentally, Watt might be putting together the most dominant all-around performance by a defensive lineman since White wore Packers green and gold. In just his second season since the Texans made him a first-round pick out of the University of Wisconsin, Watt is tied for the league-lead with 19.5 sacks, has 33 tackles for loss, 38 quarterback hits, 15 passes defensed and three forced fumbles. He's the only player in NFL history with at least 15 sacks and 15 passes defensed in a single season, breaking White's record for passes defensed by a defensive lineman (13) in the process. According to the Texans, Watt has been a part of 84 plays this season that have resulted in zero or negative yards. And his 34.5 combined sacks and passes defensed are the most in a single season since passes defensed became an officially tracked statistic in 1991. "He really dominates as a player," Vikings coach Leslie Frazier said. "He's hard to block one-on-one, has outstanding quickness, he plays hard all the time. Not only is he good against the run, but he's an excellent pass rusher with the sacks that he's gotten and the way that he bats down balls. He's just a very, very good player who can take over a game. You don't often see those guys, and he's one of them. Very impressive." Watt's meteoric rise in the NFL has surprised many. When he was drafted 11th overall, he was considered a strong two-way player who was able to rush the passer and stay strong against the run. But Watt has shown much more in 2012, displaying rare athleticism for a player his size and exceptional strength. He's become known for his ability to jump at the line of scrimmage and bat down passes, leading to the nickname, "J.J. Swat." "Obviously he's a hell of a player," Texans coach Gary Kubiak said. "I think there are a couple things. He studies the game. He studies really hard tendencies of players he's playing against. He's a big student of the game. You can see that each and every week, how he plays and prepares." And he's versatile. Watt constantly moves around the defensive line, getting most of his snaps at left end in the base 3-4 defense but moving inside when the Texans use a 4-3. His stat line, impressive for anyone, is even more astounding because Watt is constantly doing his damage from an inside position. San Francisco's Aldon Smith, who's 19.5 sacks lead the league along with Watt's, is a stand-up linebacker used mostly as a pass rusher. Even Vikings defensive end Jared Allen, who chased Michael Strahan's single-season sacks record last year before falling a half-sack short with 22, is on the outside of the defensive line. Watt's sacks total is already the most in league history in a season for a lineman who's played inside or as an end in a 3-4 defense. Watt, who said he believes Strahan's sacks record will be broken and that he hopes to be the one to do it, isn't worried about where he lines up and has heard all the excuses that inside players can't put up big numbers. "I think that's one of the things I wanted to do this year," Watt said. "Everywhere I turn people are saying, 3-4 ends don't put up big numbers. 3-4 ends can't make a huge impact.' I say, Why not? Why can't we make a big impact? Why can't we put up big numbers?' So, it's obviously nice I've been able to go out here and do that." Watt finished his rookie season with 5.5 sacks and four passes defensed. He spent the year learning the inside position and playing defensive end in the 3-4. Working in the system coordinated by Wade Phillips -- who also ran the defense early in White's career in Philadelphia -- Watt was ready to break out this season. "I put in a ton of work in the offseason," Watt said. "I have great teammates and coaches around me, and coach Wade Phillips, he lets us play. He lets us have fun out there, and I'm very confident this year. I step on the field, I'm very confident in my ability and what I can do, and obviously I've learned a lot. I kind of moved to a different position when I got to the NFL, so last year I kind of got adjusted to it, and this year I had a full offseason under Wade. So, I was ready to hit the road running." And change the NFL much like he watched White do years ago. Follow Brian Hall on Twitter.
Original Story:
http://www.foxsportsnorth.com/12/19/1...
THE BACKYARD
BEST OF MAXIM
RELATED ARTICLES
GRONK-STYLE?
Houston Texans defensive end and NFL MVP candidate J.J. Watt was quite happy this past weekend after beating the Indianapolis Colts and clinching the AFC South.  Watt was seen in the club partying it up Rob Gronkowski style after the game and the pictures are pretty awesome.  Watt currently has 19.5 sacks and looks to break Strahan's NFL sack record of 22.  Hopefully in the...
As the Texans seal up the AFC South, both J.J. Watt and Aldon Smith are in position to dethrone Strahan. But Watt's game is on a way higher level.
J.J. Watt, Texans 2012 Team MVP The Houston Texans have voted for their end of the season awards. All awards are voted on by the players…..   Texans 2012 award winners. DE Watt is team MVP. QB Schaub wins Ed Block Courage Award. RG Jones is Rookie of Yr. C Myers gets Bruener Award. — Houston Texans (@HoustonTexans) December 21, 2012 Explanation of Ed Block and Mark Bruener...
HOUSTON Adrian Peterson watches J.J. Watt, and he sees the work of a Divine Creator. "God created him to play this game," Peterson said. Kind words from Zeus, there. Peterson, the Minnesota Vikings running back, is perhaps the most divinely designed football player in existence. He runs not just fast, and not just powerfully, but like he's trying to tell us all...
There has been plenty of talk since J.J. Watt has taken the 2012 season by storm and has become the unquestionable defensive leader of the Houston Texans. Watt through fourteen games has put up some numbers in his second season that some players only dream about, 74 total tackles, 19.5 sacks, 15 pass deflections and 3 forced fumbles   Watt is pushing for the NFL Defensive Player...
Some of us sit here waiting for week 16 of the NFL season to get underway with little to no excitement. Many of our favorite teams are not in playoff contention, and most of our fantasy football squads have by now been knocked out as well. If one of those statements, or God forbid both of those statements, ring true for you, I'm here to point out why you should still be tuning...
In a celebratory episode of Luv Ya Steel Blue, Pat makes his triumphant return to the podcast with Mike and Cleaver as they discuss the Texans second consecutive division crown, why J. J. Watt should win defensive player of the year and whether or not Gary Kubiak and Matt Schaub are the demons this fan base makes them out to be. We might even discuss some of the creepy things you...
Houston Texans running back Arian Foster decided to buy each one of the  offensive lineman that block for him each and every week a segway, as a way to show his appreciation. "They all, as a front, can enjoy the joy that I get from riding my Segway," Foster said. Foster, the Texans' All Pro running back, always rides his Segway around Reliant Stadium. He, along with Andre...
The first divisional matchup between the Houston Texans and the Indianapolis Colts had divisional as well as playoff implications, making it a big game. With a win, the Texans would clinch the division, while the Colts would clinch a playoff spot. Both teams needed a win to keep their positioning in the playoff race as well as the division; however, the Texans flexed their muscle...
The Texans increased their franchise record win total to 12 with their 29-17 win Sunday over division rival Indianapolis Colts. The Texans clinched the AFC South with this win and they are now one win away from clinching the number one seed in the AFC and home field advantage throughout the playoffs. Positives: 165 Arian Foster followed up two of his worst games of the season with...
NFL News

Delivered to your inbox

You'll also receive Yardbarker's daily Top 10, featuring the best sports stories from around the web. Customize your newsletter to get articles on your favorite sports and teams. And the best part? It's free!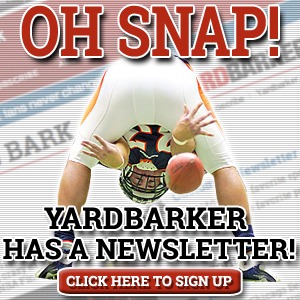 Latest Rumors
The Backyard

Today's Best Stuff

For Bloggers

Join the Yardbarker Network for more promotion, traffic, and money.

Company Info

Help

What is Yardbarker?

Yardbarker is the largest network of sports blogs and pro athlete blogs on the web. This site is the hub of the Yardbarker Network, where our editors and algorithms curate the best sports content from our network and beyond.