Found October 05, 2012 on Fox Sports:
PLAYERS:
James Harrison
,
Troy Polamalu
,
Ike Taylor
,
Ryan Clark
,
Larry Foote
,
Brett Keisel
,
Casey Hampton
,
Mike Tomlin
,
Andy Reid
,
Donovan McNabb
,
Brian Dawkins
,
LeSean McCoy
,
Dick Lebeau
,
Aaron Smith
,
James Farrior
,
Antonio Brown
,
Mike Wallace
,
Emmanuel Sanders
,
Ben Roethlisberger
,
Max Starks
,
Steve McLendon
,
Sean Spence
,
LaMarr Woodley
,
Charlie Batch
,
Clark Haggans
,
Lawrence Timmons
TEAMS:
Pittsburgh Steelers
,
Philadelphia Eagles
,
Minnesota Vikings
,
Denver Broncos
,
New York Jets
,
San Francisco 49ers
The end is near. Pittsburgh won't enter next season with the NFL's oldest starting defense like in 2012. A core of seven starters over the age of 30 who have combined for a whopping 887 games with the Steelers will be dismantled because of declining performance, lofty salaries or a combination of both. The names are synonymous with the Steelers and this era of success: James Harrison. Troy Polamalu. Ike Taylor. Ryan Clark. Larry Foote. Brett Keisel. Casey Hampton. All were with the Steelers when Mike Tomlin became head coach in 2007. They have deservedly earned a place in the franchise's storied defensive history. Without their efforts, Tomlin wouldn't have won one Super Bowl ring or reached another championship game before turning 40 himself. He is appreciative - and also a realist about the heart-wrenching decisions that will inevitably come. "It is a natural evolution of this business," Tomlin told FOXSports.com when the subject was broached after Wednesday's practice. "Any of us that are in (the NFL) have to accept it on one level or another whether it's coaches or players. That's the mentality I have regarding it." The head coach who will be on the opposite sideline Sunday can relate. For 14 seasons, Philadelphia's Andy Reid has made similar decisions about his roster. Sometimes he guessed right about when a veteran had reached the end of the line, i.e. quarterback Donovan McNabb. Reid also has erred, like with safety and team leader Brian Dawkins, who proved he still had plenty of good football left after being allowed to leave in free agency to Denver. "There are a variety of things that go into it," Reid said when I asked him about the difficulty in making such judgments. "You have to evaluate a whole lot of things. "That's the hardest part about the job. It's absolutely the hardest part." The Steelers will soon learn the hard way if they've held onto too many veterans for one season too long. Entering Sunday's home game against the Eagles (1 p.m. ET, FOX), Pittsburgh's defense hasn't played at the same high level as when those seven aforementioned mainstays were in their prime. Don't be fooled by a No. 5 NFL ranking. Only three games into the season, such lofty standing stems mostly from a dominant Week 2 effort in a 27-10 rout of the struggling New York Jets. Particularly alarming: The Steelers surrendered 34 and 31 points respectively in road losses to Denver and Oakland after collapsing in the second half. A run defense that hasn't surrendered consecutive 100-yard games in 10 years looks vulnerable against Philadelphia running back LeSean McCoy after being gashed for 113 yards in Week 3 by Oakland's Darren McFadden. A traditionally fearsome pass rush has only five sacks. Are the Steelers over the hill? Or is the absence of two injured starters scheduled to return against the Eagles - Polamalu (calf) and Harrison (knee) - the main reason for the troubles? The Steelers are banking on the latter while trying to avoid their first 1-3 start since 2006. "Obviously, you're talking about two (NFL) Defensive Player of the Year guys," said Tomlin, referring to the honors that Polamalu and Harrison won in 2010 and 2008, respectively. "Do the math. There's not 10 of those guys in the NFL right now. They're capable of making some significant contributions to our efforts." Polamalu and Harrison aren't just great individual players. They each bring a skill set that contributes to Pittsburgh's defense as a whole. Steelers defensive coordinator Dick LeBeau - who himself is the NFL's oldest active coach at age 75 -- can place Polamalu all over the field to blitz or drop into coverage at free safety. The pressure that Harrison brings from his outside linebacker spot also creates opportunities for others to affect opposing quarterbacks. The slump with backups on the field has been appreciable. "We just haven't gelled well together," Polamalu told FOXSports.com. "We've had one breakdown from a different player on every play that has left us really exposed with the style of defense we play. That can't happen." This is one of the few downsides to having such a grizzled unit that has played so well together for years when it isn't fully intact. "I think that's why you see things so different when one guy is out," said Clark, who became Pittsburgh's starting strong safety in 2006. "We're so built on chemistry and have been around each other for so long. It's not necessarily the physical play that each player brings. It's also what they bring with camaraderie, the way things flow on the field. "When one guy's missing, it is tough for us to pick it up and understand, 'We've got to find a way to make it work without this piece of the puzzle.' More than any team, I think we fit as puzzle pieces." Steelers management realizes this, which is one of the reasons they have kept the "puzzle" together after finishing with a top-five ranking during Tomlin's five previous seasons. Even with two 30-something players released in the offseason (defensive end Aaron Smith and inside linebacker James Farrior), the Steelers still field the NFL's oldest starting defense at 30 years and 301 days as of Oct. 5, according to STATS LLC. The Jets are second at 29 years and 279 days. San Diego is second when it comes to starters over the age of 30 with six. Offensively, it's a different story for the Steelers. Pittsburgh has gotten younger in recent seasons at wide receiver with three speedsters (Antonio Brown, Mike Wallace and Emmanuel Sanders) and an infusion of high draft picks across the offensive line. Quarterback Ben Roethlisberger and left tackle Max Starks are the oldest starters at age 30. Roethlisberger is clearly still in his prime with eight touchdowns and one interception in the first three games. Based upon the first three games, Pittsburgh's offense may have to carry the defense unless there is significant improvement. Clark believes that won't be necessary. "The one thing about those guys over 30 is that I know what they're going to give me," said Clark, 32. "I know what they've given for years. I've won a Super Bowl and been to another with those guys. "If they think we're old, it is what it is. I've watched the film of the past two weeks and I've watched my play. I'm one of those older guys and it doesn't seem like the other 21 people on the field are running a lot faster than I am." One thing no player can outrun is time. If they were younger, Harrison and Polamalu might have had a quicker recovery. Older players also may be more susceptible to injury and fatigue as the season unfolds. Tomlin, though, considers this a risk well worth taking because of what his veterans bring to the defense. Tomlin not only believes the unit is still championship-caliber; he also is forcing younger players to earn starting spots by outplaying the graybeards. "There's great continuity in terms of them knowing one another," Tomlin said of his veterans. "They understand the ebb and flow that is this business. They don't ride the emotional rollercoaster. "We're not trying to strike a balance (with age). We're going with the guys who are capable of playing. We've got some veteran guys who are still good players. As long as they remain that, they'll continue to play. We've got some young guys with some promise who are working. When they're good enough to play, they'll be in there." Steve McLendon and rookie Alameda Ta'amu are being groomed at nose tackle to replace the 35-year-old Hampton, whose contract expires at the end of this season. If rookie Sean Spence can recover from a major preseason knee injury, there is a chance Foote won't be re-signed at inside linebacker. While there is no clear succession plan for Harrison and Polamalu, the 2013 roster spots of both players could be in jeopardy because of high base salaries if their play is no longer commensurate. Polamalu is due $7.5 million and Harrison $6.6 million. Any veteran departures will resonate throughout team headquarters. Few, if any, NFL franchises emphasize a family atmosphere more than the Steelers. Rookies drafted into the organization, which is the primary way in which the Steelers build their roster, are blessed to have elders willing to show them the ropes. "When I first got here, guys opened up their doors for me," said Steelers outside linebacker LaMarr Woodley, a 2007 second-round draft choice. "When people don't have a place to go for Thanksgiving, (reserve quarterback) Charlie Batch is inviting them over. I remember one of the older veteran guys let me use their car one time. They make you feel welcome." Woodley admits the likelihood this is the final year that all seven of the 30-something starters will be playing together is something "you try not to think about." Woodley, though, hopes that the younger players on the roster are getting ready to carry the mantle if changes are made. That was the approach he took as a rookie when 30-year-old Clark Haggans was playing ahead of him. "If I'm behind somebody who's 30-something, I'm like, 'Man, next year that could be my job,'" said Woodley, who claimed a starting spot opposite Harrison in 2008 when Haggans left to Arizona in free agency. "When that time comes, you've got to be ready to go." Steelers inside linebacker Lawrence Timmons benefited from having two seasons to develop behind Farrior and Foote before becoming a starter. While appreciative of Pittsburgh's strong veteran presence, Timmons was blunt when asked about future changes with some of his older teammates. "This is a business," he said. "It does happen." That won't make it any easier when it's time to say goodbye. "It's tough, man," said Clark, who still remains in close contact with former Steelers. "It almost makes you say, 'I wish we weren't so close.' But it's a special thing here. It's a special locker room. "It's going to end for all of us one day. We're not going to be able to put the pads on. Understanding that, you understand this is true friendship and brotherhood that will last beyond." The way they finish the season will determine how long Pittsburgh's defense can stay together beyond 2012.
Original Story:
http://msn.foxsports.com/nfl/story/Tr...
THE BACKYARD
BEST OF MAXIM
RELATED ARTICLES
When you're 1-2 and coming off a loss to a team you have no business losing too, now is hardly the time to be stirring the pot with pointless chatter if you're the Pittsburgh Steelers. After all, who does these guys think they are, Anthony Smith? Whether or not Steve McLendon, Antonio Brown, and Isaac Redman meant their comments as trash talking isn't really the issue. Just...
The Steelers defense needs to get after Vick and force him to turn the ball over. Big Ben is not Brandon Weeden and if he gets chances, the Steelers are going to run away from the Eagles. This game comes down to Vick's ability to hold onto the ball. After a solid week 4, I'm sitting 37-26 headed into week 5. Let's see how I do. Miami at Cincinnati...
Pittsburgh Steelers rookie OL David DeCastro looks to be on the mend, and although he won't be seeing the field any time soon, the team is keeping him busy. "He's been doing all the extra things all the young guys are doing," joked offensive coordinator Todd Haley to Will Graves of the Associated Press. "Some of that includes filling the refrigerator for the offensive...
According to Ed Bouchette of the Pittsburgh Post-Gazette, the Steelers plan on rotating linebackers LaMarr Woodley and James Harrison in and out of tomorrow's game against the Eagles. Bouchette says the Steelers want to keep their guys fresh after blowing a 4th quarter lead in Oakland in week 3. "I have to come off," Harrison said. "It's no need being out there, being dog...
Steelers RB Rashard Mendenhall Expects Big Role On Sunday vs Eagles - Steelers RB Rashard Mendenhall (knee) expects to get significant playing time in Sunday's game against the Eagles. The Steelers have not yet announced a starter at the running back position. But with Isaac Redman and Jonathan Dwyer combining to average 2.53 yards per carry so far, the writing is on the wall....
The Pittsburgh Steelers may be just 1-2 and coming off of a much needed bye week, and it appears as if they are getting healthy at just the right time. When the Steelers play host to the Philadelphia Eagles on Sunday, they will be at close to full strength for the first time in the 2012 NFL season with the returns of Rashard Mendenhall, Troy Polamalu and James Harrison. All three...
Per Pittsburgh Tribune Review Steelers RG David DeCastro (knee surgery) is "walking without a limp and feels no pain." DeCastro is just five weeks removed from his operation. DeCastro said "I don't have any pain, so I'm just working hard to try to get back." Because DeCastro is on injured reserve with the "designated to return" tag, he is eligible to be activated...
According to a Gerry Dulac report in the Pittsburgh Post-Gazette, Steelers linebacker James Harrison will start on Sunday against Philadelphia, but split time with Chris Carter.Fantasy Spin:It's a huge boost to the Steelers defense which is 21st in points yielding 25 ppg. Safety Troy Polamalu is also expected back in the lineup.
Depending on who you believe, the distance between Pittsburgh and Philadelphia is 300 miles, although either team's fans could be in each other backyard's regardless of where they live in Pennsylvania.It's been hard, if not impossible, for the Philadelphia Eagles to compete with the legacy of the Pittsburgh Steelers.Pittsburgh boasts six Super Bowl titles, whereas Philadelphia...
Mark this one under the 'hell to the naw' category. Former Georgia cornerback, current nickel back for the Philadelphia Eagles, Brandon Boykin is being called out as "sweet" by Pittsburgh Steelers wide receiver Antonio Brown. According to Brown, whichever receiver on their team gets Boykin as their cover man will be one lucky guy. The Steelers (1-2) will be looking for a...
Preparing for the Pittsburgh Steelers the Eagles have the ability and TAPE to be ready for the challenge. The Eagles have seen as recently as the Arizona game what waits for them in Pittsburgh. Ray Horton Arizona Defensive Coordinator a Steelers alum and Dick LeBeau graduate, ran a very similar defense to what the Eagles will see this week. Blitz's, blitz's and more blitz's...
Philadelphia Eagles (3-1) at Pittsburgh Steelers (1-2) I really wish these two teams weren't playing each other. I was so looking forward to betting Pittsburgh back at home this week off their bye after they fell flat in Oakland before the bye. That loss in Oakland, as bad as Oakland is, was predictable. The Steelers have really struggled on the road, as opposed to at home, over...
NFL News

Delivered to your inbox

You'll also receive Yardbarker's daily Top 10, featuring the best sports stories from around the web. Customize your newsletter to get articles on your favorite sports and teams. And the best part? It's free!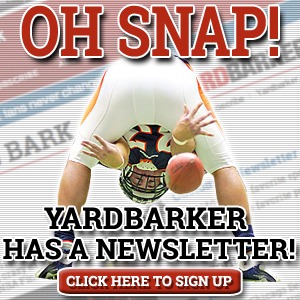 Latest Rumors
The Backyard

Today's Best Stuff

For Bloggers

Join the Yardbarker Network for more promotion, traffic, and money.

Company Info

Help

What is Yardbarker?

Yardbarker is the largest network of sports blogs and pro athlete blogs on the web. This site is the hub of the Yardbarker Network, where our editors and algorithms curate the best sports content from our network and beyond.