Found January 18, 2013 on Ravens Football Machine:
PLAYERS:
Haloti Ngata
,
Jacoby Jones
,
Ray Lewis
,
Tom Brady
,
Joe Montana
,
Ed Reed
,
Joe Flacco
,
Eli Manning
,
John Harbaugh
,
Justin Tucker
,
Rob Gronkowski
,
Terrell Suggs
,
Corey Graham
,
Jim Caldwell
,
Cam Cameron
,
Aqib Talib
,
Bill Belichick
TEAMS:
Baltimore Ravens
,
New England Patriots
,
New York Giants
The Ravens are 7-point underdogs in Foxborough this Sunday at 6:30 PM EST kickoff. You'd logically think the Ravens would be "due" to beat the Pats since it's their "turn" after basically blowing the winning or tying points in the last minute of last year's championship match. But the NFL does not carry over good intent, nor does it always reward long-suffering effort in ways that seem "fair". The fact is, the Patriots are "due" to have a breakout monster game at home, something they have not accomplished against the Ravens in a while. For all of these reasons and more, the Ravens must have the game of their lives on Sunday---and a bunch of Raven "Action Heroes" will need to emerge to rip the game away from the big-play guys on the other side.               "I think we personally kind of wanted to play the Patriots again," defensive tackle Haloti Ngata said. "If we go to the Super Bowl, it would be great to go through Foxborough." New England cruised last Sunday to a 41-28 win over Houston, setting up a chance to improve to 5-0 at home in AFC title games. That cemented the first AFC championship rematch since Denver and Cleveland met following the 1986 and 1987 seasons. This meeting only became possible after the Ravens advanced with a 38-35 double-overtime road win Saturday over the top-seeded Broncos, needing Flacco to come through with a tying 70-yard TD pass to Jacoby Jones with 31 seconds left in regulation. The victory extended the season of retiring Ravens linebacker Ray Lewis, who is happy to see that his team will be a heavy underdog once again this week. ESPN.com got this telling quote from Ray in their AFC Championship preview coverage: "My Super Bowl year in 2000, we were never picked one time the entire season to win a game. Not one time," Lewis said. "But at the end of the day, we held the Lombardi Trophy as Super Bowl champs. That alone taught me a valuable lesson -- that no one outside dictates how we play on the inside." Now Ray Lewis will get his last look at Tom Brady. "When you see when he makes a play, their whole sideline gets really amped up so I think you've always got to know where No. 52 is at," Brady said. "He's always right in the middle of the defense but whether he's blitzing or covering or he's free in the middle of the field, you always have to take him into account." Brady completed 25 of 40 passes for 344 yards and three scores last weekend to improve to 17-6 in the postseason, moving past Joe Montana's record for most playoff victories. He will again match wits with safety Ed Reed, who has intercepted him twice in six games. Joe Flacco is trying to reach his first Super Bowl after coming so close last year. Flacco continues to solidify a reputation as a solid postseason quarterback after throwing for 331 yards with three touchdowns and no interceptions against the Broncos. He's now tied with the Giants' Eli Manning on the all-time list with five road playoff wins. "To see Joe have that kind of a game in that kind of an environment is something all of us who are in Joe's corner knew was there," coach John Harbaugh said. "It's been the last two weeks, (but) it's really been throughout the season we've seen the growth." Baltimore beat visiting New England 31-30 on a Justin Tucker field goal as time expired in Week 3, rallying from an early 13-point deficit. Flacco threw for three TDs and 382 yards -- his third-highest career total -- while Brady finished with 335 yards and one TD. Flacco has thrown for 1,271 yards, nine TDs and four interceptions in five games against New England. That includes a 34-yard effort in a 33-14 wild-card victory following the 2009 season in which he was asked to protect the ball after the Ravens built a 24-0 lead after one quarter. Flacco is 7-4 in the playoffs, winning at least one game in each of his first five seasons. "Joe's done a great job since he came into the league," Brady said. "I've played against him a bunch of time and he's always played really well." Brady will be without a major weapon in Rob Gronkowski, who is out for the season after the tight end re-fractured his forearm against the Texans. Gronkowski was tied for fourth in the NFL with 11 TD receptions. There are numerous differences between these teams since they met in September, most notably that reigning Defensive Player of the Year Terrell Suggs is playing for Baltimore after being out following a torn Achilles. The Ravens' secondary also has a different look with Corey Graham establishing himself as a starter at cornerback. Baltimore also has a new offensive coordinator, turning to Jim Caldwell after firing Cam Cameron on Dec. 10. New England has added a playmaker on defense in cornerback Aqib Talib, acquired from Tampa Bay on Nov. 1. One area of concern for the Patriots is on special teams after they allowed Houston kickoff returns of 94 and 69 yards -- the longest against them all season. Now they must try to slow down the dangerous Jones, who averaged a league-best 30.7 yards on kickoff returns but did not run them back in Week 3. "We have to do what we're doing better," New England coach Bill Belichick said. "It's definitely a point of emphasis and I'm sure it will be important in this game. We'll definitely work on it." Five of the last six meetings between these teams have been decided by six points or fewer. This will be the teams' fifth matchup in just over a three-year span. "It's definitely grown into quite a rivalry, we would like to say," said Harbaugh, who is 0-2 in AFC title games. "I don't know how they feel about that. We have tremendous respect for the New England Patriots (and) their coaches." So you're telling me there's a chance Department: Tom Brady is 6-of-22 (27.3 percent) with four interceptions on passes more than 10 yards downfield against the Ravens in their last two postseason meetings. Brady has thrown six interceptions on passes more than 10 yards downfield against the Ravens since the start of 2008 (including playoffs), two more than he's thrown against any other opponent during that time. Tom Brady's effectiveness has dipped this season when Rob Gronkowski has been off the field. Brady has thrown an interception once every 128.0 attempts with Gronkowski on field this season, but has thrown a pick once every 58.6 attempts with him off the field. Avengers assemble!!!  
Original Story:
http://www.ravensfootballmachine.com/...
THE BACKYARD
BEST OF MAXIM
RELATED ARTICLES
It's often said that a man with nothing to lose should be feared.  That was once true of the New England Patriots Tom Brady.  Brady started his NFL postseason career with nine straight wins.  He was 3-0 in Super Bowls and was named the game's most valuable player twice; all by the age of 27.  He was young, hungry and had nothing to lose — no legacy to protect, no hype...
There is only one team Tom Brady hasn't thrown more touchdowns than interceptions against. Can you take a guess? Ok, that was easy, right? In Brady's 7 games against the Ravens (postseason included), he has thrown 7 touchdowns and 8 interceptions (he still leads his team to victory though, going 5-2, which in the end is all that matters). His completion percentage of 58.4 is...
A.B. The best quarterback to ever play in the NFL is only a few days away from the NEXT biggest game of his life. The New England Patriots will host the Baltimore Ravens this Sunday for the right to go to the Super Bowl. Or as Patriots fans are calling it: Ray Lewis' retirement party. In honor of the G.O.A.T., here are number twelve's 12 best product endorsements ever… including...
Son of a monkey, I thought we were done with the Carly Rae Jepsen "Call Me Maybe" parodies.  Ravens fans turned the clock back to when Manti Te'o was merely known as a good college linebacker and re-wrote this jam to say how ready they are for the Patriots and Tom Brady. Let us all remember how the Broncos fared after their fans dubbed a Tim Tebow-themed auto-tuned trash talking...
  When Tom Brady took over for an injured Drew Bledsoe back in 2001, I believe you would have been hard pressed to find people who thought the young quarterback would be an all-time great. The interesting thing is, Brady himself believed it. At the time, Damon Huard was the Patriot's third-string quarterback. In an interview with ESPN.com, he let it be known that Brady told him...
'BRING ON BRADY'
The nation had more than its fill of "Call Me Maybe" and "Gangnam Style" parodies in 2012, but some people aren't ready to let the phenomenon die now that we have entered the new year. On Wednesday, a trio of Baltimore Ravens posted a video on YouTube called "Bring on Brady." For those of you who couldn't guess, the song centers around them calling out Tom Brady....
Baltimore Ravens defensive coordinator Dean Pees has his hands full with trying to stop the New England Patriots on Sunday, and he knows more than the average person about just how deadly Tom Brady and company can be. Pees was a defensive coach for the Patriots from 2004-2009, so he has experience watching Brady from the sidelines and going up against him in practice. So how does...
When Baltimore defensive coordinator Dean Pees was asked this week how his team plans to stop Tom Brady, he jokingly replied, "Hire Tonya Harding." No need to outsource the Dreamboat injury duties when you got Bernard Pollard on the roster. In reality, the Ravens defense has typically done all right against Brady without resorting to head-hunting and knee-shredding. Ouch RT...
Will this be the last NFL game for Ray Lewis, or with Bill Belichick and Tom Brady get to another Super Bowl. The guys in Vegas have New England at more than a touchdown favorite, but the line has been moving in Baltimore's direction. The other hot pick seems to be San Francisco, as they are now a 3.5 to 4 point favorite on the road against Atlanta, as everyone seems to be jumping...
8 a.m. ET: The day of reckoning is upon us, at least for those of us who intently follow the NFL. The NFL's conference judgment day will begin with the San Francisco 49ers' visit to Atlanta for the NFC crown, but all eyes will be peeled for the Ravens' trip to Foxboro to mark a repeat of last season's AFC title game. Tom Brady has been preparing for his chance at a sixth...
Veteran fantasy football drafters know about risk and reward. They know that waiting on a quarterback is a risk, as you let premier talents like Tom Brady and Drew Brees slip off the board. They know that drafting Peyton Manning, two years, one team change and at least four neck surgeries removed from his last NFL action, represented a huge risk, albeit one with potentially great...
NFL News

Delivered to your inbox

You'll also receive Yardbarker's daily Top 10, featuring the best sports stories from around the web. Customize your newsletter to get articles on your favorite sports and teams. And the best part? It's free!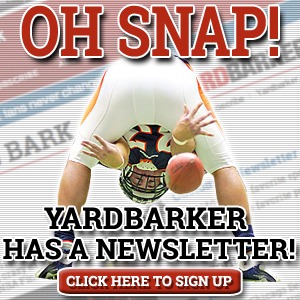 Latest Rumors
The Backyard

Today's Best Stuff

For Bloggers

Join the Yardbarker Network for more promotion, traffic, and money.

Company Info

Help

What is Yardbarker?

Yardbarker is the largest network of sports blogs and pro athlete blogs on the web. This site is the hub of the Yardbarker Network, where our editors and algorithms curate the best sports content from our network and beyond.