Found December 04, 2012 on The Rhino and Compass:
Hey! My first Andrew Luck headline pun! But truly, the change in the fortunes of the Indianapolis Colts has widely been attributed to rookie quarterback Andrew Luck, which is fine, because he has been very good so far. I think, however, that this ignores the overall success of the Colts as a team, and doesn't reflect exactly how bad the quarterback situation was last season. The Colts have changed their defensive structure and play a 3-4 rather than their 4-3 that had treated them so well for so long. The pass defense has suffered slightly, but their run defense, one of the greatest problems in 2011 is the 22nd rated in the league compared to 29th last year. Part of this has to do with the fact that the team is more competitive, and teams are attempting to pass more to keep up. Overall, however, the defense has improved. They have allowed 16 fewer yards a game, despite more aggressive passing attacks, and moved up 4 spots in the defensive rankings. They could still stand to force a few more turnovers, of course. Luck was fortunate enough to move into an offense that had Reggie Wayne already in house, and brought along Coby Fleener from Stanford and added TY Hilton in the later rounds of the draft, which obviously helped establish a quality foundation for a good passing attack. He also has a first round pick at left tackle in Anthony Castonzo. While 2 of those pieces were aded this year, Wayne and Casonzo were around last season. There really isn't a good reason for 2011′s quarterbacks to throw for only 14 touchdowns, which was better than only three teams, and only one team (the Rams) when you consider how many times they attempted to pass. The team is improved on defense, and was always set up to be a strong passing offense. It goes back to the old refrain. The Colts weren't really a bad team last season, they just had to endure some of the worst quarterbacking ever. It didn't take much out of that position to make the Colts much better. Of course, Luck does make the team a LOT better.
Original Story:
http://ryanhenning.com/?p=4952
THE BACKYARD
BEST OF MAXIM
RELATED ARTICLES
Week 13 was chock-full of intriging match-ups entering the week, and by the end of Sunday afternoon, the NFL proved why it is the most entertaining event going right now.Rookie Andrew Luck, led the Colts in the final seconds for a touchdown and another comeback win over the Detroit Liions. That marks the fifth time Luck has led the 8-4 Colts to victory after trailing in the fourth...
Andrew Luck took full advantage of his last shot to lead the Indianapolis Colts to a stunning victory. Luck threw a 14-yard touchdown pass to Donnie Avery with no time left to lift the Colts to a 35-33 comeback win over the Detroit Lions on Sunday. With the final seconds ticking away, the rookie quarterback moved up in the pocket and flipped a short pass to Avery. The receiver...
Andrew Luck scrambled a bit to his right, saw nobody open in the end zone and decided to take his chances. He flipped the ball to Donnie Avery and hoped his 5-foot-11 receiver could win a race to the end zone. ''I had no choice but to score,'' Avery said. ''It was the slowest 11 yards that I ever felt like I ran.'' It may have felt like it took...
Colts rookie Andrew Luck hits Donnie Avery as time expires for the game winning touchdown. 391 Pass Yds, 4 TD for Luck in 35-33 win over Detroit. The Big Lead...Andrew Luck to Donnie... Full story at Bob's Blitz ~ http://www.bobsblitz.com
In a day chock full of incredible finishes in the NFL, the Indianapolis Colts and rookie quarterback Andrew Luck faced a 4th&10 trailing the Detroit Lions by five with less than ten seconds to play. Watch as Luck finds an open Donnie Avery for the game-winning touchdown: (Courtesy of The Big Lead)
Andrew Luck threw a 14-yard touchdown pass to Donnie Avery with no time left to lift the Indianapolis Colts to a dramatic 35-33 comeback win over the Detroit Lions on Sunday. With the final seconds ticking away, the rookie quarterback moved up in the pocket, flipped a short pass to Avery, and the receiver ran untouched into the end zone to complete a rally that started with Lions...
It's official, the Andrew Luck hype mobile is going off the rails like a crazy train. Luck has been impressive. And Luck can make throws on a football field that even Tom Brady and Peyton Manning would have a hard time completing. But, that does not automatically put him in their category, and that certainly does not make him an MVP candidate, as Adam Schein — who has a vote...
It's fourth down. Your team is down by five. There's four seconds on the clock. And it's 14 yards to the end zone. Who do you want as your quarterback? Tom Brady? Peyton Manning? Andrew Luck? How many Colts fans would have picked our rookie quarterback at the beginning of the season? And now…after Sunday? Andrew Luck is quickly becoming that quarterback. That quarterback...
The end of the Detroit Lions and Indianapolis Colts match-up Sunday was a memorable one. Down by twelve with less than seven minutes left, it looked as if the Lions had the victory sealed up and all they needed to do was sit on the ball. Things didn't go as planned however, as the Colts persevered and came through with a remarkable comeback, even with rookie QB Andrew Luck throwing...
After another great performance that included a big win over the Bears on the road, Seattle Seahwks cornerback Richard Sherman believes rookie quarterback  Russell Wilson is a little better than both Robert Griffin III and Andrew Luck. "They're going to hype who they're going to hype, and you're in the Seattle market, and it doesn't matter what you do," Sherman said...
We're down to the last quarter of the 2012 season, and there are some teams currently in the playoff picture that have surprised us all. With four games left, we're taking a look at the current wildcard teams. Are they contenders or just pretenders? Let's take a look. Indianapolis Colts The Colts are almost certainly in the playoff party. They hold a game lead...
Colts News

Delivered to your inbox

You'll also receive Yardbarker's daily Top 10, featuring the best sports stories from around the web. Customize your newsletter to get articles on your favorite sports and teams. And the best part? It's free!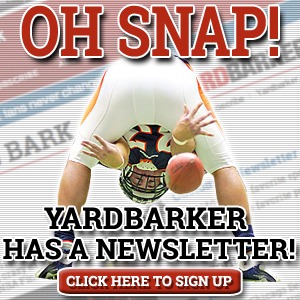 Latest Rumors
Best of Yardbarker

Today's Best Stuff

For Bloggers

Join the Yardbarker Network for more promotion, traffic, and money.

Company Info

Help

What is Yardbarker?

Yardbarker is the largest network of sports blogs and pro athlete blogs on the web. This site is the hub of the Yardbarker Network, where our editors and algorithms curate the best sports content from our network and beyond.