Michael Vick has been inconsistent in the last three weeks and due to the overall struggles of the offense, it may be time for Chip Kelly to consider pulling the plug on the Michael Vick Experience.  Philadelphia Eagles head coach Chip Kelly, offensive coordinator Pat Shurmur and Michael Vick's teammates will sign a familiar chorus when asked about the team's offensive struggles: Don't blame the quarterback.  The issues the Eagles are having on offense are vast and many.  A 41% red zone effectiveness is simply unacceptable as is the fact that ever since the Birds jumped out to a 33-7 lead they have been outscored by opponents 131-66. Sure, part of that blame lies at the feet of a defense that is statistically the worst in the National Football League and could be on the verge of posting one of the worst seasons in league history.  Yet, the defense has nothing to do with the lack of points scored in recent weeks and red zone opportunities missed.  Eventually, the attention needs to be shifted to the quarterback position where Vick is having a mixed bag season with a quarter of the games already in the books.  Through four games Vick has posted a quarterback rating 10 points higher than his career average at 93.2.  Vick has run for 228 yards and two touchdowns, with a career-high 61-yarder that helped boost his average per carry to 8.8, which would be the best of his career if he finishes out at that level. "I thought Mike played well," Kelly said after Sunday's loss in Denver. "We've got times when he's at the top of his drop and putting his foot in the ground, and there's pressure on him. I thought he threw the ball very accurately. I thought he put the ball in good places. I thought Mike played very well."  However, leaving Vick blameless in the offense's recent woes is akin to wearing green tinted glasses.  Through four games Vick has the fewest third-down completions for first downs in the league, behind even rookies EJ Manuel and Geno Smith. Further, the 33-year old's completion percentage on passes five yards or fewer has gone down in each consecutive game following opening night against the Redskins.  Short passes are the bread and butter of Kelly's offense.  So far this season Vick is holding onto the ball an average of 3.4 yards per attempt despite Kelly going on record stating he would ideally like the ball out of the quarterbacks hand in 1.4 seconds or less.  What it appears to be coming down to is that as much as the Eagles have moved the football with ease, they have struggled to produce points while running an offense built around the run in a league that is tilted to favor passing offenses.  The result is significant doubt that Vick is an ideal fit for this scheme after all.  Kelly finds himself in a unique situation with a 1-3 football team in a division where a 2-3 record very well could catapult them to the NFC East lead by the end of the weekend but with a quarterback who does not have a long-term future with this team and who's skill set may not be fit for the offense he'd prefer to run.  By continuing to play Vick, Kelly and company do not have the opportunity to evaluate either Nick Foles or Matt Barkley to decide if they must invest a first-round draft choice ideally allocated to rebuilding the defense on a franchise quarterback. But by giving Vick the hook sooner rather than later, Kelly not only would have the chance to evaluate at least one of the young quarterbacks on his roster but also simultaneously make a run at winning the division this season. In his rookie season Foles became the first rookie quarterback in NFL history to post a completion percentage above 60 percent - 63%- and average over 240 yards per game. If Kelly adapts his offense to play a more pass oriented scheme, Foles is the ideal fit.  The coaching staff may not want to blame Vick at this point, but pulling him may be best move for the present and future of the franchise.  Matt Lombardo is the Editor-In-Chief of Eagledelphia and also an on-air personality on 97.5 FM The Fanatic in Philadelphia. Join the conversation and follow Matt on Twitter.   Related articles Philadelphia Eagles Offensive Highs From Season Opener A Distant Memory Eagles offense needs to improve from Week 3
Original Story:
http://www.eagledelphia.com/2013/10/i...
MORE FROM YARDBARKER
Eagles News

Delivered to your inbox

You'll also receive Yardbarker's daily Top 10, featuring the best sports stories from around the web. Customize your newsletter to get articles on your favorite sports and teams. And the best part? It's free!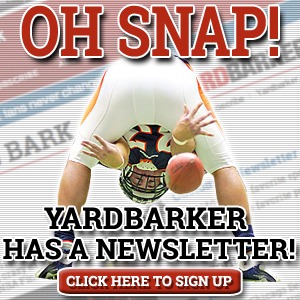 Latest Rumors
Best of Yardbarker

Today's Best Stuff

For Bloggers

Join the Yardbarker Network for more promotion, traffic, and money.

Company Info

Help

What is Yardbarker?

Yardbarker is the largest network of sports blogs and pro athlete blogs on the web. This site is the hub of the Yardbarker Network, where our editors and algorithms curate the best sports content from our network and beyond.