Found January 25, 2013 on Football Nation:
JaMarcus Russell. He was a former first-round selection and top overall pick from the 2007 draft class.The Raiders spent $61 million, 32 of that guaranteed, just to get him to end his holdout.In repayment, Russell gave the Raiders a lemon, or was it a king-sized bust as he went 7-18 as a starter, before the Raiders and Al Davis released him back in 2010.Now, after nearly three years of not playing, Russell is attempting a return to the NFL.Many are calling this decision delusional, but there's a very fine line between insanity and sheer genius. Russell already has the public eating out of his hands; the same way he fed himself to a whopping weight of near 300 pounds, clearly making him the prime candidate for "America's Next Biggest Loser." Sure, Russell will go through the motions of gaining the public's pity as he goes through another failed attempt to be successful in the NFL. Also, he will use outcry after outcry to lull you in, so he can accomplish his goal and turn a huge los...
Original Story:
http://www.footballnation.com/content...
THE BACKYARD
BEST OF MAXIM
RELATED ARTICLES
Resembling Precious at a svelte 308 pounds, former Oakland Raiders quarterback JaMarcus Russell is training to make an NFL comeback. Russell, who Oakland took out of Louisiana State University (LSU) with the first overall pick in the 2007 NFL Draft, threw 18 touchdowns, in comparison to 23 interceptions, for 4,083 yards over the course of 31 painful games. The portly resident of...
Steve Corkran of the Contra Costa Times believes the Oakland Raiders will target a number one receiver in free agency this offseason. This means the Raiders could target any of the following receivers; Mike Wallace, Dwayne Bowe, or Greg Jennings. The Raiders have a lot of young talented receivers, but they're missing a go to target for quarterback Carson Palmer.   Need NFL Tickets...
According to Steve Corkran of the Contra Costa Times, there's a chance the Oakland Raiders will go after Dolphins left tackle Jake Long once he becomes a free agent this offseason. The Dolphins aren't sold on Long as he continues to decline rather than get better over the past few seasons. If the Raiders do sign Long, Corkran believes they would move him to right tackle.   Need...
Steve Corkran of the Contra Costa Times believes that neither Raiders QB Matt Leinart or WR Darrius Heyward-Bey will be back with the team next season. Leinart is a free agent and is unlikely to be re-signed given that the Raiders appear to be willing to see what they have in Terrelle Pryor next season. Having arrived to Oakland after a brief stint with the Texans, Leinarts spent...
Former LSU standout and 2007 NFL No. 1 draft pick JaMarcus Russell wants to make a comeback to the NFL and I think that this can happen. However, he has a long road ahead of him because of his weight gain through the years which is reported by CBS sports as he's topping a whopping 308 lbs. I hope people aren't surprised by this news because as we remember when Russell was on...
The Oakland Raiders have rounded out their coaching staff by hiring former NFL defensive coordinator Bob Sanders as linebackers coach. Coach Dennis Allen announced the move on Friday to fill the final vacancy on his staff. He had earlier hired Greg Olson as offensive coordinator, Tony Sparano as offensive line coach and Bobby April as special teams coordinator. Sanders spent the...
Steve Corkran of the Contra Costa Times believes that wide receiver Darrius Heyward-Bey will be released by the Raiders this offseason if he doesn't agree to restructure his contract. Heyward-Bey is scheduled to make $7.7 million in 2013, which is the final year of his current deal. While Heyward-Bey has shown some improvement, he's not worth that much money and the Raiders will...
Typically, the NFL Pro Bowl is a relaxed game with no blitzing, little effort and a whole lot of scoring. For players, it's a free trip to Hawaii with a participation bonus added in at the end. But one player out on the field on Sunday will be trying his hardest. Oakland Raiders fullback Marcel Reece wants to win the Pro Bowl MVP because he wants the free car that comes along with...
The Oakland Raiders announced Friday that their coaching staff is complete with the hire of linebackers coach Bob Sanders. Sanders held the same position with the Buffalo Bills in 2012. He joined them in 2009 as defensive line coach and move to outside linebackers coach in 2010-11. Sanders, a 33-year coaching vet, was the Green Bay Packers defensive coordinator from 2006-08....
Last season Ryan Mathews waged a war against my fantasy teams.  It wasn't until last week, when I killed him in my Fake Football debut article that I was finally liberated from his tyranny.  Writing that piece proved to be the tomato bath I needed to rid myself of Mathews' putrid stench.  Suddenly the bitter memories of my lousy fantasy teams began to fade away.  At the same...
We all remember JaMarcus Russell right? Even if you aren't a Raiders fan or even a football fan for that matter, there is probably a good chance that you are familiar with the name JaMarcus Russell.Russell was the starting quarterback, if that's what you want to call him, for the Oakland Raiders for a short stretch from 2007 through the end of 2009.Russell played his college...
Raiders News

Delivered to your inbox

You'll also receive Yardbarker's daily Top 10, featuring the best sports stories from around the web. Customize your newsletter to get articles on your favorite sports and teams. And the best part? It's free!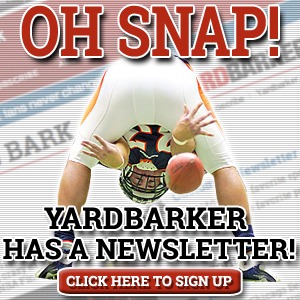 Latest Rumors
Best of Yardbarker

Today's Best Stuff

For Bloggers

Join the Yardbarker Network for more promotion, traffic, and money.

Company Info

Help

What is Yardbarker?

Yardbarker is the largest network of sports blogs and pro athlete blogs on the web. This site is the hub of the Yardbarker Network, where our editors and algorithms curate the best sports content from our network and beyond.