Found November 28, 2012 on WhoDeyFans:
When the news hit on Tuesday that the Eagles had released sack-master Jason Babin, the collective ears of the other 29 NFL fan bases perked up. From coast to coast, armchair GMs everywhere were completing their mental waiver claims and deciding who to cut to make room for him. To the Bengal contingent ready to bounce Wallace Gilberry or Robert Geathers to suit up Babin in orange and black, all I can say is this: Don't count on it. I'm not saying that Babin couldn't be a productive addition to the DL this year, despite his drop in production (30.5 sack in the last two years) and having 'only' 5.5 sacks this year. But just because the could make a move doesn't mean that they should. Here is why they won't. The Bidding War. Babin will draw interest from a number of teams once he hits free agency, and that means a bidding war will ensue. He might not get quite as much as he was due from the Eagles, but he may not lose all that much cash or time once he finally does ink a deal with someone. The Bengals will be better off using those resources to take care of young talent they already have. Plus, they just don't do bidding wars. He's 32. The Bengals don't need to get older. Especially at DE. (Do the words 'Levi Jones' bring back memories of spending big money on a 30+ yo DE?) Michael Johnson. Be honest. Babin isn't going to knowingly sign on to team where he is going to be the backup. After a shaky start, Johnson has come on strong over the past two years. As a free agent this offseason, the Bengals won't want to tie up the cash it would take to have both Babin and him. Especially not with Carlos Dunlap's rookie contract running out after the end of next year. Locker Room Cancer? I have no idea whether or not the rumors about Babin are true. But with all of the issues that this team has had over the years with problem children, how anxious are you really to take that chance? In the end, Babin will make a nice pick up for some team. But I don't see him playing in Cincinnati 8 times a year.
Original Story:
http://whodeyfans.com/2012/11/28/jaso...
THE BACKYARD
BEST OF MAXIM
RELATED ARTICLES
IRVING The Philadelphia Eagles cut defensive end Jason Babin on Tuesday, leaving the two-time Pro Bowler available to be claimed by another franchise. The Jacksonville Jaguars won the claim on Wednesday, according to multiple reports. When the news of Babin's release began circulating, fans across the league wondered if their favorite team would land the former first-round...
In a surprise move, the lowly Philadelphia Eagles cut defensive end Jason Babin, who led the team in sacks. For a team who struggles – well, everywhere on the field – you would think that they would want every player available to use on both sides of the ball. While there may be more to this move than Andy Reid letting the younger players get more time while allowing Babin the...
According to Mike Florio of ProFootballTalk.com, the Philadelphia Eagles waived defensive end Jason Babin to save some money by creating more salary cap space for themselves. Per a source with knowledge of the situation, Babin was cut in order to save cap space and cash ($1.69 million on both counts) down the stretch.  The goal also was to give the team's younger players a closer...
The Jacksonville Jaguars won the race to claim former Philadelphia Eagles defensive end Jason Babin off waivers Wednesday in an attempt to improve their pass rush. Eight teams tried to land Babin, NFL.com reported, but the Jaguars had the second highest position on the NFL's waiver claim list and took advantage of it. The Eagles released Babin on Tuesday. The Jaguars will...
The Jaguars are hoping that Jason Babin, who became a symbol of the collapse of the Philadelphia Eagles, can help revive their defense. Babin was signed to a five-year, $28 million contract by the Eagles a year ago and had 18 sacks but the Eagles failed to make the playoffs with an 8-8 record. Things got worse this year and defensive line coach Jim Washburn, who was Babin'...
Jason Babin, this year's blockbuster waived player, may want to stay with the Jaguars long-term. Babin has a player option in his contract that would allow him to become an unrestricted free agent following the 2013 season, but Babin indicates he won't necessarily exercise that option to get out of Jacksonville. After indicating he thought of Jacksonville as his long...
Categories: BREAKING NEWS Defensive Line Eagles NewsTags: DeMeco RyansEvan MathisFletcher CoxJason BabinMike PattersonNick FolesPhiladelphia EaglesTrent ColeThere's a lot of talk about the release of Jason Babin sending a message.  Why would you wait until the team is 3-8 to send a message?  The season is over and all the players are playing for is their individual careers...
Categories: BREAKING NEWS Defensive Line Eagles NewsTags: Jason BabinPhiladelphia EaglesIn an amazing and surprising move the Philadelphia Eagles have released starting defensive end Jason Babin. The veteran pass rusher played in 40 plays for the Birds last night in their loss to the Carolina Panthers. He has 5.5. sacks for the season, which is a huge dropoff from his Pro Bowl...
GETTING DEFENSIVE
One day after he was released by the Eagles, the All-Pro defensive end has himself a new team: the Jacksonville Jaguars.
Hot News for DE Jason Babin
One year removed from an 18-sack season, Philadelphia Eagles DE Jason Babin was abruptly released yesterday.  I don't mean to pile-on here, but I can't say I'm sad to see him go. In fact, I was very surprised they signed him (again) in 2011. I normally do not play the "I told you so" game, but…I told you so.  Back in June of 2011, I wrote an article saying why I didn't...
NFL News

Delivered to your inbox

You'll also receive Yardbarker's daily Top 10, featuring the best sports stories from around the web. Customize your newsletter to get articles on your favorite sports and teams. And the best part? It's free!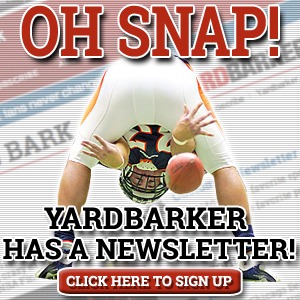 Latest Rumors
Best of Yardbarker

Today's Best Stuff

For Bloggers

Join the Yardbarker Network for more promotion, traffic, and money.

Company Info

Help

What is Yardbarker?

Yardbarker is the largest network of sports blogs and pro athlete blogs on the web. This site is the hub of the Yardbarker Network, where our editors and algorithms curate the best sports content from our network and beyond.