Found March 06, 2012 on Midwest Sports Fans:
Even with March Madness almost upon us, spring training beginning, and the NBA and NHL season in full swing, the NFL still found a way to make headlines. As you probably already know, former Saints defensive coordinator Gregg Williams has been accused of incentivizing his players to purposely injure opponents' top players by paying organizing a system non-contract bonuses. The alleged players whom Williams reportedly wanted to injure: Brett Farve, Kurt Warner, Peyton Manning, Earl Bennett, Gabe Carmi, and the holiest of holy…Jay Cutler. Bears fans first reactions may be one of anger towards Williams, and I don't blame them, but you have to look at the bigger picture. Did Williams and his team (the Saints at the time) succeed in injuring Cutler? No, they did not. Who did succeed in injuring Jay Cutler? None other than the Chicago Bears themselves! The truth is, the Bears don't need a team trying to injure their players. They'll just have Johnny Knox slip for no reason, causing Cutler to have to sprint 20 yards to try to tackle a player, only to break his thumb and screw up the whole rest of the season. Jay Cutler and the Bears are so good, they'll find a way to injure their own players. That independence should give fans a sense of pride and respect for the Bears. So let this be a lesson to all the inferior teams in the NFL, which is all of them, who may have tried to injure the greatest QB since the NFL started counting interceptions as a stat. You will not beat the Bears when it comes to ruining our season. They can do it a lot better themselves. Jay Cutler and the Bears: 1 Gregg Williams and the Saints: 0 *****
Original Story:
http://www.midwestsportsfans.com/2012...
THE BACKYARD
BEST OF MAXIM
RELATED ARTICLES
In the midst of the Gregg Williams "Bounty-Gate" scandal, the NFL Network has decided not to re-air the 2009 NFC Championship Game between the Minnesota Vikings at the New Orleans Saints. The NFL Network has been re-airing "classic" games over the past few days and the re-airing of the 2009 NFC Championship game was supposed to take place on Monday at 3pm EST...
On Friday, Rams defensive coordinator Gregg Williams was exposed for his role in a "pay for performance" program that was operational during his three-year span with the New Orleans Saints, and possibly during his time with the Washington Redskins and Buffalo Bills as well. The program offered incentives to players who made big plays, such as fumbles and interceptions...
In a national notebook, we have a few updates on Gregg Williams' "bounty" controversy and a draft update on Penn State cornerback D'Anton Lynn.
Rams defensive coordinator Gregg Williams is at the center of a firestorm over his admitted bounty program while with the Saints. It's a good time to expose Williams for what he is: an average coach and symbol of the good ole boy network that dominates NFL sidelines.....
According to ESPN's Chris Mortensen, St. Louis Rams defensive coordinator Gregg Williams will meet with NFL at the league office's in New York City on Monday to discuss bounty gate. So far all indications are that Williams has been cooperating with the NFL as they continue their investigation. The NFL is expected to hand down penalties for those involved, towards the end of the...
Defensive lineman Kedric Golston says Gregg Williams offered cash incentives for certain plays when Williams was the defensive coordinator of the Washington Redskins. Golston said Monday that Williams would reward players for a ''sack or an interception'' or ''a pivotal play.'' But Golston also said: ''I've never seen a player get any...
Then again it would probably have unintended consequences as it did for a Swedish floorball coach who found himself in trouble after using a unique method to coach defense. The unnamed coach of the FBC Engelholm floorball team recently returned from suspension after another floorball coach reported him for employing his "Snygga brudar i försvaret" or "Hot Babes on Defense"...
I didn't want to write anything about the BountyGate coverage knowing I could never give an unbiased, fair assessment of the scandal as a lifelong Saints fan.  I've always been curious what it'd be like to have my team at the center of a scandal big enough it got its own "Gate" attached to it... now I know, it sucks.  This is worse than going through the years...
Spygate has been thrust back into the limelight following the recent revelations regarding the New Orleans Saints' bounty program. But why? Aside from both instances breaking NFL rules, is there really a comparison to be made between the two? The Patriots' Spygate situation involved videotaping defensive coaches' signals, whereas the Saints' bounty program -- spearheaded...
NFL News

Delivered to your inbox

You'll also receive Yardbarker's daily Top 10, featuring the best sports stories from around the web. Customize your newsletter to get articles on your favorite sports and teams. And the best part? It's free!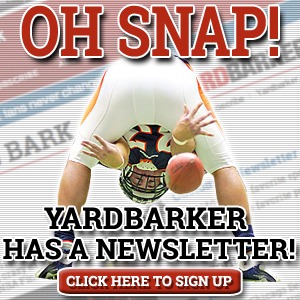 Latest Rumors
Best of Yardbarker

Today's Best Stuff

For Bloggers

Join the Yardbarker Network for more promotion, traffic, and money.

Company Info

Help

What is Yardbarker?

Yardbarker is the largest network of sports blogs and pro athlete blogs on the web. This site is the hub of the Yardbarker Network, where our editors and algorithms curate the best sports content from our network and beyond.