Found July 24, 2013 on Midwest Sports Fans:
Chicago Bears general manager Phil Emery dropped a bit of a bombshell on Wednesday when he announced that the team would not be signing any players to contract extensions during the 2013 season. That means the team's quarterback, Jay Cutler, won't be getting a new deal before the 2014 season. Cutler signed a two-year, $30 million contract extension in October of 2009 that altered his contract to run through the 2013 season. If Cutler can't improve on his play so far during his time in Chicago, the Bears could opt to go in another direction in the offseason. Basically, Cutler gets to play for his next contract this season. The Bears hired quarterback guru Mark Trestman as their new head coach this offseason. If Cutler is actually open to working with and trusting Trestman, then there's almost no doubt he'll improve under his tutelage. But Cutler has had rocky relationships with his past two offensive coordinators in Chicago (Mike Martz and Mike Tice) and he's long been known as a tough guy to deal with. My money is on the 30-year-old finally growing up a bit and accepting advice from Trestman though. Cutler has claimed he's not worried about his contract situation, and that's probably a good thing for Bears fans. If Cutler were to play while pouting about not getting a new deal, it would only mean bad things for the team. Cutler has been in Chicago for four seasons now, and in that time he has completed just 59.6 percent of his passes and thrown for 82 touchdowns and 63 interceptions. His quarterback rating during that time is a pedestrian 81.9. Defensive tackle Henry Melton is also impacted by the team's no extension announcement. He will play the 2013 season as the team's franchise player and is also in need of a new, long-term deal. The post Jay Cutler: Chicago Bears won't extend quarterback's contract before 2014 appeared first on Midwest Sports Fans.
Original Story:
http://www.midwestsportsfans.com/2013...
THE BACKYARD
BEST OF MAXIM
RELATED ARTICLES
As quarterback Jay Cutler enters the final year of his current contract, the Chicago Bears are simply allowing him to gamble on himself the way Joe Flacco did with the Ravens last season.  The only problem is if he say, wins a Super Bowl, the Bears will be likely forced to pay him over $22 million per season. #Bears and Jay Cutler haven't spoken about a new contract since the...
Jay Cutler The Chicago Bears have officially reported to training camp for the 2013 NFL season.  As they prepare for the year, there are some burning questions surrounding the team. 1.  Will the offensive line finally be able to hold up? Phil Emery and the rest of the front office knew that the offensive line was one of the biggest weaknesses last year, if not the biggest one. ...
General manager Phil Emery's proclamation that the Bears will not negotiate contract extensions during the 2013 season is a masterstroke of simplicity prudence and fairness: You play — you get paid; you don't — you won't. It's a philosophy that avoids more problems than it creates — especially on a team that was 7-3 and 7-1 in the middle of the last two seasons and...
Jay Cutler is aware quarterbacks are cashing in around the NFL. He also realizes he'll have to wait for his big payday. Chicago general manager Phil Emery all but ruled out extensions this season for players with expiring contracts, and Cutler insists he's OK with that. The same goes for kicker Robbie Gould and cornerback Tim Jennings, who are part of a long list of Bears...
If quarterback Jay Cutler wants a new contract from the Chicago Bears, it looks like he'll have to wait until the end of the season. General manager Phil Emery says he doesn't see the Bears extending contracts this season, meaning several high-profile players could hit the open market. He spoke Wednesday as players arrived for the start of training camp, their first under...
Jay Cutler proved to the Denver Broncos in 2006 that he was destined to be an elite quarterback. He was picked as an 11th overall draft pick and followed that with a stint in the 2008 Pro Bowl.  But it didn't take long for that destiny to be transferred to another team who would embrace him as their possible franchise quarterback, the Chicago Bears. Despite being a Type 1 diabetic...
smokinjaycutler: Smokin' Jay Cutler and the Chicago Bears began training camp today so we're posting our first ever animated smoke gif on the site.  Good luck this season Smokin' Jay!
Following in the footsteps of Baltimore Ravens QB Joe Flacco, Chicago Bears QB Jay Cutler will wait until after his current contract expires in order to secure a new deal. Flacco rolled the dice last season and wound up leading his team to a Super Bowl championship and a very lucrative new contract. Cutler is hoping for similar financial success after the 2013 season. Cutler had...
Big changes hit the Bears with the force of a winter wind in Chicago. Now, it's time to see how all the moves play out. The Marc Trestman era kicks into a higher gear with the start of training camp this week and the Bears looking for more after missing the playoffs for the fifth time in six seasons. A second straight collapse cost former coach Lovie Smith his job. Now, the...
Overall outlook: New head coach Marc Trestman hopes to breathe life into the normally mediocre Bears' offense. Once again, there's a trio of interesting players here. Bye week : 8 Quarterback : Jay Cutler Ranked 23rd with 22.6 FOXSports.com fantasy points in 2012 ... Cutler was 24th in passing yards (3,033) and T-21 in touchdowns (19), but since he ranked 24th in attempts...
These predictions are by Jesse Thomas.  Jesse is a big supporter of the site, and hosts a great Podcast, "That Other Sports Show".  Be sure to check him out on Twitter:Listen to the newest show via http://t.co/RX9DuvvIqk. #Baseball #Steroids #ARod #RadTimes— Jesse Emelianenko (@JTT81) July 25, 2013 If you would like to send us your NFL predictions, hit me up on twitter...
Bears News

Delivered to your inbox

You'll also receive Yardbarker's daily Top 10, featuring the best sports stories from around the web. Customize your newsletter to get articles on your favorite sports and teams. And the best part? It's free!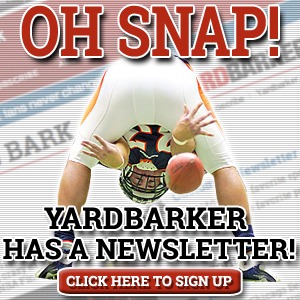 Latest Rumors
Best of Yardbarker

Today's Best Stuff

For Bloggers

Join the Yardbarker Network for more promotion, traffic, and money.

Company Info

Help

What is Yardbarker?

Yardbarker is the largest network of sports blogs and pro athlete blogs on the web. This site is the hub of the Yardbarker Network, where our editors and algorithms curate the best sports content from our network and beyond.