Found November 13, 2012 on Midwest Sports Fans:
PLAYERS:
Jay Cutler
,
Devin Hester
,
Tim Robbins
,
Jason Campbell
,
Alex Smith
,
Matt Forte
,
Brandon Marshall
TEAMS:
Chicago Bears
,
Houston Texans
,
Minnesota Vikings
,
San Francisco 49ers
,
Green Bay Packers
Late in the second quarter on Sunday night, with the Chicago Bears down 10-3 to the Houston Texans, Jay Cutler stepped out of the pocket and eventually crossed the line of scrimmage to make a pass to Devin Hester. The play would be called back, and a review of whether Cutler stepped over the line would ensue. Bears fans everywhere would also soon suffer from scary memories of 2011. As viewers watched the replay over and over, the attention shifted from Cutler's body position in relation to the line of scrimmage to the helmet-to-helmet tackle that linebacker Tim Robbins gave to Cutler. Cutler was visibly shaken by the hit, and a penalty was called, but the very next play Cutler looked fine after he scrambled and went head first into a defender to pick up a first down. However, Cutler would not return to the game in the second half due to "concussion-like" symptoms, leaving the Bears to try to win the game with Jason Campbell. They did not. As the news came out of Cutler's concussion, a long diatribe consisting of cuss words and pleas was directed towards my TV screen. It feels like last season all over again. A playoff berth seemed almost guaranteed, but now…well, the doubts are beginning to settle in my mind. I remember last season, with a 6-3 record after a five-game winning streak, Cutler injured his thumb after attempting to tackle a defender. He would miss the rest of the season, and the Bears wouldn't win a game until week 17 against the Minnesota Vikings, killing any playoff chances the Bears had. The exact same thing seems to be happening this season. The Bears are currently atop the NFC North with a 7-2 record, but the Green Bay Packers and even Minnesota Vikings are well within striking range and showing no signs of letting up. The Bears play the 49ers next week (though it's important to note their QB Alex Smith suffered a concussion as well), and Chicago still has four more divisional games before the regular season is over. Just as things are going well, an injury ruins it. The Bears are a better team offensively than they were last season with Matt Forte healthy and Brandon Marshall at the receiving position, and the defense is absolutely spectacular. But possibly having to rely on backup quarterbacks to keep momentum going and the Bears in playoff contention is not something I want to do again. The Bears have to comply with the newish NFL rules pertaining to concussions, which states a player cannot return unless they've been cleared by an independent neurologist. You can never tell when a player will return, if at all, when they suffer a concussion, which makes this whole ordeal very stressful for Bears fans. I am not putting the nail in the coffin just yet, but the uncertainty of when Cutler will return bothers me a lot. The post Jay Cutler's Concussion Brings Back Bad Memories from Last Season appeared first on Midwest Sports Fans.
Original Story:
http://feedproxy.google.com/~r/Midwes...
THE BACKYARD
BEST OF MAXIM
RELATED ARTICLES
It's déjà vu all over again for Chicago Bears fans in 2012.  The Chicago Bears went on a long winning streak which had people talking about them as a top team in the NFL, just like last season.  Now Jay Cutler is hurt, just like last season.  The question now is whether or not Cutler will miss extended time, and how Jason Campbell will perform in his absence. It could be seen...
Jay Cutler left the game against Houston at halftime having also been diagnosed with a concussion, but, for me the issue poses a bigger question than whether or not Jason Campbell can do enough to lead the Bears to victory (I'd suggest it just got quite a bit harder for them). The question is why wasn't a concussion test administered on Cutler before he went to the locker...
Join the guys for their observations and insights on Sunday night's loss to Houston on the next edition of "Bears Claws".  They'll discuss Jay Cutler's injury, the Bears offensive struggles, and whether they can rebound  next Monday night on the road in San Francisco. It will be a lively 30 minutes of blocking, tackling, and tongue-in-cheek humor, so make sure [...]
SEEING STARS
The constant rain has turned this Sunday Night Football game between the Houston Texans and Chicago Bears into an utter slop fest.  But even then it's not without its big plays.Tim Dobbins made a play to get after Jay Cutler and unfortunately for Cutler, despite absorbing a massive hit, it was all for nothing.  Cutler had barely crossed the line of scrimmage, making the pass...
Chicago Bears quarterback Jay Cutler's status for this week remains in question because of a concussion.
Jay Cutler suffered a brain injury and stayed in the game, getting hit in the head again on the very next play. Tim Dobbins was ruled by officials to have cheap-shotted Cutler with a helmet-to-helmet blow, and stayed in the game. Can we try to stay focused on what matters here? It won't be easy, because Roger Goodell and the NFL are working a little magic trick, using smoke...
Bears quarterback Jay Cutler has left Chicago's game against the Houston Texans because of a concussion. A scrambling Cutler took a helmet-to-helmet hit from Tim Dobbins after unleashing a pass on third down at midfield late in the first half Sunday night. There were offsetting penalties on the play. Cutler got called for an illegal forward pass because he was beyond the line...
This was system failure, maybe system overload for the NFL. You get a big game like Sunday night, Houston at Chicago, and hope to see statements made, questions answered. We got statements, all right. When Houston linebacker Tim Dobbins cheap-shotted Jay Cutler -- in the officials' opinion -- by going helmet-to-helmet after Cutler had thrown a pass, Dobbins was allowed to stay...
Houston Texans linebacker Tim Dobbins has been fined $30,000 for a helmet-to-helmet hit that gave Chicago's Jay Cutler a concussion. The hit came in the second quarter of Houston's 13-6 win on Sunday night when Dobbins hit a scrambling Cutler after he threw a pass. Cutler was past the line of scrimmage and called for an illegal forward pass on the play, and Dobbins was...
The Chicago Bears are expected to sign quarterback Josh McCown with Jay Cutler's status in doubt because of a concussion, ESPN Chicago reported Monday. Cutler sustained a concussion after taking a hard hit during the Bears' 13-6 loss to the Houston Texans on Sunday night. Jason Campbell replaced Cutler for the second half of the game. The Bears will need another backup...
I know why you're here. Week 10 has created so many question marks for teams heading in to Week 11. The biggest of all being at the quarterback position with injuries to the dominant Jay Cutler, Alex Smith, Ben Roethlisberger, and Michael Vick. Let's get to it! Fantasy Football Week 11 Waiver Wire Pickups Nick Foles, QB, PHI (Yahoo! 5%, FOX 1.2%) The big question for a lot of...
NFL News

Delivered to your inbox

You'll also receive Yardbarker's daily Top 10, featuring the best sports stories from around the web. Customize your newsletter to get articles on your favorite sports and teams. And the best part? It's free!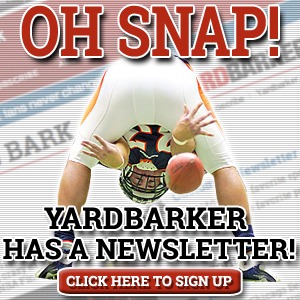 Latest Rumors
Best of Yardbarker

Today's Best Stuff

For Bloggers

Join the Yardbarker Network for more promotion, traffic, and money.

Company Info

Help

What is Yardbarker?

Yardbarker is the largest network of sports blogs and pro athlete blogs on the web. This site is the hub of the Yardbarker Network, where our editors and algorithms curate the best sports content from our network and beyond.