Found October 11, 2012 on 60 Max Power O:
Jeff Saturday, former center for Peyton Manning is now part of the Green Bay Packers. He's now part of the quarterback –center battery along with Aaron Rodgers. The 2-3 Packers are having some issues on offense, and in all trying to pull a once championship team back into form. The question that is always asked "how is the chemistry in the locker room?" Saturday spoke on 1070 The Fan in Indianapolis with Grady and Big Joe about his transition to the Packers and the temperature in the locker room. "It's been a big transition for me — the philosophy, the offense is completely different. The style of the offense line play here is completely different than what we had in Indy for so many years, so it's been a bit of a learning curve. It's been one of those things where you try to learn as much as you can in OTAs and in training camp, but the reality is, at this point in my career, the things you need to learn you can't really learn until you get into a game with somebody to really see when the bullets are flying what it is going to look like and how it's all going to play out. It's been a transition for sure. It's one that I would say, coming as an offensive lineman, I guess you get so accustomed to playing the style you've played for so many years that when you do change you have to catch up with the guys who are here." "Yeah there is a complete difference. They are football crazy here. They are all owners of the team. They take big pride in the Packers organization and they are going to be there. … The craziest thing for me is getting to the stadium. I see so many people in the parking lots of the games and they don't even go inside. You know what I mean? The place has been sold out for 40 or 50 years, but there are so many fans who just come here to be a part of the festivities around the games. The whole town shuts down for Packers and everybody is so involved with the team and all the stories surrounding the team that that part has been cool to be a part of. That's one of those things when I was in college you had … the Tar Heels had a great basketball team. You go to Indy, they got not only us, but baseball, basketball, racing. It's a big sports town, but with Green Bay you literally just got the Packers, so you are the main focus all day and every day. It's been a neat experience for me to get to see it from that side." On the locker room: "Coach McCarthy has talked a lot about where we are. It's the condition of our team that we are concerned about much more than the position. We're 2-3 and there's a lot of football left, but we're doing a lot of things to hurt ourselves and in all of the games we've lost, we've done it and we are not correcting the mistakes we need to correct. The one thing about him [Coach McCarthy] is that he is straightforward as a coach. He lays out what he wants done and accomplished. We just haven't adapted. We haven't played well enough to win. We're making mistakes in key moments and that's really hurting us as a team, whether it be offense or defense we both share the issue of making mistakes in inopportune times and leaving teams in to have a chance to win."
Original Story:
http://www.60maxpowero.com/patriots/c...
THE BACKYARD
BEST OF MAXIM
RELATED ARTICLES
The Green Bay Packers look to get back to their winning ways this weekend in a tough matchup against the undefeated Houston Texans.Both teams are coming off weeks in which they received bad news regarding key players and injuries.Green Bay found out that Cedric Benson will be out a majority of the season and could possibly be out for the entire season.  The Houston Texans found...
GREEN BAY, Wis. -- Packers running back Cedric Benson has been placed on injured reserve after suffering a Lisfranc injury to his left foot Sunday. But unlike previous NFL seasons, Benson will have a chance to get back on the field later this year due to a new league rule that allows each team to designate one player for a possible return. With Benson being given that designation...
Im sure all football fans can agree that Aaron Rodgers and the Green Bay Packers hasnt been looking like themselves and if you dont think so, Rodgers agrees that he himself hasnt been playing his best football. Our friends over at ProfootballZone.com has a snippet of Rodgers interview with 540 AM in Milwaukee via NFL.com: "I set the bar high and I expect to play at a higher level...
According to Tyler Dunne of the Milwaukee Journal Sentinel, Alex Green will get the first crack at the Green Bay Packers' starting running back job while Cedric Benson is out.Packers head coach Mike McCarthy also confirmed that they'll ride the hot hand between both Green and James Starks.
Green Bay Packers running back Cedric Benson was placed on injured reserve Wednesday, but a "designated to return" tag was added, which means he might be back this season. Benson sprained his left foot in Sunday's loss to the Indianapolis Colts, and by being placed on injured reserve, he must sit out eight games. He's eligible to return in Week 14 against...
Packers WR Greg Jennings Expected To Miss Week 6 - Although he's yet to completely rule himself out for Sunday's game versus the Texans, Packers' WR Greg Jennings (groin) is not expected to play in Week 6. "I've kept things the same, making sure I don't rush it back like I did before," Jennings said. Still in shutdown mode, Jennings has not even tried running at full...
The defense is giving up big chunks of yardage - again. Injuries are piling up. Even the offense, which has carried the Green Bay Packers the last two years, is suspect. A year after opening the season 13-0, the Packers are in danger of letting the season get away from them. At 2-3 (yes, that includes that loss in Seattle that wasn't really a loss), they face something of a...
GREEN BAY, Wis. -- The relationship between Packers quarterback Aaron Rodgers and tight end Jermichael Finley frequently boils down to one word: chemistry. In Finley's mind, chemistry between the two is often directly related to his personal statistics and those of the offense as a whole. With Green Bay's 2-3 record and an offense ranked 21st in the NFL in total yards and...
Quarterback Aaron Rodgers talks about the state of his season; plus injury reports and much, much more from a newsworthy Wednesday at Lambeau Field.
Top receiver Greg Jennings said more than once Thursday that "time will tell" how soon he can get back on the field after coping with a nagging groin injury the last two weeks. Coach Mike McCarthy is hoping the timing of the Packers' next game, Sunday night at the unbeaten Houston Texans, will work to the benefit of his injury-plagued team. McCarthy stressed Thursday...
Andrew Luck had his best game yet in leading the Colts back from a 21-3 halftime deficit over the Green Bay Packers. It ties the largest comeback win of the season, and the largest by a rookie since Matthew Stafford's 21-point comeback over Cleveland in 2009. For the third straight game Luck led the offense on a go-ahead scoring drive with less than a minute to go, and Green...
Packers News

Delivered to your inbox

You'll also receive Yardbarker's daily Top 10, featuring the best sports stories from around the web. Customize your newsletter to get articles on your favorite sports and teams. And the best part? It's free!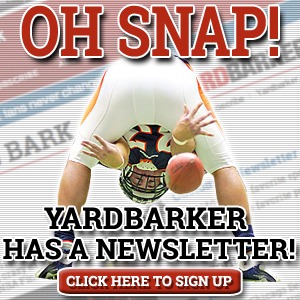 Latest Rumors
Best of Yardbarker

Today's Best Stuff

For Bloggers

Join the Yardbarker Network for more promotion, traffic, and money.

Company Info

Help

What is Yardbarker?

Yardbarker is the largest network of sports blogs and pro athlete blogs on the web. This site is the hub of the Yardbarker Network, where our editors and algorithms curate the best sports content from our network and beyond.