Found May 17, 2012 on Losers Bracket:
Packer Fans, this IS the Year of the Take Over.....2012 NFL Season.   Often times my articles contain me complaining or ranting about the failure of a Wisconsin team or a player on said team. Today I am going to go a different route. On my personal Twitter account I follow Jermichael Finley. Mr. Finley has been a lightning rod for the Packers most recent playoff loss and for his dropped passes throughout his career. No doubt these drops are frustrating to watch as a fan, to the coaches and his teammates, but no one is more aware of and more up front about them than Jermichael Finley. After every game Finley tweets about the game, his performance and how it could improve. If he has a good game, he is happy, but always quick to mention room for improvement. I paid special attention to Finley's Twitter account immediately after the playoff loss to the Giants and have been reading his Tweets ever since. The immediate fan reaction after the loss was insane. People spamming his page with crazy and irrational posts. Finley responded to some, but often took the high road only promising to "Perfect the Imperfect"  #PerfectTheImperfect. This hash tag says a ton about the man Finley is and the player he strives to be. It would have been very easy for Finley to just tell everyone to shut the F up, and go live their mundane lives. Nope, Finley just kept pounding the fact that he will improve, he will hit the weights, he will perfect that which he recognizes is not yet perfect. Every morning the tweets are about working out, running drills, or positive tweets to his team. His morning tweets often include a greeting to his fans and wishing them a "blessed day". Jermichael Finley often gets ripped on for spouting off at times, and for not living up to expectations. Sometimes, Finley gets caught in the moment and will say something to piss off the media or fans, but he never hides behind it. Nope, Finley faces the music and promises to improve. How would you react if 100 people asked you for answers and reasons as to why you screwed up at work? All the fluff above leads me to the point of the article. I am all in this year on Jermichael Finley and his promised Y.O.T.T.O. (Year of the Take Over) . What I have read on Twitter (yes I realize its Twitter and a small sample of the actual person) leads me to believe that Finley is going to EXPLODE this year. Finley has every physical skill that a great T.E. needs; speed, size, strength, reach. If his Tweets are any indication, Finley is working every day to perfect the hands, mental aspects and precision route running that is needed to become one of the best Tight Ends in the league. This while doing the obvious NFL training and being 100% healed up after his knee problems. When I see this kind of honesty and stand up activity by a player on the Packers I am sold. Jermichael Finley, I am all in. Take Over. Help the Packers win another Lombardi Trophy! Also, a Pro Bowl and a long term deal wouldn't hurt either!   P.S. With this proclamation, the first one ever by me, I will take you as my first T.E. in Fantasy Football.
Original Story:
http://losersbracket.com/2012/05/jerm...
THE BACKYARD
BEST OF MAXIM
RELATED ARTICLES
GREEN BAY, Wis. -- It seems that Donald Driver may be returning to the Green Bay Packers for a 14th season.Driver, the franchise's all-time leading receiver, posted a message on Twitter that indicates he'll again be catching passes from NFL MVP Aaron Rodgers next season and continue adding to his record numbers in Green Bay."Hello everyone: I'm a packer for life...
Former Green Bay Packers running back Ahman Green would consider returning to the NFL this fall. Green, 35, told reporters yesterday that he believes he has five years left in his tank. Green has been out of the NFL for several seasons and then played in the UFL in 2010 and last season in the Canadian Football League. Green has gone as far as to say he'd be open to play special...
Click here to view the embedded video. Thank to my extra-innings package, I came across this commercial while watching the Brew-Crew the other day. As football season is still in hiatus, Brewer and Packer fans alike hail Rodgers at every opportunity. I would actually be curious to get Rodgers on the mound to see how fast he could sling it. Watch the snippet above great great great...
In a conversation that must have felt totally natural and heterosexual to him, Aaron Rodgers went on a Canadian podcast this last week called "Cabbie Presents: Softcore Gay Porn Talk The Podcast" and just talked about how much he loves dude's butts. Well, at least dude's butts that belong to his former and current centers. No joke: "There's two main...
If time can truly heal all wounds, the strained relationship between the Green Bay Packers and former quarterback Brett Favre still needs a couple more years. With Favre now out of the NFL for good having not played during the 2011 season, the 42-year-old gunslinger and the team he led for 16 seasons the one he was later unceremoniously traded by -- can attempt to reunite and leave...
Ahman Green hasn't played in the NFL since the 2009 season, but the former Green Bay Packers running back wants to make a comeback. The 35-year-old Green has kicked around in the UFL and CFL the past two seasons but apparently feels rejuvenated. "I've got at least five years left in me to play football," Green told FoxSportsWisconsin.com. Green remains the Packers'...
Round 1 1)   Aaron Rodgers- Rodgers should without question be not only the first QB selected in the draft, but the first player overall selected. Last year, Rodgers kept fantasy owners in every game by averaging a gaudy 25.6 fantasy points per game. No matter what other players owners surround Rodgers with, they can expect to win every week. 2)   Arian Foster- After a slow start...
Getty Images According to Lori Nickel of JSOnline.com, Green Bay Packers President and CEO Mark Murphy said that they plan on retiring Brett Favre's number 4 within the next couple of seasons. Only a classy organization like the Packers would still retire Favre's number after the way their relationship ended.  They know it's the right thing to do after the great career Favre...
At some point everyone will look back on Brett Favre's career in Green Bay and be amazed at what he was able to accomplish. Some are already able to do that, but there are plenty of Packers fans out there who are still upset over the way Favre's career in Green Bay came to a bitter end. From the moment the Packers decided Aaron Rodgers was their guy, it felt like everything Favre...
Hot News for DT Johnny Jolly
Packers News

Delivered to your inbox

You'll also receive Yardbarker's daily Top 10, featuring the best sports stories from around the web. Customize your newsletter to get articles on your favorite sports and teams. And the best part? It's free!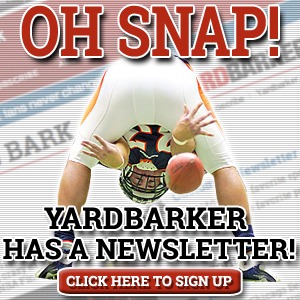 Latest Rumors
Best of Yardbarker

Today's Best Stuff

For Bloggers

Join the Yardbarker Network for more promotion, traffic, and money.

Company Info

Help

What is Yardbarker?

Yardbarker is the largest network of sports blogs and pro athlete blogs on the web. This site is the hub of the Yardbarker Network, where our editors and algorithms curate the best sports content from our network and beyond.