Found November 11, 2012 on Fox Sports Southwest:
PHILADELPHIA The best explanation for why Jerry Jones would attempt to sidestep last weekend's rumors about Sean Payton as a future Cowboys coach but then this weekend talk fairly openly about rumors about Mike Holmgren as a future Cowboys coach has nothing to do with Payton, with Holmgren, or with sitting Dallas coach Jason Garrett. It has everything to do with Jerry being Jerry. "Of course, Mike Holmgren is a heck of a coach," Jones said on Dallas radio station 105.3 The Fan before Sunday's Cowboys-at-Eagles kickoff. "But the facts are that Jason Garrett gives us an outstanding chance to be what we want to be. So, there you have it. I wouldn't comment one way or the other there with Mike." Of course, he just did comment one way or the other regarding Holmgren, with whom Jones became friendly years ago when the Super Bowl-winning coach (then with the Packers) served with Jones on the NFL's powerful Competition Committee. And Jones said more, explaining that when he heard about the CBSSports report about Holmgren harboring "serious interest'' in Dallas if there should be a vacancy, he visited with Cowboys play-by-play voice Brad Sham of The Fan to catch up on the news. "I was interested in why he said he would like to be the coach," Jones said. "And that was good. We are good friends, have a lot of respect for each other, served on the Competition Committee together for eight years. He's very familiar with how we operate the Cowboys, and does have a high appreciation for our talent that we have on the team right now. All of that is a compliment. Thank you, Mike." As noted in this space last week, Holmgren not successful in his executive position with the Cleveland Browns is among Jones' confidants, a friendly adviser as Jerry runs his team as the owner, president and GM. Jones also has a relationship with suspended Saints coach Payton. And with hundreds of other football names, some more headline-grabbing than others. If a football person wants a job, or wants a raise, strategically, he might leak info about being interested in Dallas. Meanwhile, if a reporter wants attention, he might make certain to release inside info under the spotlight of an NFL Sunday and to raise the profile of the story by including the lightning-rod Cowboys in the first paragraph. It is not Jerry Jones' plan to fire Garrett, though Dallas' 3-5 start has placed the young coach the middle of these sort of stories. "We need to win a game,'' Jones said earlier this week. "I looked for an uptick when Jason took over (in the middle of the 2010 season). I look for that now. The arrow is going up.'' So why is Jerry Jones willing to let himself be drawn into conversations like this? Because which ever way the arrow is pointing, Jones likes to make certain the TV cameras are pointed at him and his Cowboys.
Original Story:
http://www.foxsportssouthwest.com/11/...
THE BACKYARD
BEST OF MAXIM
RELATED ARTICLES
Says Deadspin's Barry Petchetsky on Holmgren, the recent Cowboys rumor and Bob LaMonte's black magic on behalf of clients Holmgren and Andy Reid: "If one of your clients wants plausible deniability, don't plant two identical rumors about multiple clients with the same reporter at the same time." Read the whole thing and heaven forbid as always that anyone at the Plain Dealer...
Leave it to 'the Walrus' to backpedal. Mike Holmgren denied today that he was interested in coaching the Dallas Cowboys. "I don't know how any of that stuff gets started," Holmgren said. "The last time I talked to anybody about my future was in this (Browns) room. I honestly don't know what I want to do." Holmgren insists that he is still committed to the Cleveland...
Letting the negative public relations last all of of one morning, Cleveland Browns retiring president Mike Holmgren says that he is upset at hearing his name being linked to "having interest" in a potential coaching job with the Dallas Cowboys. "I don't know how any of that stuff gets started," said Holmgren, on Monday morning, in regard to a recent report by Jason LaCanfora...
BEREA, Ohio (AP) -- Browns president Mike Holmgren is on his way out. He just hasn't decided where he's going or what he wants to do. Hoping to squelch a weekend report that he would be interested in coaching the Dallas Cowboys if Jason Garrett gets fired, Holmgren, who may leave the Browns before this season ends, went out of his way Monday to make it known he isn't...
A change of ownership in the Cleveland Browns front office has left one experienced former head coach without a job when thw 2012 regular season concludes. Mike Holmgren, who has occupied an office in the Browns front office for the last few years will be a free agent at the conclusion of this season. Rumors have already surfaced about the possibility that Holmgren might join the...
Outgoing Cleveland Browns team president Mike Holmgren denied a report that he has already shown interest in potentially coaching the Dallas Cowboys. "I don't know how any of that stuff gets started," Holmgren told reporters at the Browns' headquarters Monday, according to Mary Kay Cabot of the Cleveland Plain-Dealer. CBS Sports' Jason La Canfora reported...
Outgoing Browns President Mike Holmgren still hasn't decided if he wants to coach again.
Jason La Canfora of CBS Sports reported on Sunday that Mike Holmgren would be interested in taking over as the Cowboys head coach, should the job become available. Holmgren reportedly likes their roster and the fact that he does have ties to owner Jerry Jones suggests that it's at least a remote possibility. "Of course, Mike Holmgren is a heck of a coach," said Jerry Jones...
"I hear the weather's nice in Dallas." The Cowboys got a crucial win over the Eagles yesterday by riding defensive and special teams touchdowns to victory…and by knocking Michael Vick out of commission and then harassing rookie QB Nick Foles just enough. Oh, and by Tony Romo not throwing a single INT. So, let's celebrate the big win by throwing fuel on the newest rumor...
The Dallas Cowboys can finally talk about the NFC East race, now that they are back in it. A week ago, the Cowboys lost to Atlanta and speculation centered on whether Sean Payton might replace coach Jason Garrett. On Sunday, there was a report that Mike Holmgren might be interested if Garrett was out. Garrett spent all week deflecting the Payton questions, and owner Jerry Jones...
Sean Payton: Heir to the Cowboys Throne? "Sean Payton to coach Dallas Cowboys." No one would be surprised if that was the leading headline in the coming NFL off-season. Since the NFL voided Payton's contract with the New Orleans Saints, speculation about Jerry Jones setting his sights on the former Cowboys assistant has run rampant. And why not? We have seen it before. Jerry...
Everybody hates Mondays, hopefully these links and images brighten up your day. NFL "Grungy" iPhone Wallpapers Stat of the Day:  Russell Wilson is now undefeated at home and hasn't thrown an INT in 111 attempts at Century Link. He was a 3rd round pick, best Seahawks pick-up in years. Report: Mike Holmgren wants to coach Dallas Cowboys -NFL.com 49ers and Rams players fail...
NFL News

Delivered to your inbox

You'll also receive Yardbarker's daily Top 10, featuring the best sports stories from around the web. Customize your newsletter to get articles on your favorite sports and teams. And the best part? It's free!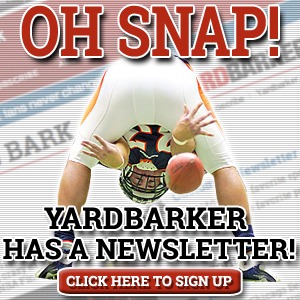 Latest Rumors
The Backyard

Today's Best Stuff

For Bloggers

Join the Yardbarker Network for more promotion, traffic, and money.

Company Info

Help

What is Yardbarker?

Yardbarker is the largest network of sports blogs and pro athlete blogs on the web. This site is the hub of the Yardbarker Network, where our editors and algorithms curate the best sports content from our network and beyond.