Found January 31, 2013 on Minus Twenty-Two:
It's Day 3 of Mossgate, two days longer than it probably should have lasted. But, at any rate, here we are.  The latest development of this breathtaking scandal is Jerry Rice throwing shade at Randy Moss … again. A quick refresher. Moss on Tuesday, during the three-ring circus that is Super Bowl media day, proclaimed he was the greatest wide receiver "ever to play." Jerry Rice, the actual greatest receiver ever, took exception to that declaration and essentially told everybody Moss is crazy. Moss on Wednesday responded to Rice, not budging from his original bold assertion. And now here we are, with Rice on Wednesday replying yet again to Moss, in what officially is the response to the response to the response. And this time, Rice finally dropped the gloves: "I think with Randy Moss, he probably was the most talented, but along with being the most talented you've got to work hard," Rice said. "Every season. Every play. I was not the most talented, but I was going to outwork you. He c...
Original Story:
http://minustwentytwo.com/2013/01/31/...
THE BACKYARD
BEST OF MAXIM
RELATED ARTICLES
San Francisco 49ers WR Randy Moss has had an interesting career. He's likely headed to Canton once his career is finally finished, but he has never shunned controversy throughout his playing career. A colorful and flamboyant receiver, Moss has created a buzz on and off the field wherever he has played in his career. Tuesday, he created a new buzz, proclaiming himself as the greatest...
I'm not surprised or even shocked that San Francisco 49ers wide receiver Randy Moss would come out on Super Bowl media week and say that he's the best receiver of all-time. We all know Moss has pulled his share of antics through his career and this is just another one under his belt. I think it might just be that he knows that his career is almost over and he hasn't lived up...
It has been reported that Randy Moss has broken his arm patting himself on the back. Meanwhile Jerry Rice has been unable to reach his own back, most likely due to the weight of the Super Bowl rings he has on his fingers.Randy Moss, the self-proclaimed greatest receiver ever to play the game, continued to be his own worst enemy Tuesday. "I think now that I'm older, I do...
Jerry Rice says he's "surprised" at Randy Moss' claim to be the greatest receiver ever, and that he himself has been "very productive." But Rice won't come out and say that he's the best. Moss turned some heads Tuesday when he called himself the best wide receiver in NFL history. Rice, however, was diplomatic -- sort of -- when people instantly...
Randy Moss may not be remotely close to the best wide receiver in NFL history, but he's a future Hall-of-Famer, was unbelievable in his prime and certainly will never be forgotten. In 14 seasons, Moss has racked up a total of 982 receptions for 15,292 yards and 156 touchdowns with five different teams.  He spent the least amount of time with the Tennessee Titans. And albeit Moss...
Randy Moss took to the podium on Super Bowl media day – his 49ers hat tilted slightly to the left, his sleeves rolled up high to reveal a cross tattooed on one arm, a large ''R'' tattooed on the other. Not exactly humbled by his supporting role with the Niners, Moss let it rip in one of his rare moments this season as the center of attention, carrying himself very...
On the eve of Super Bowl XLVII, the fellas chop it up about Randy Moss, the Harbaugh brothers and some omissions from the 2013 NBA All-Star Game. Yay!The post Podcast: Defending Randy Moss, HarBowl Prep And NBA All-Star Omissions appeared first on The Sports Fan Journal.
Greatest of all-time at wide receiver? Probably not. But Randy Moss, who might be playing in his last game on Super Bowl Sunday, separated himself for changing the game like no other in the Super Bowl era. Our Matt Tevsh takes a look at the Packers' connection to this.
  Randy Moss sent subtle shock waves through the NFL when he claimed that he is the greatest receiver in NFL history.  Well the one that many believe is in fact the G.O.A.T., Jerry Rice, has responded to Moss' claim.  "I'm very surprised Randy Moss used that in those words, that he's the greatest," Rice said on ESPN's "NFL Live." "You'd never hear me say I'm...
What is the best way to change your image? What is the best way to get the public to forget what a steaming turd you were?The best way, as Elizabeth Taylor once said, is success.In football, it's the same way. Example: Randy Moss, the self-proclaimed greatest receiver in NFL history. In his career, Mr. Moss has been a rookie, a rock star, a child, a record-breaker, a belligerent...
Work The Rubes, Boys Two brief points about today's Super Bowl Media Day layups... 1) Ray Lewis denies PED use I was never really a Michael Jordan fan. I knew I was watching the best player of his generation and one of the best of all time, and I rooted for him when he played teams that I hated more than his Bulls... but in terms of rooting for him, there was always a meanness...
49ers News

Delivered to your inbox

You'll also receive Yardbarker's daily Top 10, featuring the best sports stories from around the web. Customize your newsletter to get articles on your favorite sports and teams. And the best part? It's free!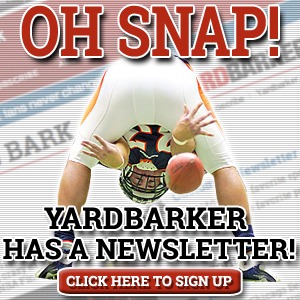 Latest Rumors
Best of Yardbarker

Today's Best Stuff

For Bloggers

Join the Yardbarker Network for more promotion, traffic, and money.

Company Info

Help

What is Yardbarker?

Yardbarker is the largest network of sports blogs and pro athlete blogs on the web. This site is the hub of the Yardbarker Network, where our editors and algorithms curate the best sports content from our network and beyond.