Found September 28, 2012 on Fox Sports:
For every football fan desperate to buy a fresh pair of panties before settling into stadium seat for an NFL game, this is your lucky day. Always at the forefront of idiocracy, the Dallas Cowboys plan to open a Victoria's Secret "PINK" store at JerryWorld. As in, in the stadium. As in, get your peanuts and popcorn and G-strings. As in, typical Jerry Jones. It has been a slippery slide to football as a sideshow for the Cowboys with "Jerruh" running things and now we have a nadir, the stadium starting the slow roll to becoming a mall. Watch. Do not watch. Just be sure to see what a Bombshell bra with a Cowboys logo does to transform your Bs into Cs. I should not be shocked. He is the owner who brought us pole dancers at games. No really, there are poles and platforms and scantily clad Miller Lite girls dancing on them on any given Sunday. He is the owner who serves as his own general manager while also booking fights for JerryWorld, promoting concerts at JerryWorld, and landing the official soda, pizza and now panties of JerryWorld. And he wonders why winning has been elusive. Bombshell bras are just another sign of what has plagued the Cowboys post-Jimmy Johnson. It is never about the football in Dallas. It is about making money, or making headlines, or having fun -- all of which are admirable goals for the owner of any team. Jerry's problem is he is also the football decision-maker. He refuses to hire a football guy. He IS the football guy. He decides on whom to sign, whom to draft and does so between bringing a Victoria's Secret to JerryWorld. Forget the jokes for a second. And there were many already flooding my Twitter about Cowboys and panties, Romo and panties and, well, you get the idea. This is how a football team ends up winning a single playoff game in almost two decades. This is how a team with Tony Romo and Jason Witten and DeMarcus Ware ends up underachieving so thoroughly for so long, how Wade Phillips stays employed, how T.O. destroys a locker room without interference, how "jiving at the Joule" becomes part of the local lexicon, how the NY Giants win a pair of Super Bowls in what was supposed to be the Cowboys' window. Football is an unrelenting business. The people who excel at the Xs and Os typically are myopic. They are breaking down film, their rosters, their opponents' film, their opponent's rosters. They tend not to have side jobs, rapping in Papa John's commercials. They tend to say things like "leave me the hell alone" when a PR person walks in floating the idea of showing up at the ribbon-cutting ceremony for the bra-and-panty store opening at the stadium before Monday Night Football. I like Jerry Jones. I really, really do. He is smart and funny and fun. If I was having a party, I'd want him there -- and not simply to try to talk him into rapping. He has a way of making everybody feel like the most important in the room. He is generous with everything. And he tells unrelentingly awesome stories. And what I have always said about Jerry is what a great owner he is, always thinking of ways to generate cash and always willing to spend that cash on his Cowboys. What I have come to realize, though, is somewhere along the way football really did become a sideshow. It became about everything but. The football is just a way to sell everything else. It no longer matters if the team is any good. Winning Super Bowls does not sell more panties. Being the Cowboys and all that entails sells panties and everything else. And that is why you can get your ring in the Meadowlands. And why Victoria's Secret chose to open at JerryWorld. It is good news, really, if you are the kind of fan in need a Miracle Bra or panties before a game and not so much if you are the kind who cares about the whole winning-and-losing thing. Because after a while, you realize the push-up bra and pole dancers are just distractions, meant so you miss what is really missing.
Original Story:
http://msn.foxsports.com/nfl/story/Je...
THE BACKYARD
BEST OF MAXIM
RELATED ARTICLES
The Dallas Cowboys are 2-1 and when they are winning, their owner and general manager Jerry Jones is willing to open up the checkbook. Please Click Here To Read This Story
Dallas Cowboys quarterback Tony Romo is putting off contract extension talks until after the end of the season. "We talked. We thought he had an interest, and he knows we have an interest," Cowboys owner Jerry Jones told The Dallas Morning News. "But he wants to just concentrate on the season. ... We're not doing anything on the contract right now. We just haven...
The Dallas Cowboys have been unable to protect quarterback Tony Romo. They have been unable to open up enough holes for running back DeMarco Murray. Simply out, the Dallas Cowboys have been unable to give the offense a chance to remain upright enough to put up some points on the board. That is why the Cowboys have put the entire offensive line on notice. They either need to play...
BRINGING THE SMACK
Giants tight end Martellus Bennett recently said he believes there is no comparison between his team's quarterback, Eli Manning, and Cowboys signal-caller Tony Romo.
After not catching a single touchdown pass the previous three seasons with the Dallas Cowboys, Martellus Bennett has snagged three in three games with the New York Giants.Because of Jason Witten, it's unlikely that Bennett was ever going to be the primary pass-catching tight end in Dallas.But according to the outspoken Texas A&M product, his lack of production could have...
Martellus Bennett has had an excellent start to the season for the Giants. The tight end has caught a touchdown in each of the Giants' first three games, and he's quickly putting together what will likely be the best season of his career. The outspoken tight end reportedly attributes his success to playing with a better quarterback. The New York Post reports that Bennett was...
America's most hated quarterback is not exactly the contest that either Tony Romo or Jay Cutler wants to win. Ask most football fans who their least favorite quarterback in the NFL is and the majority would immediately mention Romo or Cutler. Fans hate them for their publicized celebrity relationships – Cutler with reality star Kristin Cavallari and Romo with singers Jessica...
New York Giants tight end Martellus Bennett is attributing his success this season to quarterback Eli Manning. According to the New York Post, Bennett was overheard telling a waiter at a restaurant that Cowboys quarterback Tony "Romo isn't in the same league as Eli Manning. Not even close." I do believe Romo is a very good quarterback but he isn't on the same level as Manning...
TAMPA, Fla. They have corralled Cam Newton and chased down Tony Romo, but the biggest test yet could come Sunday afternoon against a rookie quarterback who has become the talk of the National Football League. Thats when the Tampa Bay Buccaneers will do their best to contain the multi-threat talents of Washingtons Robert Griffin III, the singular reason that the Redskins currently...
Last week: 15 (+5) Record: 2-1 The Cowboys, like the Eagles, can be dangerous if they can ever get their act together. Penalties and turnovers are killing them, but the latter typically evens out over time. They rank 2nd in the league in yards per play differential, including 1st in the league in yards per play allowed. Their defense is much better this season and they've done...
Cowboys News

Delivered to your inbox

You'll also receive Yardbarker's daily Top 10, featuring the best sports stories from around the web. Customize your newsletter to get articles on your favorite sports and teams. And the best part? It's free!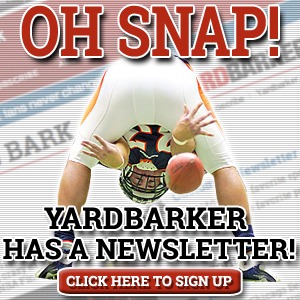 Latest Rumors
The Backyard

Today's Best Stuff

For Bloggers

Join the Yardbarker Network for more promotion, traffic, and money.

Company Info

Help

What is Yardbarker?

Yardbarker is the largest network of sports blogs and pro athlete blogs on the web. This site is the hub of the Yardbarker Network, where our editors and algorithms curate the best sports content from our network and beyond.