Found August 07, 2012 on 60 Max Power O:
Off the heals of a Jets Brawl in yesterday's practice, it seems like the Jets players didn't get the message and were at it again.  This time Rex made them pay.  How?  Running.
SethWalder
Second time team was yelled at for fighting today.
8/7/12 9:57 AM
SethWalder
Keller and Cro got into it after a 7on7 play. Rex is pissed, and now the whole team is running.
http://t.co/GgPJvp9P
8/7/12 9:56 AM
KMart_LI: A pissed off Rex making whole tm run wind sprints now. Unreal #nyj
DWAZ73
One player yelled: "We understand … We're sorry!" …
#Jets
still running gassers as Rex watches.
8/7/12 9:55 AM
MMehtaNYDN
Rex Ryan yells at team after a skirmish breaks out between Keller and Cromartie, I think. Now players penalty is to run sideline to sideline
8/7/12 9:54 AM
BrianCoz
Ganaway and Davis got into a fight earlier. Rex warned the team if there was another fight, the team would run.
#nyj
8/7/12 9:53 AM
BrianCoz
The marathon is over after 10 sprints across the length of the field twice
#nyj
8/7/12 10:00 AM
Many have said this is Rex Ryan losing control of his team when the fight broke out yesterday but you want my honest opinion?  THIS IS NORMAL.  But because we are the New York Jets Circus, the media is hyping this up.  When players fight, it means just one thing:  They are ready for their first pre-season game.
Be sure to check out other great articles at Jets Twit.
Original Story:
http://www.60maxpowero.com/patriots/c...
THE BACKYARD
BEST OF MAXIM
RELATED ARTICLES
There is a fine line between having confidence in your young players and being ignorant about the depth on your roster. The New York Jets are walking that line right now. A suggestion for the addition of a veteran running back or wide receiver isn't a questioning of the future potential of the youth at those positions but a call for needed insurance, in case of injury or a lack...
10) Clearly hates God, Jebus, and Flyover Country9) Doesn't want Tebow to break his non-existent Jets records8) Like everyone else in the greater New York region, can't see enough of Greg McElroy and Matt Simms (um, the other, non-Sanchez, QBs on the roster)7) Ready to get to the next failed coach in the Jets' history6) Bothered by how much Shirtless Tebow turned him...
In an article published to BuffaloNews.com, columnist Tim Graham observed recent comments made by New York Jets OLB Aaron Maybin. Graham, like many fans and analysts out there, has taken a very negative view of what Maybin has said, declaring him as egotistical and "delusional." However, when looking at Maybin's thoughts and comments, with bias aside, there is certainly another...
Since the entire world, or maybe just all of the New York tabloids and ESPN, is fixated on what's going on at New York Jets camp, we're bound to hear about everything that happens. Big or small. So when practice ends with a 20 player brawl, you can't bet your bottom dollar that there will be a report and video to boot. It started when safety D'Anton Lynn, son of runnings...
Cortland, NY - The Jets reported to training camp almost two full weeks ago, but today the team had their first real fight on the field and training camp has now officially begun. Coaches have always enjoyed training camp fights because it means the players are fighting for more than just a couple of extra yards. The tension is high and the competition is fierce, add full contact...
Another day, another New York Jets "headline". This team is quickly becoming a total joke, and when you have scrubs like Joe McKnight and D'Anton Lynn starting massive brawls, you become even more of a laughingstock. Things got out of control and the fight continued to spread, knocking over advertisements and forcing fans and reporters to retreat before being trampled. Reports...
Once again the NY Jets take the headlines after a fight broke out Monday morning at the Jets training camp in Cortland, NY.  The fight was between Jets running back Joe McKnight and defensive back D'Anton Lynn, the son of Jets running back coach Anthony Lynn. A fight broke out on the Jets sideline after a play early Monday morning. The fight involved about 20 of the Jets players...
Monday morning in Cortland, NY, fans and reporters scattered away from New York Jets practice field as a 20-player brawl erupted. It started when safety D'Anton Lynn gave running back Joe McKnight a shove out of bounds following a screen pass.  McKnight then fired the ball at Lynn in frustration, and immediately the two went at it with McKnight charging and throwing the first...
The Jets camp is doing their best to take the focus off the NFL champs, the Giants. First there was the trade for Tim Tebow and now, a 20-player brawl breaks out in camp and cameras managed to capture some of it.Per ProFootball Talk, the fight started between two running backs, one of which is [...]
It gets stranger day after day in New York. With each growing day it appears as if the drama is piling on at Jets camp. Jets back to practice now after about 10 laps and another stern lecture from Rex Ryan. Another day another drama with this bunch — Jason La Canfora (@JasonLaCanfora) August 7, 2012 More Woody Johnson on Tebow coverage: "I knew there would be...
Outside of the Stock Watch, Mike Donnelly is going to take the lead on Turn On The Jets fantasy football coverage throughout the 2012 season. In his initial piece, he gives us eight easy steps to setting up the perfect fantasy football league…check back tomorrow for part 2.  Pre-season football has arrived, and that means your fantasy football draft must be right around the corner...
Mike Donnelly will be leading our fantasy football coverage all season. Make sure to check out part 1 of this article here and to follow him all season on Twitter. Today he finishes the breakdown of the 8 key steps to having a perfect fantasy football league - GET YOUR TURN ON THE JETS VINTAGE JETS T-SHIRT NOW. PRE-SEASON OPENER IS 3 DAYS AWAY! 5. Appoint a strong Commissioner...
Jets News

Delivered to your inbox

You'll also receive Yardbarker's daily Top 10, featuring the best sports stories from around the web. Customize your newsletter to get articles on your favorite sports and teams. And the best part? It's free!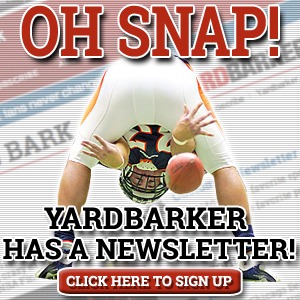 Latest Rumors
Best of Yardbarker

Today's Best Stuff

For Bloggers

Join the Yardbarker Network for more promotion, traffic, and money.

Company Info

Help

What is Yardbarker?

Yardbarker is the largest network of sports blogs and pro athlete blogs on the web. This site is the hub of the Yardbarker Network, where our editors and algorithms curate the best sports content from our network and beyond.