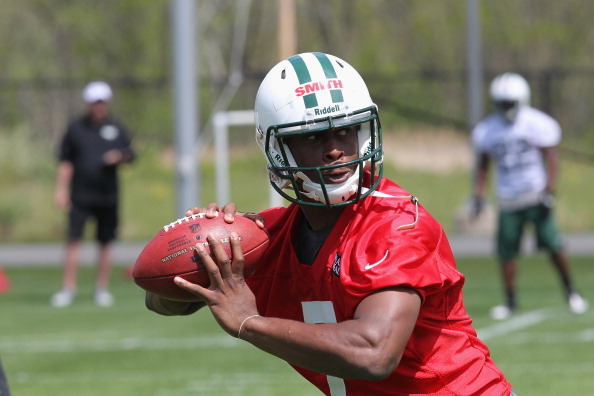 Geno Smith is expected to give Mark Sanchez a run for his money in the upcoming starting quarterback competition.
But even if he doesn't win, the ex-Mountaineer could still find himself on the field.
According to Rich Cimini of ESPNNewYork.com, the Jets are "toying with the idea" of using Smith as a "change-of-pace quarterback" if he doesn't earn the starting job.
In this scenario, Smith would have a package of plays -- mostly of the read-option variety -- that could "exploit his speed." However, Smith, mainly a pocket quarterback at West Virginia, rarely found himself outside of shotgun, let alone in a Wildcat-type formation. Cimini says Smith "gives the impression he wouldn't be thrilled in that role."
Nor should he be.
This idea reeks of last season's failed Tim Tebow experiment, and seems to have Rex Ryan's fingerprints all over it. Smith simply may not be cut out for the read-option, and fitting a square peg into a round hole is no way to develop a young signal-caller.
Read the rest of this story...
MORE FROM YARDBARKER
NFL News

Delivered to your inbox

You'll also receive Yardbarker's daily Top 10, featuring the best sports stories from around the web. Customize your newsletter to get articles on your favorite sports and teams. And the best part? It's free!