Found January 25, 2013 on The Other Paper:
At Thursday's press conference to introduce John Idzik as the New York Jets new general manager, the  incoming GM didn't comment specifically on any Jets player.  But later, on ESPN Radio, it sounded like Idzik had some good news and some bad news for Mark Sanchez. The positive news for Sanchez — it doesn't sound like you're going to be put on the trading block. On the flip side for last year's starting quarterback — you're going to have to fight for that same position next season. Speaking on "The Michael Kay Show," Idzik said Sanchez will be back as part of quarterback competition. "We're going to bring in competition," said Idzik.  "Mark is a competitor.  He's not adverse to competition.  He'll probably welcome it.  It will make everybody better and that will be our direction." Jets head coach Rex Ryan took the more direct approach about his fifth-year quarterback. "I believe Mark needs to erase his hard drive," said Ryan. Sanchez had a miserable season (18 INTs) and the Jets finished 6-10 but Ryan thinks Sanchez must be chomping at the bit at the prospect of working with a pass-oriented offense with new offensive coordinator Marty Mornhinweg. "He's got to be popping out of his skin, as any quarterback would," said Ryan. The Jets still have Greg McElroy and Tim Tebow under contract behind Sanchez and his $8.25 million guaranteed contract in 2013 but Idzik said all personnel would be evaluated with an eye on cap space.  By the way, Sanchez's deal was orchestrated by ousted GM Mike Tannenbaum. The Jets could take a shot at Matt Flynn — the backup on Idzik's former Seahawks team — or possibly the 49ers' new second-teamer Alex Smith, both who could put the pressure on Sanchez and maybe take his starting job. Ryan sounds excited about trading in his ground-and-pound offense for a more streamlined run-and-gun attack. "I can't wait to get out there and see how our offense will look," said Ryan. "Will it look different? Yes it will." For some reason, it sounds like bad news for Sanchez.
Original Story:
http://ihatelupica.blogspot.com/2013/...
THE BACKYARD
BEST OF MAXIM
RELATED ARTICLES
SI's Peter King reports today that the Jets asking price for Darrelle Revis will be a first round pick, but it's not enough to warrant getting rid of the game's best cover corner. As long as the Revis legal team can somehow avoid a third contractual confrontation with Woody Johnson, we see no reason why new GM John Idzik should send Revis packing for the potential of some unknown...
According to Mike Freeman of CBS Sports, the New York Jets are looking to get a first and second round pick in return for cornerback Darrelle Revis.  I would that is a very fair asking price if he didn't tear his ACL this season.  But the fact that he has to come back from a serious knee injury, teams won't be willing to give up that much to acquire Revis. We already know there...
A report that the New York Jets might be interested in trading heralded cornerback Darrelle Revis has suitors starting to line up for a chance to land one of the NFL's best players. One general manager called the prospect "one of the biggest potential trade markets for a player ever," according to CBSSports.com. Multiple reports indicate a growing desire on the...
The unimaginable is on the verge of happening for the Jets.  On Wednesday, it was reported that the Jets will explore trade options for Darrelle Revis.  The All-Pro cornerback is coming off an injury plagued season that forced him to miss 14 games in 2012 and after next season, the Jets will have a hard time signing him to another contract. The thought of Revis calling another...
Much to the chagrin of embattled head coach Rex Ryan, New York Jets owner Woody Johnson and recently hired general manager John Idzik will entertain offers to deal elite cornerback Darrelle Revis this offseason. The 27-year-old Revis, who the Jets selected out of the University of Pittsburgh with the 14th overall pick in the 2007 NFL Draft, was indefinitely shelved after suffering...
While the New York Jets' season circled the drain, much of the focus remained on the team's quarterback situation. Mark Sanchez played poorly, and Tim Tebow almost never played. There was a big hole on the other side of the ball, though, as the star cornerback Darrelle Revis missed 14 of 16 games due to a torn anterior cruciate ligament in his left knee. That hole might...
New York Jets general manager John Idzik called any speculation that the team might trade star cornerback Darrelle Revis "premature." Making his introductory press conference, Idzik was asked about the CBSSports.com report that said Jets owner Woody Johnson is reluctant to give Revis a long-term deal coming off the torn ACL he suffered during the season. Revis is scheduled...
Turn On The Jets is happy to welcome guest contributor Michael Nolan for an inside look at Marty Mornhinweg's offense. Nolan has spent time working at NFL Films, NBC Sports and coaching at the college level. He also happens to be a life long Philadelphia Eagles fan and thus somebody who has seen every game Morhinweg called for Philadelphia. Enjoy his in-depth look at the offense...
"I haven't scripted any answers to any questions. This is the real Tyrann right now." The New York Post neglected to add, "…as he hit the jumbo slow so it sizzled. Smoke filled the air around the reporters as he coughed and offered it up. 'Yo somebody hit this. I gotta go cover some outs and slants.'" Of course the Jets are interested in Lue. Why not? It makes sense...
Could the Patriots make a move for Darrelle Revis? After reports that the New York Jets are open to trading super-stud cornerback Darrelle Revis surfaced Wednesday night, I began to think, "Is it fathomable to think Darrelle Revis could end up in a Patriots uniform come September?" Of course, it would be tough to see the Jets trade their best player to their hated in-division...
Super Cold? NFL officials aren't just bracing for potential wintry weather at next year's Northeastern Super Bowl - they're embracing it, Commissioner Roger Goodell said Thursday. The first Super Bowl ever in the New York metropolitan area is almost exactly a year away in a region currently clenched by bitter cold, reviving chatter about whether the weather will chill...
The Jets have reportedly placed All-Pro cornerback Darrelle Revis on the trading block The possibility of Darrell Revis joining the Packers makes for interesting reading in a slow news week, but the odds of the perennial Pro Bowl cornerback playing his home games in the state of Wisconsin next season are about the same as the odds of Jean-Claude Van Damme winning an Oscar for The...
NFL News

Delivered to your inbox

You'll also receive Yardbarker's daily Top 10, featuring the best sports stories from around the web. Customize your newsletter to get articles on your favorite sports and teams. And the best part? It's free!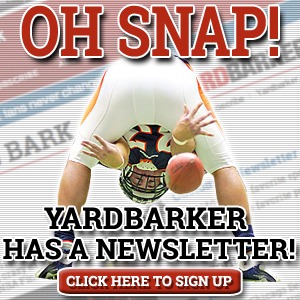 Latest Rumors
Best of Yardbarker

Today's Best Stuff

For Bloggers

Join the Yardbarker Network for more promotion, traffic, and money.

Company Info

Help

What is Yardbarker?

Yardbarker is the largest network of sports blogs and pro athlete blogs on the web. This site is the hub of the Yardbarker Network, where our editors and algorithms curate the best sports content from our network and beyond.