Found January 28, 2013 on Helmet2Helmet:
Via Helmet2Helmet:
New Jets general manager John Idzik said Monday that Mark Sanchez will be pushed for the starting quarterback job, vowing to add competition.
While they've begun kicking tires on college prospects, Gang Green reportedly is looking in a whole other direction.
According to the Newark Star-Ledger, the Jets have had "some very exploratory, informal discussions" regarding JaMarcus Russell.
Russell, as most know, was the former No. 1 overall pick of the Raiders and generally is referred to as the league's all-time biggest bust. Literally the biggest – at last check, he clocked in at 305 pounds.
After getting run out of Oakland, Russell took his millions of dollars and faded into obscurity for the better part of three years. That changed last week, when it was reported that he's aiming to make a comeback by gauging his interest at next month's NFL Combine.
It's worth noting that the discussions took place after previous GM Mike Tannenbaum was fired. Also, New York was linked to Russell in the past, so the idea isn't totally foreign to the organization.
Although forcing Sanchez to earn his keep is a no-brainer, they'd be better off just anointing him the starter now if Russell classifies as "competition."
Sanchez may be bad, but Russell is that much worse.
Original Story:
http://feedproxy.google.com/~r/Helmet...
THE BACKYARD
BEST OF MAXIM
RELATED ARTICLES
Could Jamarcus Russell be an option at quarterback for the New York Jets? (Credit: Associated Press) After the debacle that was the New York Jets quarterbacking situation in 2012, it's no surprise that the team is looking to add to the competition in 2013. Tim Tebow was a huge bust after being acquired from Denver, and Mark Sanchez hasn't shown much improvement since leading...
Here's a quick trivia question for everyone:  Who was an NFL quarterback that was taken with the first pick of the draft, played only three seasons and has found himself in trouble with the law for drugs? If you guessed Ryan Leaf you weren't far off.  The only thing missing for Leaf to be the answer is that Leaf was not the first overall pick (He was picked second behind Peyton...
We all know that ESPN was all-Tebow, all the time, this past season. It began as soon as Denver traded the quarterback to the New York Jets. But while Tim Tebow was the directive from the ESPN producers, most ESPN talking heads stayed clear of ripping his play, unless that one person was Merril Hoge. It seems Tebow has become so ingrained in the employees at the company, they even...
Mike Tannenbaum spoke to reporters for the first time Tuesday since being fired by the New York Jets on New Year's Eve. The former Jets general manager — who was piloting the Jets front office while the team fell into disarray — broke his silence to discuss his perceived failures on Super Bowl Radio Row in New Orleans yesterday. Tannenbaum didn't shy away from his two...
After last offseason's high profile acquisition of Tim Tebow failed to generate any spark in the offense (and tended to indicate that the decision makers in the organization had no idea what they were doing), the New York Jets once again find themselves looking for answers at the QB position in unlikely places.  Given that their salary cap situation is dire enough to consider...
I'm not sure if you have noticed ESPN's insatiable crush on New York Jets special teams contributor Tim Tebow.  They have turned back the heat and stopped reporting when he sneezes and farts, but if he hocks a big enough loogie, they'll break into regularly-scheduled programming.  During their Super Bowl over-analyzation Tuesday, the ESPN couldn't help themselves from talkin'...
Most of the trade talk surrounding the New York Jets had involved cornerback Darrelle Revis following the news of owner Woody Johnson's conversations with general manager candidates. However, a small contingent of the Jets' organization would rather see the team trade cornerback Antonio Cromartie than Revis, according to Rich Cimini of ESPN New York. There's a small segment...
The Tampa Bay Buccaneers have a desperate need to add a cornerback or two this upcoming offseason. Do they have an interest in obtaining New York Jets CB Darrelle Revis. One internet site suggests that the Buccaneers have reached out to the Jets to inquire about obtaining the talented corner. The controversial personality known as Incarceratedbob tweeted this morning that the Buccaneers...
Looking to surpass the six-year, $96 million deal defensive end Mario Williams inked with the Buffalo Bills last March, New York Jets owner Woody Johnson and recently hired general manager John Idzik must trade elite cornerback Darrelle Revis this offseason. The 27-year-old Williams, who the Houston Texans took out North Carolina State University with the first pick in the 2006 NFL...
What do Barry Sanders, LaDainian Tomlinson, Tony Gonzalez, Dan Fouts and Eric Dickerson have in common?They are just a few of the greatest players to ever put on an NFL uniform and never play in a Super Bowl.In fact, there are so many great players that have never even reached the big game, you can make up an entire 53-man roster filled with Hall of Fame and All-Pro players.It is...
NFL News

Delivered to your inbox

You'll also receive Yardbarker's daily Top 10, featuring the best sports stories from around the web. Customize your newsletter to get articles on your favorite sports and teams. And the best part? It's free!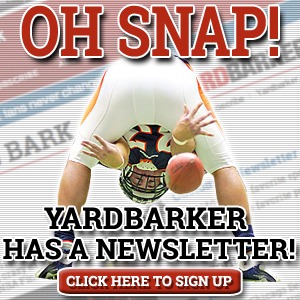 Latest Rumors
Best of Yardbarker

Today's Best Stuff

For Bloggers

Join the Yardbarker Network for more promotion, traffic, and money.

Company Info

Help

What is Yardbarker?

Yardbarker is the largest network of sports blogs and pro athlete blogs on the web. This site is the hub of the Yardbarker Network, where our editors and algorithms curate the best sports content from our network and beyond.