Found November 23, 2012 on IMAGE CPR SPORTS:
Via IMAGE CPR:
Former New York Jets quarterback and NFL Hall of Famer Joe Namath said he's losing faith in struggling Jets QB Mark Sanchez.
"I'm questioning some of the things that I've seen," Namath told radio host Michael Kay Friday night following the Jets embarrassing 49-19 loss to the New England Patriots on Thanksgiving. (Audio at 3:00.) "I don't know what's inside Mark's head. I don't know that he's gifted enough at this point to be feeling what he sees and making the changes."
The most memorable play of the game occurred in the second quarter when Sanchez turned the wrong way on a handoff and scrambled forward.
He ran right into his teammate's butt — NY Jets guard Brandon Moore. Sanchez fumbled the ball. It was returned for a touchdown. And now, fans have made Sanchez and the entire Jets team the butt of their jokes.
"It's mind boggling," Namath said. "'Are your eyes closed? You don't see where you're going? I don't know. I really can't relate to that.'"
Namath said that it's time for Sanchez and the rest of the Jets players to turn things around.
"It's going to remain to be seen how he plays these next four or five games," Namath said. "Because they can very well dictate whether he's here or deserves to be here next year. If these players don't step up, they don't deserve to be there next year. From what I've seen on the field, it's the players that are causing the problem."
Original Story:
http://www.imagecpr.com/?p=17145
THE BACKYARD
BEST OF MAXIM
RELATED ARTICLES
New York Jets quarterback Mark Sanchez fumbled the football after he was knocked to the ground by his own teammate's butt, and New England Patriots cornerback Steve Gregory recovered the fumble and ran it 32 yards for a touchdown on Thanksgiving night at MetLife Stadium. It happened in the second quarter as Sanchez missed a handoff to his running back, then ran towards the...
Now, that's what I call a Dirty Sanchez! On Thanksgiving night, the New York Jets put together one of the worst quarters of football I have seen in a long time, and I loved every second of it.  As if giving up 35 points and recording three turnovers in the second quarter alone wasn't enough, the incomparable Mark Sanchez gave us a play that pretty well sums up this entire season...
NFL Films named Jim Marshall's wrong way run in 1964 as the #1 Football Folly in NFL History for their 100 Greatest Follies film in 1994.  Surely this Mark Sanchez highlight from Thanksgiving Night 2012 has to enter the Top Ten, if not provide some stiff competition to Marshall's legendary blooper that has stood at the top of the heap for almost 50 years. Watch as Sanchez...
Anyone who has witnessed the Jets play over their first eleven games can attest to the fact that Mark Sanchez lacks a quality supporting cast and knows that Rex Ryan has tried in vain to talk up, and coach up an undermanned team. If the Jets tank at any point during the final stretch of five winnable games though, Ryan must acknowledge that part of the problem this season has been...
Gary Myers of the New York daily News believes that the Jets will maintain QB Mark Sanchez despite another disappointing season. With Sanchez set to make $8.25 million next year, Myers writes that the solution to the Jets quarterback problem is to give Sanchez real competition for his job. It has become quite clear that the Jets do not view Tim Tebow as an adequate replacement...
How bad has this season been for the New York Jets? So bad that it convinced Ed Anzalone, aka "Fireman Ed," to step away from his post as a fan leader for the team. Anzalone has been a Jets fan since 1975 and has been leading a J-E-T-S chant from Section 134 at Jets home games since 1986. However, the drama, negativity, and losing surrounding the team became too much for him...
'U R RIDICULOUS'
New York Jets tight end Dustin Keller took to Twitter to call out Jets fans who apparently booed when it appeared that Mark Sanchez went down with an injury.
The Jets fell in a laugher to the New England Patriots in Week 11. Find out the highlights, but mostly lowlights from a pitiful performance from Mark Sanchez and company.
The Jets got dominated by the Patriots 49-19 on Thanksgiving night. And along with losing their seventh game in eleven tries, they also managed to lose their unofficial mascot, "Fireman Ed". For the second week in a row, Ed Anzalone left a Jets game a halftime because of confrontations with fellow fans. According to Anzalone, fellow Jets fans have been pretty hostile with him...
Since 1975, Ed Anzalone has attended New York Jets games at the Meadowlands, leading chants and making countless appearances on Jumbotrons and television screens. But, it looks like the world has seen the last of Fireman Ed on their television screens. Anzalone announced in his guest column for Metro New York that he will continue to attend Jets games, but not in his famous getup...
The New York Jets were tied 0-0 with the New England Patriots through the first quarter. They were losing 35-3 by halftime. The Patriots scored four touchdowns off of four straight turnovers in the second quarter, including 21 points in a 52-second span, to destroy the Jets 49-12. They totaled five touchdowns in the stanza."Obviously that was a nightmare of a game," Jets...
Jets News

Delivered to your inbox

You'll also receive Yardbarker's daily Top 10, featuring the best sports stories from around the web. Customize your newsletter to get articles on your favorite sports and teams. And the best part? It's free!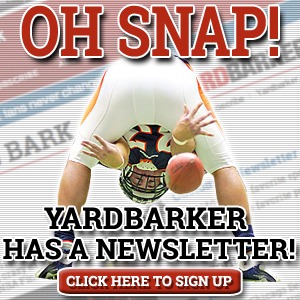 Latest Rumors
Best of Yardbarker

Today's Best Stuff

For Bloggers

Join the Yardbarker Network for more promotion, traffic, and money.

Company Info

Help

What is Yardbarker?

Yardbarker is the largest network of sports blogs and pro athlete blogs on the web. This site is the hub of the Yardbarker Network, where our editors and algorithms curate the best sports content from our network and beyond.