Found December 06, 2012 on Sports-Glory:
Let's face it, Arizona's single shining moment of QB excellence was between 2005 & 2009, when Kurt Warner was under center. Before and since it has been middling at best and a disaster at worst, with the 2012 season shaping up to be a prime example of the latter. With his team currently mired in an eight-game losing streak after starting the season 4-0, coach Ken Whisenhunt announced Wednesday that backup John Skelton would replace sixth-round draft pick Ryan Lindley, who was at the helm of, arguably, one the worst offensive performances in recent memory last Sunday at the New York Jets. Lindley completed 10 of 31 passes for 72 yards and one interception while Arizona tied a dubious franchise record with five first downs and was 0 for 15 on third-down conversions. Unlike the Jets decision to bench Mark Sanchez late in the third quarter, the Cardinals inexplicably chose to keep Lindley in the game. They only managed to gain 22 yards total the entire second half. After the game, Whisenhunt told reporters, "As the head coach, you have to make those decisions. You always do what you think gives you the best chance. That's what we did." Because Lindley wound up not giving them the any chance of winning (even against the Jets' 3rd string quarterback) is ultimately why Skelton is starting. Whisenhunt told the Associated Press, "There's a number of reasons that we're making this decision. I'm not going to get into each one of these reasons, but that's the direction we're going." One of those reasons is they're going on the road to face division rival Seattle Seahawks. Taking on an opponent with the best home record in the league (5-0) and a QB (in rookie Russell Wilson) who has an NFL-best 122.0 home passer rating is a daunting task for any team. Skelton may be the best, if not only, option right now, but Arizona would have probably chosen Kevin Kolb, who's still nursing a severe rib injury, if they had a choice. Kolb, whom the Cardinals gave a five-year $63.5 million contract to while trading a 2012 second-round draft pick to Philadelphia, and Skelton have replaced and re-replaced each other as the starting QB for nearly two seasons. Kolb's first season was plagued by inconsistency and injury with the result being a preseason battle this year for the starting job. Skelton emerged the winner but an ankle injury in Week 1 against Seattle gave Kolb another chance. He rallied to take the team 4-1 but was sidelined because of the rib injury during a Week 6 game at Buffalo. Skelton took over again but was benched by Whisenhunt in favor of Lindley during a Week 11 loss at Atlanta after going just 2 of 7 for 6 yards. It's a revolving door in Arizona and it's anyone's guess as to how long Skelton will remain the starter this time around. Kolb is still dealing with his injury and is likely to miss his seventh-straight game. Ryan Lindley isn't ready, not by a long shot, to play quarterback at the professional level in the National Football League. With three big question marks at the quarterback position, Arizona needs to address this long-standing issue. Skelton and Lindley are not long-term solutions and there's a possibility that neither is Kolb. All that money potentially spent for naught. The person I feel the most sympathy for is actually WR Larry Fitzgerald, whose tremendous talent is being utterly wasted in Arizona. He is on pace for a career-low season in touchdown receptions and his total receptions and yards per catch are on pace to be the lowest since his rookie season. The lack of consistency and competence at quarterback is the chief reason why Fitzgerald is underperforming. Kolb, Skelton and Lindley have thrown for a combined 10 touchdowns, 13 interceptions and have completed only 55% of their passes, helping to make the Cardinals the worst total offense in the league. After the loss to Atlanta, Whisenhunt addressed the Cardinals lingering quarterback conundrum, "Quarterbacks are hard to find. There are a lot of teams that have been struggling with this. How long has it been since Dan Marino was in Miami? You deal with it the best way you can." Those are excuses fans and players don't need or want to hear. Quarterbacks aren't hard to find and can be found in the unlikeliest of places. Of all teams, Arizona should know this. They took Warner who, at that point in his career was a journeyman, and developed an inspired offense around him. Those years with the Cardinals have all but solidified his place in the Hall of Fame. They can find that great quarterback again but it will only happen once they're willing to seriously address the problems they currently have. Questions, Comments, Suggestions? Follow Lauren Seifert on Twitter @LaurenCBS
Original Story:
http://sportsglory.com/xn/detail/6286...
THE BACKYARD
BEST OF MAXIM
RELATED ARTICLES
Larry Fitzgerald is one of the best wide receivers in the NFL.  No one will argue that. The travesty is that he is not universally considered the best receiver in the game, which is of no fault of his own.  He has made it to six Pro-Bowls, has been an All-Pro on four separate occasions, and led the NFC in receiving yards in 2008.  That same year he would lead the Cardinals to...
Head coach Ken Wisenhunt and the Arizona Cardinals have decided to go back to John Skelton as their starting quarterback for this week's game against the Seahawks. #Cards starting QB John Skelton this week vs Seattle. — Mike Jurecki (@mikejurecki) December 5, 2012 With this game being in Seattle, the Cardinals will need a prayer if they're going to have a chance to win. ...
TEMPE, Ariz. If timing is everything, then Ken Whisenhunts machinery could use some fine-tuning. When it comes to quarterbacks, the Cardinals coachs internal clock seems a bit off. In the latest turn in the Cardinals 3-year-old quarterback saga, Whisenhunt announced Wednesday that John Skelton will resume his role as the clubs starting quarterback when the club faces Seattle on...
Mike Jurecki reports that the Cardinals will start John Skelton at quarterback this weekend against the Seattle Seahawks. #Cards starting QB John Skelton this week vs Seattle. — Mike Jurecki (@mikejurecki) December 5, 2012 Given that Ryan Lindley appears to be one of the worst quarterbacks in NFL, this moves makes plenty of sense, even though you could argue that Skelton is also...
Cardinals QB John Skelton will replace Rian Lindley at quarterback for Arizona's game with Seattle in Week 14, according to Mike Jurecki.Fantasy Spin:The Lindley experiment didn't last very long. Skelton has completed 54.7 percent of his passes this season for 1,058 yards, 2 TDs and 5 INTs.
The Ryan Lindley experiment at quarterback is over. John Skelton will start for the Arizona Cardinals in Week 14 at Seattle. Despite the struggles of Lindley, 10-of31 with a interception, the Cardinals never considered allowing Skelton to play in last weeks loss to the New York Jets. During that game the Jets replaced a struggling Mark Sanchez at quarterback and won with third string...
QB John Skelton is back under center and pride is the only thing still on the line with the Cardinals all but eliminated from the postseason.
The Arizona Cardinals have fined Darnell Dockett $200,000 for spitting on teammate Kerry Rhodes and defying coaches' orders during the Cardinals' 7-6 loss to the New York Jets, according to Albert Breer of NFL.com. Dockett is appealing the fine, and the NFL Players Association has begun the process of filing a grievance on the players' behalf. "Thank God for the...
The Arizona Cardinals' revolving door at quarterback swung again Tuesday, with coach Ken Whisenhunt announcing that John Skelton will return as the starter for Sunday's road game against the Seattle Seahawks. Ryan Lindley replaced Skelton at quarterback during the Nov. 18 game at Atlanta, and the Cardinals lost three consecutive games with him under center. He completed...
While Arizona Cardinals quarterback Kevin Kolb has been able to return to practice in a limited capacity this week, the team has already named QB John Skelton as its starter for this weekend's matchup against the Seattle Seahawks. Kolb continues to recover from a rib injury he sustained against the Buffalo Bills in Oct. While he was able to return to practice in a limited...
Arizona Cardinals (4-8) at Seattle Seahawks (7-5) The Seahawks were able to get a rare road win in Chicago last week after face planting in Miami the week before thanks to the road dogs after a road loss trend. This week, it could potentially hurt their ability to win at home because the Cardinals are in that spot. They lost as road dogs in New York against the Jets last week and...
Cardinals News

Delivered to your inbox

You'll also receive Yardbarker's daily Top 10, featuring the best sports stories from around the web. Customize your newsletter to get articles on your favorite sports and teams. And the best part? It's free!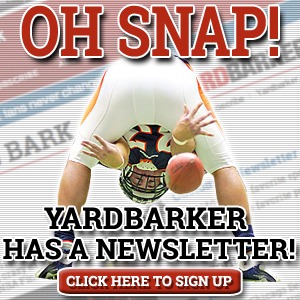 Latest Rumors
Best of Yardbarker

Today's Best Stuff

For Bloggers

Join the Yardbarker Network for more promotion, traffic, and money.

Company Info

Help

What is Yardbarker?

Yardbarker is the largest network of sports blogs and pro athlete blogs on the web. This site is the hub of the Yardbarker Network, where our editors and algorithms curate the best sports content from our network and beyond.