Getty Images New York Giants defensive end Justin Tuck made an appearance on 98.7 ESPN New York with The Michael Kay Show, via SportsRadioInterviews.com. Tuck was asked if he worries about his health once he decides to retire from the game of football. "You definitely do. You definitely worry about it. I know Junior Seau and you just see how the NFL in some ways is taking a turn that you don't want to have your kids playing. Kurt Warner even made those statements. When you play the game and me personally you don't have to think about it, but with stuff like this. A lot of it happening it takes background message because you have to say if you are putting your body on the line just like Junior Seau did what's to say there isn't a ton of issues they went through that you won't necessarily go through, but with that being said you have to understand there is a lot of help out there for retired players that might be going through whatever issues they are going through and the biggest thing is a lot of athletes are stubborn minded and always saying they don't need help. I'm hoping that an instance like this [Junior Seau's death] will get guys to think I am not too big to ask for help if I need it. Hopefully open up that can of worms where guys can start to seek help and we can avoid issues like this." Tuck was asked whether or not agrees with Bears quarterback Jay Cutler when he claimed that everyone who plays football understands the risks associated with it and players shouldn't be able to sue the NFL. "For the most part yes I do agree. I say this and everybody I talked to football isn't an easy game. Everybody that plays football understands that it is a dangerous game. We've seen it. We've seen guys tear ACLs. We've seen guys tear Achilles. We've seen guys tear up their shoulders. We've seen guys have concussions. You know if you play this game long enough you put yourself more at risk to have those types of injuries. I don't see why guys jump on bandwagons to sue the NFL for things they put themselves through willingly. If the NFL did some things where they knew you had a problem and didn't get you the proper help that's different. That's because you had a concussion and things like that. You put yourself in that situation. I definitely see where Jay Cutler is coming from with that statement." Tuck was asked if he'd allow his kids to play football. "I am going to let them make the decision. I'm not going to force football on him just because I played it and have been successful at it. I'm definitely going to let him make the decision. If he tells me that he doesn't want to play football then I am going to push him to be great at whatever he wants to be."
Original Story:
http://profootballzone.com/nfl/justin...
MORE FROM YARDBARKER
NFL News

Delivered to your inbox

You'll also receive Yardbarker's daily Top 10, featuring the best sports stories from around the web. Customize your newsletter to get articles on your favorite sports and teams. And the best part? It's free!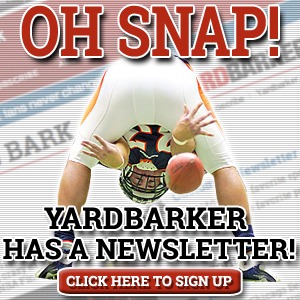 Latest Rumors
Best of Yardbarker

Today's Best Stuff

For Bloggers

Join the Yardbarker Network for more promotion, traffic, and money.

Company Info

Help

What is Yardbarker?

Yardbarker is the largest network of sports blogs and pro athlete blogs on the web. This site is the hub of the Yardbarker Network, where our editors and algorithms curate the best sports content from our network and beyond.