Found August 14, 2012 on The Other Paper:
The New York Jets went to great lengths in an attempt to keep Tim Tebow's Wildcat practice under wraps on Monday but, if you ask the New York Giants players, they're making a big deal over nothing.

Last week it was reported that Cincinnati Bengals head coach Marvin Lewis called Jets head coach Rex Ryan and asked him not to run the Wildcat against his defense— for whatever reason.

The Giants, on the other hand, don't think the radical offensive scheme is something to sweat about and won't be using up any of their phone minutes calling the Jets asking them to call off the worst kept secret since that Stewart/Pattinson thing.

The Giants first team defense isn't planning on facing much of Tebow or the Wildcat when the two teams square off in Saturday night's exhibition game at MetLife Stadium but they are a little curious about facing the gimmicky scheme.

"You definitely have to prepare for (Tebow) because he's a dynamic player," said Giants defensive end Justin Tuck. "But there aren't too many things you can do out of the Wildcat. It's pretty simple when you think about it."




Not in Ryan's eyes. The Wildcat's biggest cheerleader thinks the Tebow factor adds a whole new dimension to offensive coach Tony Sparano's game plan and causes opposing teams to spend time preparing for it in practice.




The Giants know that the dual-threat Tebow can be troublesome but not enough that they have to spend that much time figuring it out or preparing for it.

"I'm just eager to play the next game," said Tuck. "Fortunately for us it involves Tebow. I think I might not even get the opportunity to play against him"

Tuck said the Giants would probably prepare for Tebow a little differently if this was a regular season game— just a little.

"(You're) not talking hours and hours of extra work for a scheme that some NFL people believe defenses figured out how to defend several years ago, said Tuck.

"I don't know what it was, (but) we've had pretty much great success against teams that run the Wildcat," he said. "I think most coaches do a great job of devising a plan against it."

It doesn't sound like Tuck will be picking up the phone anytime soon.


Original Story:
http://ihatelupica.blogspot.com/2012/...
THE BACKYARD
BEST OF MAXIM
RELATED ARTICLES
Pizz a work When it comes to Tim Tebow, not a lot surprises us these days. We're a bit sick of the constant coverage, but it's impossible to ignore the reach and magnitude of Tebowmania. Whether at Jets camp in Cortland or an Easter sermon in Texas, the man draws crowds – and legions of fans. So, it should be seen as no way out of the ordinary that a pizza maker in Alabama...
The New York Giants have lost interest in the New York Jets, and some don't even see Rex Ryan and his circus as their biggest rival. The teams in the NFC East are the Giants' biggest concern these days, and some members of the Super Bowl champions could care less about bragging rights when the teams meet in their annual preseason game at MetLife Stadium on Saturday. Giants...
Curious about how the Jets are planning to use Tim Tebow in their new offense? Well, too bad. The Jets aren't telling -- and they're not letting anyone else spoil the surprise, either. New York practiced its Tebow-led Wildcat offense on Monday, although the team is doing its best to keep that a secret. So much so, they aren't allowing the media to report on the goings...
Tim Tebow is on the cover of GQ Magazine for the September issue.  You can no longer call Mark Sanchez the GQ QB.  They both are, but there is a buzz about the article.  Read it here.  In the spread, there is a photo of Tim in the Jesus Pose and it's probably going to cause a stir.  GQ knows what they are doing, don't they?   Cha-Ching.  Craiq Carton, on his show this...
Yesterday, after we wished New York Jets backup quarterback Tim Tebow a very happy 25th birthday, ESPN apparently turned the volume up to 11 and threw the Teebster a birthday party for the ages. Sadly, I missed that, so I just imagine that it was the complete opposite of Kirk Cameron's birthday party. But a lot of the Tweeps that I follow on Twitter were none too pleased with it...
This week we are crushing on New York Jets Quarterback Tim Tebow, who flaunts his assets in GQ's 2012 NFL Kickoff issue.  The magazine hit stands on August 14th, which was also Tim's 25th birthday.  And apparently, this is his gift … Continue reading →
ESPN has a love affair with Tim Tebow and the New York Jets.  As a Jets fan, I should be really happy about all this coverage, but I'm going to tell you, I would IF the coverage was about football. What's the new cheer in CT these days?  E-S-P-N JETS JETS JETS!! Other than Jets fans, do you think the sports world cares about what movies the Jets saw on their off days...
"Third drive we started to move the ball a little bit. Got a little scramble there, channeling my inner Tebow and got a first down so that was good." Those were New York Jets quarterback Mark Sanchez's remarks during a sideline interview in his team's first preseason game (and loss) against the Cincinnati Bengals. The off-the-cuff remarks were both humorous and...
AP Photo New York Jets head coach Rex Ryan said that wide receiver Santonio Holmes might miss the rest of the preseason due to the rib injury he suffered about a week ago during practice. "Santonio Holmes may miss the entire preseason. Rex Ryan said on Wednesday that the Jets' No. 1 wide receiver may not be on the field again up the regular-season opener against the Bills on...
Chad Pennington thinks the New York Jets, Tim Tebow and the wildcat are a perfect fit. The former NFL quarterback would certainly know. He was part of the tricky offensive scheme in Miami, when he played with the Dolphins under current Jets offensive coordinator Tony Sparano. ''If the wildcat allows you to win and be more successful,'' Pennington said Tuesday, ...
DENVER It might not conjure up memories of Tim Tebow, whose No. 15 jersey was worn by legions of fans in Denver. Still, Andre Caldwell was swarmed for autographs after a recent Broncos scrimmage. One man asked Andre Caldwell to hold his baby before pulling out his cell phone for a quick shot of the two. That was something new for me, the wide receiver said of the request. The...
We welcome Mr. Timm Bates back to the program this week. Timm was fortunate enough to get some good seats at last Friday night's preseason opener vs the Jets and tells us a bit about his experience. In this week's show: Timm tells us about his Friday night at PBS Timm says that Tim Tebow, NOT Mark Sanchez, is the better quarterback of the two Injuries plagued the Bengals win...
NFL News

Delivered to your inbox

You'll also receive Yardbarker's daily Top 10, featuring the best sports stories from around the web. Customize your newsletter to get articles on your favorite sports and teams. And the best part? It's free!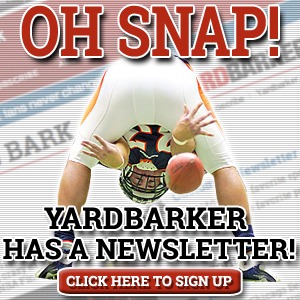 Latest Rumors
The Backyard

Today's Best Stuff

For Bloggers

Join the Yardbarker Network for more promotion, traffic, and money.

Company Info

Help

What is Yardbarker?

Yardbarker is the largest network of sports blogs and pro athlete blogs on the web. This site is the hub of the Yardbarker Network, where our editors and algorithms curate the best sports content from our network and beyond.