Found May 14, 2012 on Waiting For Next Year:
I was unable to make it to rookie camp this weekend to see and behold the skills of Brandon Weeden and Trent Richardson. In some ways that's probably a good thing. I learned last year in regular training camp that it is quite a vacuum to look at football. Without some serious perspective it is easy to think the team is far better or far worse than reality.
That doesn't mean it isn't worthwhile to go see rookie camp or training camp. I am still happy that I saw the kind of potential that guys like Jordan Cameron and Armond Smith have. At the same time, what I missed last year when I started talking about those guys was just how much of a gap there was between their training camp performances as true rookies and the timing of them potentially contributing on the field. I think both can potentially contribute to a woeful Browns offense, but to expect them to do so as rookies was optimistic at best and naive at worst.
Of course a guy like Trent Richardson has all the potential in the world to be different. He's a guy with such potentially elite talent that he should be able to step in and contribute at a high level right away. Past Richardson, everyone else is a bit of a longshot to be much more than a rookie. 
You'd like to think that Brandon Weeden would be an exception too, but even that is a bit of a longshot. I think it is possible that Weeden can come in and improve the overall quarterback play of the team since 1999, but it is a good bet that despite his age and physical abilities he will have some really rookie-type moments this season. This is also assuming that Weeden can take advantage of all the shortcuts that it is assumed the Browns will give him to the top of the depth chart.
So yes, I was interested in the goings on in Berea this weekend. Honestly though, other than important guys staying healthy, there's not much more to talk about. Trent Richardson and Mitchell Schwartz better contribute this year. You have to hope that Brandon Weeden does, but he isn't a lock. Travis Benjamin and the rest from defensive linemen to linebackers are all longshots to be meaningful contributors this upcoming season unless you count special teams.
I am an eternal optimist and I think that the Browns are taking a very healthy and methodical approach in the draft. But I've said time and again that there's no such thing as an overnight turnaround in the NFL. Overnight success is an illusion created by a team finally going from four wins to say eight or more, but the turnaround in record usually dismisses a much longer building process.
The "overnight success" is a tipping point, but no team goes from, say, Mangini's first year squad after it was necessarily gutted to ten game winners in a season's time. That also means no matter how much you like rookies, it is not normal that more than one affects your team in a truly meaningful way. Which also means while it is important to take note of what rookies do in rookie camp, it is also important not to try and extrapolate it too much.
(Photo Credit: Eric Mull US PRESSWIRE)
Original Story:
http://www.waitingfornextyear.com/201...
THE BACKYARD
BEST OF MAXIM
RELATED ARTICLES
HAVING A BALL
A Twitter follower without a date to prom asked Joe Haden if he'd like to take her, and much to her surprise, he replied back that he'd love to.
SHOCK AND LAW
Citing concussions as the reason, undrafted rookie Andrew Sweat passed up a chance to make the Cleveland Browns in order to go back to law school.
We knew that the Cleveland Browns liked Trent Richardson a lot. Heck, they basically traded their draft away to get the man. And though the greatest player to ever put on a Cleveland Browns jersey thinks Richardson is just "ordinary", the Browns coaching staff couldn't disagree more. And after what Richardson showed them at last weekend's rookie mini-camp, the Browns coaching...
BEREA The Browns concluded their rookie minicamp with one practice Sunday and Pat Shurmur was pleased with what was accomplished. It was a good and productive minicamp, Shurmur said. It was a very good start, but we have a long way to go. Shurmur said it served as an orientation on what will transpire in the coming days and months. Tomorrow, these (rookies) will be in the off...
Cleveland Browns DB Joe Haden saved the prom dreams of an Ohio girl after her date bailed on her at the last minute. Joyce Grendel asked Haden if he would attend her high school prom with her, a bold step taken via Twitter after her original date backed out in the days before the event. To [...]
The Browns have cut running back Armond Smith and signed linebacker Emmanuel Acho, one of their 11 draft picks. Smith made Cleveland's roster last season as an undrafted free agent. He played in three games and spent 11 weeks on the team's practice squad. Acho, who started 48 career games at Texas, was selected in the sixth round. His signing leaves running back Trent Richardson...
Phil Taylor tore his pectoral muscle last week lifting weights and he'll have surgery to repair it this week on May 16th. The recovery time is expected to be 4-6 months for the 2011 1st round pick out of Baylor. He'll almost definitely start the season on the PUP and might not play until November or December or not at all if the Browns are predictably out of the mix by that point...
BEREA -- Significant judgments from a rookie minicamp can be dangerous. But preliminary thoughts on how a guy throws, catches or runs are possible. And Cleveland Browns quarterback Brandon Weeden has provided some positive vibes for the team that drafted him and its long-suffering fan base. It does not translate into success with James Harrison or Geno Atkins bearing down on Weedens...
What I will tell you is we've got a freshman at Alabama that'll probably make us forget about Trent Richardson already. They're that good down in Tuscaloosa right now. Trent's a physical player. So is Ray [Lewis]. They asked [Ravens top draft choice] Courtney Upshaw about playing against Trent, and he said, 'I think I can get him on the ground.' That's what's fun...
The Cleveland Browns will have a quarterback competition. They expect rookie Brandon Weeden to win it. Speaking before a banquet for Browns fans, general manager Tom Heckert said the team drafted Weeden out of Oklahoma State in the first round with the idea he would start in his first season. Heckert's comments came one day before the Browns hold their first organized training...
Browns News

Delivered to your inbox

You'll also receive Yardbarker's daily Top 10, featuring the best sports stories from around the web. Customize your newsletter to get articles on your favorite sports and teams. And the best part? It's free!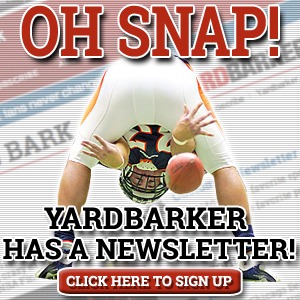 Latest Rumors
Best of Yardbarker

Today's Best Stuff

For Bloggers

Join the Yardbarker Network for more promotion, traffic, and money.

Company Info

Help

What is Yardbarker?

Yardbarker is the largest network of sports blogs and pro athlete blogs on the web. This site is the hub of the Yardbarker Network, where our editors and algorithms curate the best sports content from our network and beyond.