Found April 15, 2013 on Fox Sports:
This will be a busy week for NASCAR -- and not just because Mr. Keselowski is going to Washington. While the Brad Keselowski and the 2012 Sprint Cup championship team will be visiting the White House on Tuesday, the sanctioning body's Research and Development Center will be busy dissecting the rear-end housings from Penske Racing's two Texas cars, along with the No. 56 Toyota driven by Martin Truex Jr. on Saturday night. While we wait for potential verdicts and penalties, here are five other topics to ponder. 1. Careful watch? With the introduction of the new laser platform as part of the inspection process, Sprint Cup Series director John Darby told NASCAR.com earlier this season that "a lot of the gadgets and trickery we had going on underneath the back ends of the cars -- the sideways stuff -- will be much, much easier for us to control." However, if that's the case, why weren't the questionable rear-end housings on the Penske Racing cars discovered until race day? We always hear that the NASCAR garages are "self-policing." Well, it seems pretty clear that someone indeed turned the Penske cars in for whatever issues were discovered in tech. Could it really be as simple as inspectors discovering something on the Penske Nationwide cars and then turned to the Cup side of the garage? Probably not. Then again, did Keselowski bring this ordeal on himself? Did he make himself a target last August after the Michigan race when he referred to the No. 48 team and said, "We're going to keep 'em honest through this Chase," for the Sprint Cup and threw out the possibility of "big discrepancies in the cars right now" with "certain parts and pieces that are on the cars that are making them quite a bit different"? You be the judge. But it's awfully convenient when the No. 2 team is parked in the garage next to the No. 48 team for the crewmen to play watchdog. 2. What's going on with Stewart-Haas Racing? And more specifically, what was up with the No. 14 team on Saturday night? For the second week in a row, Tony Stewart appears out to lunch at a track where he used to be competitive. On April 7 at Martinsville, Stewart salvaged a 17th-place finish. On Saturday night, he wasn't as lucky. While his qualifying effort of 13th was respectable, before the race's 80th lap, Stewart was on the radio asking, "I don't know if you guys noticed this, but we just got passed by (Dave) Blaney, (David) Reutimann and (David) Stremme." The best answer crew chief Steve Addington could offer was "I agree." To which Stewart replied, "I know, but it's not helping very much at the moment." By the third caution on Lap 82, Stewart was running 27th. During his pit stop on Lap 128, he slid sideways into the box. When the fourth caution came along on Lap 151, Stewart had reached his limit. "I don't care how many times we have to come down pit road, but fix it this time," he said. Stewart finished 21st. Here's what's curious: Stewart won at this track two years ago. On Thursday, all the teams were offered ample time to test the Generation-6 cars at Texas. How is it that one of the sport's most gifted drivers couldn't get up to speed with ample time to dial in the car? With races at two intermediate tracks over the next five races, the No. 14 team better figure out a comfortable setup for Stewart in a timely fashion. The only positive to come out of Saturday night was Stewart didn't lose any ground in the points standings, holding steady at 22nd. However, Mark Martin, who has competed in only six of seven Sprint Cup races this season, is three positions ahead of Stewart. 3. Do the math All things being equal, Truex didn't have a shot on Saturday night unless the race stayed green at the end. Although Truex's Toyota appeared to be Kyle Busch's competitive equal, he was absolutely correct about the race being won on pit road. Among the teams that completed eight pit stops, the No. 18 Joe Gibbs Racing Toyota spent an average of 34.991 seconds on pit road. Truex averaged 36.603 seconds on pit road. It might not seem like much of a discrepancy, but multiply by eight and Busch saved 12.893 seconds -- a little less than the time it takes to complete half a lap. Busch's pit crew deserves a tremendous amount of credit, but let's not forget that the driver is one of the best in the business at gauging the timing lines on and off of pit road. 4 Lesson learned Chances are very good that the next time Dale Earnhardt Jr. loses power in his race car, he'll flip the switch on the backup battery. On Saturday night, when the gauges went "haywire" on the No. 88 Chevrolet, Junior assumed there was an issue with his water pressure. Consequently, neither he nor crew chief Steve Letarte thought to trip the second battery. While Letarte commended the crew for their quick pit-road action, he took responsibility for what he simply called "a brain fade" along with a "hat trick" of errors from coming down pit road before checking the backup battery and then performing service on the car when serving a drive-through penalty for speeding, forcing Earnhardt to return to pit road to serve the penalty. After running third, Earnhardt found himself 35th, five laps down. He picked up six spots before the race ended but lost three positions in the points standings after another disappointing weekend. Still, Earnhardt showed tremendous speed throughout the race and the pit crew performed admirably. If the team can turn it around this weekend with the consistency exhibited in the first five races of the season, it will bounce back in no time. 5. Generation next It was just a matter of time before Kyle Larson won in one of NASCAR's top divisions. On Sunday, Larson lived up to the hype. In only his fifth Camping World Truck Series start, the 20-year-old from Elk Grove, Calif., wheeled his No. 30 Austism Speaks Chevrolet to the lead on Lap 17 and led 187 of 205 before taking the checkered flag. It was also a victory for the NASCAR Drive for Diversity program as Larson became the first D4D grad to bring home a win in a national touring series. For the first time in more than a decade, the sport finally has a solid crop of young talent -- from Larson to Darrell Wallace Jr., Chase Elliott, Jeb Burton, Ryan Blaney and Erik Jones. The latter four finished fifth, seventh, eighth and ninth, respectively, on Sunday. Consider that at 20, Larson and Burton are the old men of the bunch, and you see that the future is bright.
Original Story:
http://msn.foxsports.com/nascar/story...
THE BACKYARD
BEST OF MAXIM
RELATED ARTICLES
By: Toby Christie -  Follow on Twitter @tobalical The moment everyone has been waiting for since the rear ends were yanked out of the Penske Racing Fords last Saturday at Texas Motor Speedway has happened. NASCAR has officially announced the penalties that are being levied against the race team. Brad Keselowski's crew chief Paul Wolfe, and Joey Logano's crew chief Todd Gordon...
Kyle Larson can't wait for the day the talk is solely about his skills as a driver and not the crashes or close calls that have tainted his rookie season in the Nationwide Series. The 20-year-old Larson gained attention when his car flew off the track and into the fence at Daytona International Speedway in February. More than two dozen people were hurt when debris, including...
NASCAR.com NASCAR came down hard on Brad Keselowski Wednesday, one day after being honored by President Obama for winning the Sprint Cup championship, and Penske racing teammate Joey Logano for technical violations discovered before Sunday's race at Texas Motor Speedway. 
NASCAR suspended seven members of defending champion Penske Racing on Wednesday for bringing unapproved parts to Texas Motor Speedway on the cars of Brad Keselowski and Joey Logano last weekend. Defending Sprint Cup champion Keselowski had four team members suspended for six points races, while Logano lost three members of his crew. The drivers were docked 25 points each, as were...
Photo Credit: Jared C. Tilton/Getty Images for NASCAR By: Toby Christie – Follow On Twitter @Tobalical Saturday just hours before the start of the Sprint Cup Series race at Texas Motor Speedway NASCAR confiscated parts from the Penske Racing Team cars of Brad Keselowski and Joey Logano. As we await NASCAR's penalties to be levied, rumors are now swirling that Penske Racing was...
Photo Credit: Kevin C. Cox/Getty Images By: Toby Christie – Follow on Twitter @Tobalical Brad Keselowski and his Penske Racing teammate Joey Logano will surely be facing penalties this week, as NASCAR confiscated rear end parts from both of their racecars. Keselowski, who wound up finishing ninth despite being out to lunch all race long, ripped the sanctioning body when he climbed...
Photo- Getty Images ROCKINGHAM, N.C. – Kyle Larson made his first NASCAR Camping World Truck Series (NCWTS) start of the 2013 season and completed a dominating effort at Rockingham Speedway on Sunday afternoon in the NC Education Lottery 200 presented by Cheerwine. Starting from the third position, Larson pushed his No. 30 Autism Speaks Chevy Silverado to the lead on lap 18 and...
Kyle Larson picked up his first NASCAR national series win on Sunday by holding off Joey Logano on the final restart of the Truck Series race at Rockingham Speedway. Logano was closing in on Larson when a collision between Timothy Peters and Ryan Sieg brought out the caution with two laps remaining. ''I was definitely worried and I could see him getting closer and closer...
Photo- Getty Images To say Kyle Larson had a good day would be the biggest understatement so far this year. Larson had a phenomenal day where he led over half of the laps in the race and he was able to hold off various drivers for the lead throughout the afternoon. He had never raced a lap in a truck before at the Rockingham Speedway before this weekend and by the end of a race,...
NASCAR officials handed down heavy penalties to the Penske Racing teams of Brad Keselowski and Joey Logano on Wednesday.
Bengals News

Delivered to your inbox

You'll also receive Yardbarker's daily Top 10, featuring the best sports stories from around the web. Customize your newsletter to get articles on your favorite sports and teams. And the best part? It's free!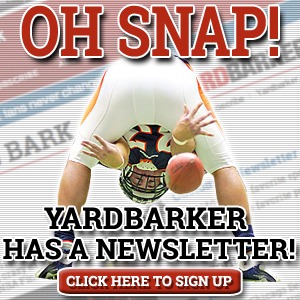 Latest Rumors
The Backyard

Today's Best Stuff

For Bloggers

Join the Yardbarker Network for more promotion, traffic, and money.

Company Info

Help

What is Yardbarker?

Yardbarker is the largest network of sports blogs and pro athlete blogs on the web. This site is the hub of the Yardbarker Network, where our editors and algorithms curate the best sports content from our network and beyond.