Found November 04, 2011 on Hooped Up: Atlanta Hawks:
What if Kevin Durant played for the Washington Redskins, is apparently the new what if LeBron James played for the Cleveland Browns. After dominating the random flag football game he recently played in as quarterback and defensive back, scoring four touchdowns and picking off three passes. Panini America decided to have some fun with the KD football madness and designed this Durant rookie card as part of their 2011 Crown Royale Football and upcoming 2011 Certified Football designs. No word yet if this card will actually make it to market, but so far the card of Durant as a quarterback is already enjoying a better passer rating than Rex Grossman. Zing! H/N Deadspin
Original Story:
http://hoopeduponline.com/2011/11/04/...
THE BACKYARD
BEST OF MAXIM
RELATED ARTICLES
Elbow good, strength full, I workout for better things. Players with no season act like the season isn't everything. I'm having a good time, owners trying to ruin it. Shout out to the fact that Bron-Bron still doing it! Go ahead and stall all you want next season. The more you wait trying to get your $hit together, the stronger, faster, bigger and better LeBron James gets...
In his new book, Shaq says LeBron James never really listened to Mike Brown when the two were with the Cavs. Hoops World posted an excerpt from the book posted that describes a scene where the Cavs were watching film of a game. LeBron is seen not getting back on defense after a shot, but [...]
We never got the championship we were promised.  But we got The ***** of Akron.  An honest to god real god damn work of literature.  Layers of literary and cultural references for analysis and deconstruction.  Unimpeachable evidence that will outlive us all of about what happened, why it mattered so much and how it felt.  Written passionately, painstakingly by one of the best...
Here's another Nike "Basketball Never Stops" commercial to hold over hoops fans in the absence of actual NBA action, this one featuring LeBron James working out into the wee hours of the night: Nice visuals, but end the damn lockout already. Also, here is a video of the stars of the "Basketball Never Stops" campaign [...]
As if there were not enough LeBron James critics in the world already, his former Cleveland Cavaliers teammate Shaquille O'Neal has joined the chorus with his new book. An excerpt from O'Neal's memoir, Shaq Uncut: My Story, tells how James was too big for his team in Cleveland, in Shaq's mind. "Nobody wanted [LeBron] to leave Cleveland, so he was allowed to...
Being one of the lucky handful of individuals to have received an advanced copy of Scott Raab's soon-to-be released book, I set out to ferociosuly tear through the 300 pages and provide the readers of WFNY with a semi-difinitive review.  And then yesterday happened. Not 24 hours after the black and gold-covered memoirs landed on the desks of us sporting types, two extremely well...
This opinion may come as a surprise, since Shaquille O'Neal operates in the same societal bubble that has shielded Charles Barkley from criticism for the past umpteen years: Shaq can be quite a dirtbag.You want loyalty? Look somewhere else. No person — be it a teammate, coach or front office executive — is safe from the boulders Shaq hurls after he leaves a franchise. In...
If the excerpts of "Shaq Uncut: My Story" are the juicy parts, we won't learn much new about Shaquille O'Neal's time with LeBron James and the Cavaliers, Bud Shaw writes in his Spin column.
Q: OK, you're freaking me out with this punitive tax talk. What's the point of having a mid-level exception in the new CBA if it's this difficult to use? — Evan. A: It's there for the teams caught between the cap ($58 million) and luxury tax ($70 million). Actually, if it is for the reported $5 million, it would be there for teams between $53 million and $70 million in...
(As NBA owners work to settle the lockout, only now are the actual losses of games becoming real. To that end, we will offer a look on each scheduled game day of what would have been in play for the Miami Heat had they actually been playing.) The schedule: The Heat were scheduled to play Thursday night at AmericanAirlines Arena against the Magic at 8 p.m., in a game scheduled to...
There isn't a lot of rhyme or reason to what players get a "Pay the Man" campaign built around them. No one cares Wes Welker is wildly underpaid. The talk around Matt Forte has become so tiresome that even this Tulane grad is getting sick of it.   (When LeBron James chimes in, things have…
NFL News

Delivered to your inbox

You'll also receive Yardbarker's daily Top 10, featuring the best sports stories from around the web. Customize your newsletter to get articles on your favorite sports and teams. And the best part? It's free!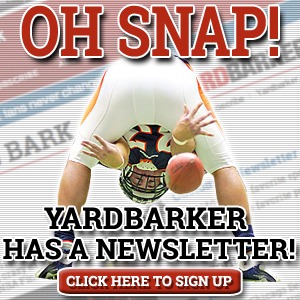 Latest Rumors
The Backyard

Today's Best Stuff

For Bloggers

Join the Yardbarker Network for more promotion, traffic, and money.

Company Info

Help

What is Yardbarker?

Yardbarker is the largest network of sports blogs and pro athlete blogs on the web. This site is the hub of the Yardbarker Network, where our editors and algorithms curate the best sports content from our network and beyond.