Found January 31, 2013 on Ravens Football Machine:
PLAYERS:
Joe Flacco
,
Ray Rice
,
Bernard Pierce
,
Bryant McKinnie
,
Justin Smith
,
Michael Oher
,
Ahmad Brooks
,
Aldon Smith
,
Kelechi Osemele
,
Torrey Smith
,
Anquan Boldin
,
Alex Smith
,
Frank Gore
,
Haloti Ngata
,
Terrell Suggs
,
Vernon Davis
,
Dannell Ellerbe
,
Ray Lewis
,
Patrick Willis
,
Navorro Bowman
TEAMS:
Baltimore Ravens
,
San Francisco 49ers
In simplest terms: the Ravens need to keep the "Smith Brothers" off Joe Flacco, and they need to beat up the 49ers (especially Kaepernick and his O-Line) on defense. But of course it's never as simple as that. An estimated $10 billion is projected to be bet on Super Bowl XLVII worldwide, and over half of all adult Americans are expected to bet on the game in some form. Most bets to date have been on the Ravens, moving the opening line of San Francisco favored by five points to the current line of the 49ers favored by 3.5 points. You can check the latest odds up to the minute here at "Super Bowl 47 Odds"...           Here are a few more detailed keys to the Ravens' game plan in SB47.  Josh Alper of NBC's Channel 4 in New York has done a nice study of some elements of the matchups you may have overlooked: Ravens Offense vs. 49ers Defense: Joe Flacco's made headlines for throwing eight touchdowns and no interceptions in the playoffs, but the resurgence of the Ravens running game has been a hidden reason for that. They've been feeding Ray Rice and Bernard Pierce the ball more than 30 times a game in the postseason, making life easier for Flacco.  The 49ers defense isn't easy to run against, but the addition of Bryant McKinnie at left tackle and the injury to defensive lineman Justin Smith gives the Ravens reason to believe they can keep the ball rolling. If they can, it will help them avoid exposing some bad matchups in pass protection (Michael Oher vs. Ahmad Brooks, Justin and Aldon Smith against McKinnie and guard Kelechi Osemele).  The 49ers will play man on the outside, something wide receiver Torrey Smith struggled with against New England. Anquan Boldin thrived, however, and getting the run going would open up the play-action shots down the field that Baltimore enjoys taking.  49ers Offense vs. Ravens Defense: It's become a passing league, but the 49ers run game is a thing of beauty. Kaepernick's read-option skills are all the rage, but the 49ers were already a good power running team with Alex Smith.  Now, they can overwhelm you on the ground both ways, and Frank Gore looks fresher than he did at the end of last season. The Ravens will counter with a well-rested Haloti Ngata in the middle and athletic players at the edges in an attempt to avoid overcommitting to one while allowing the other to beat them.  The 49ers throw a lot of different formations out there, which will require a lot of discipline from the Ravens defense to identify and communicate with one another. Those formations are designed to come up with favorable matchups for Kaepernick's targets in the passing game while also making it easier for the still-inexperienced quarterback to make the right decisions. Ravens Will Be Happy If: Strangely enough, they might be happy to see Kaepernick run a bit early in the game so that they have a chance to get physical with him right away. The Ravens beat the Patriots up in the AFC Championship Game, and they'd love to do the same to the 49ers in the Super Bowl. Hitting Kaepernick is a good way to make that happen, although the 49ers haven't been easy to push around this year. 49ers Will Be Happy If: The two Smiths on the 49ers defense were running roughshod over the league through the first 14 weeks or so of the regular season, but since Justin's injury, Aldon's pass-rushing productivity has fallen off. If the two of them come up with a play or two to disrupt Flacco, it will be a very good sign for the Niners.  Ravens X-Factor: Linebacker Terrell Suggs started the season with an Achilles injury and suffered a torn biceps muscle later, which kept him from playing at the level he did in 2011, when he won Defensive Player of the Year. He's looked lively in the playoffs, though, and hes the kind of athletic edge player that can both pressure Kaepernick on passes and clamp down on the read-option. If the extra time off gives Suggs something extra, he could make a big difference. 49ers X-Factor: When Kaepernick took over, tight end Vernon Davis dropped off the face of the Earth. He had just six catches in the final five weeks of the regular season. But he's been rediscovered in the playoffs. Davis has six catches for 150 yards in the two 49ers wins and he's got the potential to be a matchup nightmare for Ravens linebackers Dannell Ellerbe, who has an ankle injury, and Ray Lewis, whose coverage skills have diminished after 17 years in the league. Key Matchup: Ray Rice vs. Patrick Willis and NaVorro Bowman. The importance of Rice to the Ravens offense can't be overstated, both as a runner and a receiver on screen passes. When their offense is looking good, Rice is in the middle of everything.  To get Rice free on Sunday, the Ravens will need to handle the 49ers' all-world inside linebacking duo. Willis and Bowman excel in all phases, so it's not like there's some way to limit their effectiveness through creative playcalling. The Ravens are going to have to block them, but Rice also has to run around or through them for the Ravens to dictate the pace and tenor of the game.  That's key, because the 49ers are the slightly more talented team from top to bottom. Riding Rice is important for the Ravens because it's hard for the 49ers to score when they don't have the ball. Josh Alper is also a writer for Pro Football Talk. You can follow him on Twitter.  
Original Story:
http://www.ravensfootballmachine.com/...
THE BACKYARD
BEST OF MAXIM
RELATED ARTICLES
Quarterback Alex Smith will not be a part of the San Francisco 49ers next year, according to Ian Rapoport of NFL.com. Rapoport adds that the 49ers will attempt to trade Smith early on, but they'll release him quickly if no deal is completed out of respect for the former first-overall pick. Alex Smith will not be a member of #49ers next year. They will try to trade him first. Then...
According to Ian Rapoport of the NFL Network, the Arizona Cardinals, Buffalo Bills and possibly the Philadelphia Eagles are interested in acquiring 49ers quarterback Alex Smith during the offseason. The 49ers will try to trade Smith first.  They won't wait too long out of respect for him, since he's going to want to find a new team as soon as possible.   Need NFL Tickets? ...
After being usurped as the 49ers starting quarterback by Colin Kaepernick this season, rumors have swirled that Alex Smith wants out of San Francisco. It appears the Niners will grant him that wish. NFL.com's Ian Rapoport reported via Twitter on Tuesday that the 49ers will attempt to trade Smith after their season ends this Sunday, and if that proves unsuccessful he will be respectfully...
NFL.com is reporting that Chiefs new head coach, Andy Reid is very interested in Alex Smith, and that the Chiefs could step up as the top team to reach out for his services. The quotes from the San Francisco Chronicle from Reid in regards to Smith as told by Trent Dilfer is that he "really likes Alex." Dilfer is a close friend of Smith, and a former 49ers quarterback. He also...
There's not one topic I feel like talking about today as we endure a week of Super Bowl and Hall of Fame propoganda. The Browns introduced their defensive coordinator Ray Horton yesterday, but even that was putting a cap on old news. With that in mind, I thought I would just combine a bunch of things into one post today… Alex Smith to the Browns? So Brandon Weeden thought he...
Alex Smith has been a good teammate despite being demoted this season, so the 49ers reportedly will try to treat him well in return. Smith had a good season for San Francisco before being replaced as the team's starting quarterback after being concussed during a Week 10 tie against St. Louis. Colin Kaepernick replaced him, led the team to the Super Bowl, and has clearly emerged...
Oddly enough, maybe the two biggest stories out of Super Bowl week have been related to deer-antler spray (?) and the future of one team's backup quarterback. With rumors circulating that 49ers quarterback Alex Smith will request his release after the season, FOXSports.com reported Tuesday that the Niners instead will seek to trade their former starter in hopes of recouping...
San Francisco 49ers linebackers Aldon Smith and Ahmad Brooks were the only two players limited at the team's first full Super Bowl practice, according to Cam Inman of The Mercury News. Ahmad Brooks and Aldon Smith, the 49ers' starting outside linebackers, were the only players limited Wednesday in the team's first Super Bowl practice at the New Orleans Saints' facility...
Alex Smith told reporters that he "loved" playing for new Browns OC Norv Turner during their time together in San Francisco. "Loved my time with Norv," said Smith, per Mary Kay Cabot of the Cleveland Plain Dealer. "…He's a great play caller. I just remember he had a great feel for the game on gameday and a great feel for what the defense was doing, and like I said...
Fear the dreadlocks, San Francisco. Torrey Smith just might be the difference in a Super Bowl that will hinge on the 49ers' ability to prevent the Baltimore Ravens from scoring with the long ball. You might remember Smith from that playoff game in Denver on Jan. 12. Broncos cornerback Champ Bailey sure does. Bailey, a 12-time Pro Bowl star, watched the dreadlocks flapping from...
For the 49ers and Ravens, their big names including Terrell Suggs, Aldon Smith, and Haloti Ngata have not achieved big results in the NFL playoffs.
NFL News

Delivered to your inbox

You'll also receive Yardbarker's daily Top 10, featuring the best sports stories from around the web. Customize your newsletter to get articles on your favorite sports and teams. And the best part? It's free!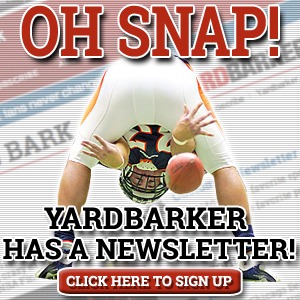 Latest Rumors
Best of Yardbarker

Today's Best Stuff

For Bloggers

Join the Yardbarker Network for more promotion, traffic, and money.

Company Info

Help

What is Yardbarker?

Yardbarker is the largest network of sports blogs and pro athlete blogs on the web. This site is the hub of the Yardbarker Network, where our editors and algorithms curate the best sports content from our network and beyond.