Found September 13, 2012 on Death, Taxes, and Rebuilding:
Follow @ClevelandDTR
By: Eric Grinnell
The key to stopping the Bengals offense is to stop A.J. Green. Green is already one of the better receivers in the game, and constitutes a majority of the Bengals passing game (last year, Green accounted for 7 of Andy Dalton's 20 passing TDs). If you stop Green, you should be able to stop Dalton and make the Bengals one-dimensional.
The Browns did a pretty good job containing A.J. Green last season from a numbers standpoint, as he only had 4 catches for 151 yards and 1 TD. But Green basically won both games by coming up with two big plays that proved to be the difference (one was the infamous Game 1 play where the Browns D couldn't get out of the huddle). The Browns will have to find a way to contain Green for a full game, and will have to do it without Joe Haden. Dimitri Patterson will get the start for Haden, and I would expect the Browns to game plan to give Patterson, or Sheldon Brown, some safety help over the top.
2. Get tight ends Jordan Cameron and Ben Watson more involved
The Browns entire offense was a disappointment from an execution standpoint in Week 1, but I also think it was disappointing from a coaching standpoint, as the tight ends were not involved at all. Ben Watson and Jordan Cameron are solid weapons, and I didn't understand why they were so under utilized against the Eagles.
Getting the tight ends involved will be key for two reasons. First, it will give Weeden some easier throws, which will help get some of his confidence back. Second, the Bengals are starting Taylor Mays at one of the safety spots, and he is a liability in coverage. I have to think that Ben Watson, and especially Jordan Cameron, can take advantage of matchups against Mays.
3. Stop Geno Atkins and Carlos Dunlap
The strength of the Bengals defensive is their D-line. Geno Atkins was an All-Pro last year, and Carlos Dunlap is one of the best young pass-rushers in the league. Obviously, the Browns O-line still is a bit shaky, but they need to make sure that they stop Atkins and Dunlap. If these two have big games, it could be another long day for Brandon Weeden and the Browns offense.
4. Limit turnovers
It doesn't take an expert to tell you that this game will be low scoring. The Bengals win games by playing a controlled, physical type of game. They play a pretty conservative game (outside of 2-3 deep balls to A.J. Green a game), and try to win games with a solid running game, and solid defense. This means that limiting turnovers will be huge. The Browns can not expect to win this game if they turn the ball three or more times. It's just going to be too low scoring. Also, the Browns defense won't be able to force as many turnovers as they did last week because the Bengals offense is just so conservative.
Follow @ClevelandDTR
Original Story:
http://www.ClevelandDTR.com/2012/09/1...
THE BACKYARD
BEST OF MAXIM
RELATED ARTICLES
Perhaps this was a sign we should've taken heed to before the ball was even kicked off. Brandon Weeden got caught under flag during the pregame ceremonies. Now this is the starting quaterback of an NFL team, he should be able to out run 80% of the population, but the fact that he couldn't out run the flag holders might be a slight cause of concern. While this is quite funny...
Throughout the day I will have short chat conversations with other MSF writers about various topics. Some of these conversations make me laugh. I've decided it's time to start posting them. The following conversation took place moments ago between me and MSF fantasy author (and creepy library stalker) Nicholas Gerlach. The topic? Cleveland Browns rookie QB Brandon Weeden, whose...
Courtesy of Browns website Is it time for Browns fans to start chanting for their previous quarterback in Colt McCoy after a horrid start by first round selection Brandon Weeden? Weeden was expected as an older player in the game to bring a maturity to the game along with better decisions, doesn't look too hot yet. After the Browns wanted no more of Colt, the organization decided...
BEREA With possibly both Browns starting cornerbacks out or not at 100 percent, defensive coordinator Dick Jauron and his staff will be scrambling to figure out how to slow A.J. Green and the Bengals offense down. The Browns will certainly miss cornerback Joe Haden starting this week as he serves the first of his four-game suspension. Sheldon Brown, the starter at right corner might...
Dick's Sporting Goods does the Jersey Report all season long indicating what jerseys are selling best nationwide. While Andrew Luck and Peyton Manning lead the overall list, the Browns are well-represented in the rookie list right now. Trent Richardson comes in at #3 maintaining the actual draft order of Andrew Luck, RG3 and himself. Luke Kuechly from the Carolina Panthers and...
http://www.clevelandbrowns.com/ Cleveland Browns at Cincinnati Bengals NFL Week 2 Preview A.J. Green was considered by John Harbaugh as arguably the best wide receiver in the NFL, but Andy Dalton proved that he still has some growing pains to go through. Andrew Hawkins and Armon Binns are the next targets alongside tight end Jermaine Gresham, which is certainly a concern. The Brown...
I apologize for not getting this done earlier in the week. Remember this year, instead of doing "The Browns Will Win If…" we are boiling it down to a reader's survey. 200-ish of you filled it out last week prior to the Bengals game with your expectations. Here's how you/we did. The final score for the game was Eagles 17 – Browns 16. Browns fans predicted the Browns would...
Philadelphia Eagles defensive end Jason Babin was fined $15,750 for roughing Cleveland Browns quarterback Brandon Weeden in last Sunday's season opener, according to Philly.com. Babin was fined for "unnecessarily" driving Weeden into the ground, even though no penalty was called on the play. He received a fine on a similar play last year for roughing the passer...
The Bengals play host to the inner-state rival Cleveland Browns this Sunday, and the stakes are very high for Cincinnati already. After being obliterated on Monday Night Football by division foe Baltimore, the Bengals cannot afford to lose two division games right out of the gates.The Cleveland Browns put up an even less impressive performance Sunday at home against the Eagles.The...
If Rey Maualuga didn't provide enough motivation, maybe someone can point Trent Richardson to Grantland to see what they think of his prospects as a fantasy player. He and Weeden get skewered in talking up this week's matchup with the Bengals. I warned you last week about T-Rich, and I will tell you again: TRADE HIM NOW! Don't read too much into Baltimore's manhandling of...
Browns News

Delivered to your inbox

You'll also receive Yardbarker's daily Top 10, featuring the best sports stories from around the web. Customize your newsletter to get articles on your favorite sports and teams. And the best part? It's free!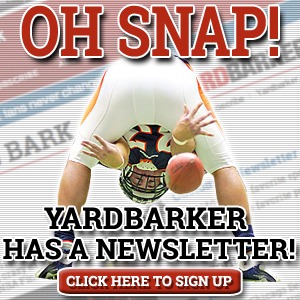 Latest Rumors
The Backyard

Today's Best Stuff

For Bloggers

Join the Yardbarker Network for more promotion, traffic, and money.

Company Info

Help

What is Yardbarker?

Yardbarker is the largest network of sports blogs and pro athlete blogs on the web. This site is the hub of the Yardbarker Network, where our editors and algorithms curate the best sports content from our network and beyond.