Found May 11, 2013 on Fox Sports Detroit:
ALLEN PARK, Mich. Whether hes just a training-camp gimmick or has a legitimate shot for a NFL career remains to be seen. Either way, Havard Rugland a.k.a. Kickalicious from YouTube fame is having the time of his life these days. Rugland, signed by the Detroit Lions, put a football helmet on Friday for the very first time during his rookie mini-camp debut. Its been quite a ride for the 28-year-old Norwegian since he became an overnight sensation by posting a trick-kick video on the internet that features him kicking a football into a trash can, boat, basketball hoop and even a moving car. I wanted an opportunity to show my skills, Rugland, a left-footed kicker, said following Saturdays practice. I had no idea it would end up like this. I was lucky. I got the opportunity, performed well and here I am. Rugland started receiving calls from college football teams, rugby clubs and eventually got a tryout with the Lions, New York Jets and Cleveland Browns. The Lions, who have an opening for a kicker following Jason Hansons retirement, also signed veteran David Akers, who was with the San Francisco 49ers last season. Nevertheless, Rugland has highhopes of fulfilling this football fantasy. Im really serious about it, he said. Im doing my best to get better every day. Theres a lot of people wanting a spot on NFL teams. You have to perform good. They wouldnt sign me if they didnt see something in talent or potential. Lions coach Jim Schwartz joked that Rugland wont even know how to put on his uniform properly when the team begins to practice in full pads. Hes good at kicking the ball into cars that are driving down the road, helicopters and boats and stuff like that, Schwartz said, slightly exaggerating Ruglands tricks. I dont think you get any more points for doing that. Youve got to kick it between the goal posts. Its all new to him, technique and timing, all those other things. He has a ways to go. Like everyone else, the Lions first found out about Rugland from the YouTube video. They were, naturally, a little skeptical. You just wonder how many times he had to kick it through the trash can before he made it, Schwartz said. Schwartz compared it to basketball trick-shot videos. They might sit there for three days trying to make one, he said. Theres a reason they look so happy they make it, probably because theyre tired. They tried it 1,000 times. You cut them up, put them all back-to-back and it looks pretty impressive (in a video). Still, it was clearly that video that helped Rugland get his, well, foot in the door. The video just sort of qualified him to be able to come workout, Schwartz said. We signed him based on the workout he had for us, taking traditional kicks and stuff like that. You could tell on that video he had leg strength and he could control the football. Those were important things. Then after he worked out here, we had a feel for his leg strength on kickoffs and his accuracy. We liked what we saw. We thought we could work with him. Rugland, who is from Stavanger, Norway, and starting playing soccer around age 5, said his cousin, Anders Stenberg, is the one who gave him the Kickalicious nickname. Stenberg also appears in the video, wearing a Mexican soccer jersey, along with Ruglands two brothers and a friend. We didnt think too much of it, Rugland said of the nickname. But, yeah it stands out. Rugland said some of the trick kicks only took a few takes while the one where he swishes the football through a basketball hoop could easily have been 40. I kept hitting the rim and I wanted it to go straight in, Rugland said. Thats a lot of work. Looks a lot better when it goes straight in. Rugland has been training recently with former NFL kicker Michael Husted, but he never even tried to kick with a helmet on before this weekend. Ive got a pretty big head, Rugland said. Its not something you can just throw me a helmet and I can use it. You need at least XL helmet. He said hes making the transition. In soccer, your head pretty often follows the football, Rugland explained. Im trying to keep my head down. (The helmet) almost helped me out a little bit. Rugland hasnt done much kicking during the Lions regular practices open to the media, but he said he made one from 58 or 59 yards Friday in the indoor facility. As for his football knowledge, Rugland said, I cant tell you every rule, but I know the basics. I watched the playoffs (last season), watched a few games. How many points for a field goal? Three, he said. Come on. EXTRA POINT Offensive guard Larry Warford, a third-round pick, left Saturday's practice with an apparent stinger in the area of his left shoulder. Schwartz didn't provide any details on the exact nature of the injury nor the severity.
Original Story:
http://www.foxsportsdetroit.com/nfl/d...
THE BACKYARD
BEST OF MAXIM
RELATED ARTICLES
It looks like former Lions wide receiver Titus Young decided to become a criminal now that he's out of football. On Friday, he was arrested and charged with burglary, assaulting his parole officer and resisting arrest. For Friday's incident, Young was charged with burglary, assaulting a PO and resisting arrest, according to Orange County Sheriff's Dept. — Josh Katzenstein...
Former Detroit Lions wide receiver Titus Young has been arrested…again. Young was arrested around 11:30 p.m. Friday night in San Clemente, CA and charged with burglary, assaulting a police officer and resisting arrest after breaking into a home on the 3700 block of Calle Casino, according to Lt. Joe Balicki of the Orange County Sheriff's Department. When officers arrived at...
The Detroit Lions have gotten another look at Ezekiel ''Ziggy'' Ansah. And the Lions like what they've seeing. The first-round pick looked very athletic during the first of a three-day minicamp Friday after signing a five-year contract earlier in the day. Detroit's coaching staff spent a week with Ansah at the Senior Bowl in January. That up-close, extended...
The Detroit Lions are the first team to have all their draft picks signed, and they did it in a hurry. DetroitLions.com is reporting that the team and #5 overall pick Ziggy Ansah have agreed to terms on a five-year deal. Ansah becomes one of the first players drafted in the first round to agree to a contract. Monetary details of the deal weren't immediately known. Ansah is expected...
Former Detroit Lions wide receiver Titus Young was arrested for the third time in less than a week, this time for fighting with police after allegedly being caught breaking into a home. According to Josh Katzenstein of The Detroit News, Young was arrested around 11:30 p.m. Friday night for allegedly breaking into a home in San Clemente, Calif. Young allegedly fled the house on foot...
Too Fast, too Furious Juan… New father Reggie Bush must be feeling more responsible these days, cause he's selling his '67 Shelby Mustang GT500. This is the car that was featured in Gone in 60 Seconds. "I need to create some space because I don't have enough garage space for all these cars and I can't keep bouncing them around friends' houses and storages," he said...
Havard Rugland's story is unlike that of any other player at Detroit's rookie minicamp. The Norwegian kicker became an Internet sensation after producing video footage of all sorts of quirky trick shots. Now he faces the more mundane challenge of mastering NFL fundamentals. The Lions signed him last month and are giving him a chance to make the team. The Lions need a kicker...
Back when Titus Young was drafted in the second round of the 2011 NFL draft by the Detroit Lions, the former Boise State wide receiver was likely envisioning himself breaking team or league records for his play on the field. Now his actions off the field have become far more notable. Young was arrested for the third time in less than a week late on Friday night, according to The...
ALLEN PARK, Mich. (AP) — The Detroit Lions have gotten another look at Ezekiel ''Ziggy'' Ansah., http://juicedsportsblog.com/sports-news/news/lions-get-another-look-at-ansah-yahoo-sports
Maybe it's just me, but I didn't think it was that crazy when Nick Fairley said the Lions will play in the Super Bowl. Let's be honest, nobody would have guessed the 49ers would have been knocking on the door two years ago. Who could have predicted the season Seattle had last year? The truth is, all you have to do is get into the postseason dance known as the NFL Playoffs to...
ALLEN PARK, Mich. — The scouting report on Havard Rugland is certainly an odd one. "He's good at kicking the ball into cars that are driving down the road … boats and stuff like that," Detroit Lions coach Jim Schwartz said. "But I don't think you get any more points for doing that. We've got to kick it between the goalposts." Rugland's story is unlike that of...
NFL News

Delivered to your inbox

You'll also receive Yardbarker's daily Top 10, featuring the best sports stories from around the web. Customize your newsletter to get articles on your favorite sports and teams. And the best part? It's free!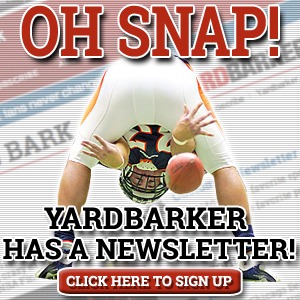 Latest Rumors
The Backyard

Today's Best Stuff

For Bloggers

Join the Yardbarker Network for more promotion, traffic, and money.

Company Info

Help

What is Yardbarker?

Yardbarker is the largest network of sports blogs and pro athlete blogs on the web. This site is the hub of the Yardbarker Network, where our editors and algorithms curate the best sports content from our network and beyond.