Found November 09, 2012 on State of the Texans:
PLAYERS:
Charles Tillman
,
Julius Peppers
,
Lovie Smith
,
Arian Foster
,
Owen Daniels
,
Chris Johnson
,
Matt Forte
,
Devin Hester
,
Jay Cutler
,
Matt Schaub
,
Wade Phillips
,
Robbie Gould
,
Shea McClellin
,
Alshon Jeffery
,
Brandon Marshall
,
Israel Idonije
,
Henry Melton
,
Kellen Davis
TEAMS:
Chicago Bears
,
Houston Texans
,
Tennessee Titans
,
Carolina Panthers
In what has been dubbed a "colossal matchup" on HoustonTexans.com, a "battle of Super Bowl hopefuls" in the Chicago Tribune, and a potential "Super Bowl preview" on NFL.com, the Texans trip to Chicago to meet the Bears for a Sunday night spectacle is nothing if not hyped. Both teams come into the contest at 7 and 1. Both teams have stellar defenses. The Bears tend to score more on defense, but the Texans have a much higher ranked offense. Special teams? Chicago wins that battle handily – on paper. We know the game will not come down to statistics but to match ups. We delve into some of the key matchups utilizing the extensive knowledge provided by @JudgeLucas with SoldierFieldInsider.com. Judge provides his opinion on 2012′s improved Bears  defense, their top ranked special teams unit and what players we will be hearing about on Monday morning as big contributors in the game for the Bears side.     1)  What's the difference in this year's Bears defense over last year? Is it concentrating more on stripping the ball? Better depth? Another factor? (@jmac25 ) As we've seen from CB Charles Tillman's boxer-like jabs, the Bears are definitely focusing more on the first guy wrapping up and the second stripping the ball. We have a lot of faith in DE Julius Peppers and the d-line putting pressure on the quarterback, so the rest of the team can sit back in Lovie Smith's usual idea of a cover-two scheme. I know it's cliche, but "bend don't break" has been the idea. 2) Is the Bears' disciplined Cover 2 the ideal D to stop the Texans' cutback running game and play action passing since no one runs it quite like Kubiak does? (@TXBobbumman/@MigM_) As a fan of the Bears, I am genuinely afraid of the Texans' offense. Like the question says, Kubiak has an art for running and play-action passes. Discipline is key; the Bears need to keep Arian Foster's game limited and prevent him from making third downs manageable for Houston's offense. Once the run is established, threats like Owen Daniels are isolated on the other side of the field with play-action which could be a problem with the Bears' cover-two safeties playing so deep. Although most of the yards were at garbage in a blow-out game, the Bears did let CJ (Titans RB Chris Johnson) churn 141 last game vs. the Titans. That can't happen this week.   3) Given that the Bears offensive line has given up 28 sacks on the season, how will it hold up against the Texans front 7? (@garciarafael65) Seeing how the Texans almost match that at (making) 25 sacks, I'm not sure how to give an in-depth answer other than the obvious: run the ball and mix up plays. The Texans are 4th and 2nd in passing and rushing yards allowed respectively, so establishing either won't be easy. If the running game can't get going, perhaps screens to RB Matt Forte or WR Devin Hester. Regardless of the play call, QB Jay Cutler will need to be decisive and not hold onto the ball one second too long like he is so notorious for doing.   4) On the other hand, since the Texans' offensive line has given up only 10 sacks on the season, how will Julius Peppers and the Bears front 7 attack? The Bears probably won't "attack" because of that reason and instead sit back and force turnovers. Like mentioned above, Peppers and crew will have a tough time getting to Matt Schaub, but stopping Arian Foster is the first priority. They will need to keep every play in front of them and continue forcing turnovers.   5) Since the Texans do not turn the ball over much, are you confident that the Bears offense can take control against the Texans defense if needed? (@Louie_Guerra) I'm not too confident we can. The Texans' three-four has been formidable under Wade Phillips. I don't exactly see this game becoming a shootout. Special teams and defense will be the factors to win this game. I don't see it, but perhaps we can dominate the Texans' secondary like another NFC North team did this year…   6) How are you feeling about the Bears outstanding special teams unit matching up against the Texans? This is a big factor! Field position will be a well-contested affair, so every yard generated on punt and kick-off returns will be a big deal. K Robbie Gould has only missed two FG attempts this year. He has been very consistent, especially after the game-winning kick versus the Carolina Panthers.   7) How have highly touted Bears rookies DE Shea McClellin and WR Alshon Jeffery (pre-injury) performed compared to fan expectations? In my opinion, I don't think they've been too bad. Jeffery had two touchdowns before his injury and McClellin sits at 2.5 sacks before entering this game. McClellin has been nice for depth. We are sporting some old linebackers, so any young legs that can be put into the game after some of these long "bend-don't-break" drives is a good thing. We're hoping Jeffery has a fast recovery. He will help when Brandon Marshall starts to draw double teams.   8) Who are a couple of offensive and defensive Bears players that are flying under the radar nationally? I'd say on defense DE Israel Idonije, DT Henry Melton and DE Corey Wooton would be a few sleepers. Although most are "coverage sacks" and not legitimate overpowering of the o-line, these three guys have accounted for 13 of the Bears' total sacks. That's not to put their talent down, but the coverage has been great and Julius Peppers usually draws a double team. On offense, one could see TE Kellen Davis as a potential sleeper. He has two receiving TDs and is a nice threat in the red zone. OC Mike Tice should use him more in the passing game, but it's a hard call seeings how good of a blocking tight end he is.   9) Finally, there's been a lot of chatter in Houston and nationally that this could be a Superbowl preview. How do you see it? I would love to see this as a Super Bowl matchup. In my personal rankings, I actually have the Texans and Bears #1 and #2 respectively. Stout defenses and all-around offenses make these two teams the best in my opinion. We'll see, though, because the Bears have another test against the 49ers and Packers soon, and I know the Texans' schedule doesn't get any easier. After all, we knew Andrew Luck would be good, but THIS good? The Texans need to capitalize on this season or the next, because it looks like the division isn't going to get any easier in the future.     State of the Texans extends a huge thanks to Judge Lucas of Soldier Field Insider for his participation and for helping Texans fans understand the inner workings of their Sunday Night Football week 10 opponent, the Chicago Bears, a bit better. You can view the Soldier Field Insider website here and follow Judge on Twitter here.  
Original Story:
http://www.stateofthetexans.com/?p=9072
THE BACKYARD
BEST OF MAXIM
RELATED ARTICLES
The 7-1 Houston Texans face the 7-1 Chicago Bears Sunday night at Soldier Field in a marquee matchup of top teams.  Both teams are in first place – with the Bears leading the NFC North and the Texans topping the AFC South, and both teams only lost came to the Green Bay Packers. "It's the perfect situation, a great Sunday night on a big stage," said Chicago Bears' Pro Bowl...
Chicago Bears star cornerback Charles Tillman might miss Sunday's game against the Houston Texans because of the pending birth of his daughter. Tillman told Chicago radio station WSCR-AM that he might not be available because his wife, Jackie, is due to give birth to a girl - the couple's fourth child. Their daughter, Tiana, needed a heart transplant a few months after she...
After eight games in the regular season it is clear that Chicago Bears cornerback Charles "Peanut" Tillman is on track to be the NFL's defensive player of the year.  It is hard to deny the impact that Tillman has made in the early part of the Bears schedule with his 43 tackles, 2 interceptions (both of which he returned for touchdowns), 7 forced fumbles, and 1 fumble...
In this breakdown, we look at Garret Graham's touchdown catch and the Houston Texans switching it up on third and long. See what you think.     Duane Brown Doing Work 3rd and 10 on the Houston 4 yard line. The Texans usually can count on a screen pass or power play with Wade Smith pulling into the hole. Well, the Texans finally dig into the playbook and switch it up on the...
Charles Tillman said that if his wife goes into labor Sunday, he won't play in the Chicago Bears game against Houston. You know what that makes him? Good. Very, very good. I'd give the idea one Facebook-like right now. Thumbs up. Mike Florio, of NBC and Pro Football Talk wouldn't. He said that football players should plan their "nine-month family expansion activities...
Last week: 2 (+0) The Texans didn't put much effort into their game against the Bills, though they still won by 12, so I'm not going to put much effort into this write up. They'll win the AFC's top seed with ease regardless of what happens. They really only play 2 teams with close to their talent level the rest of the way, Chicago (this week) and New England, and even if...
Houston DC Wade Phillips says the Texans will double team Chicago wideout Brandon Marshall all game Sunday, meaning the Bears must have an executable Plan B in place.
Coming off their bye week the Houston Texans defeated the Buffalo Bills 21-9 in what was mostly a one sided affair on Sunday October 4th at Reliant Stadium. The Texans moved a record of 7-1 with the win in which all 3 of the Texans big offensive weapons had pretty good games against a lacking defensive attack from the Bills. QB Matt Schaub had another stellar game staying clean most...
Even with his daughter due any day now, Bears cornerback Charles Tillman is expected to play this weekend, meaning Chicago's defense will be at full strength against the Houston Texans.
Right now the Chicago Bears are the best team in the NFC. The Atlanta Falcons and San Francisco 49ers fans will disagree but right now they are wrong!  Both of those teams have been very impressive in the first half of the season, but they do not have the X-factors that the Bears do.  Not to mention when the Bears and 49ers play a week from this coming Monday the Bears will show...
Charles Tillman's daughter could be born this weekend, which could cause a leading candidate for NFC Defensive Player of the Year to miss Sunday's contest against the Houston Texans.
NFL News

Delivered to your inbox

You'll also receive Yardbarker's daily Top 10, featuring the best sports stories from around the web. Customize your newsletter to get articles on your favorite sports and teams. And the best part? It's free!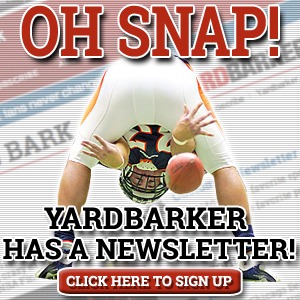 Latest Rumors
Best of Yardbarker

Today's Best Stuff

For Bloggers

Join the Yardbarker Network for more promotion, traffic, and money.

Company Info

Help

What is Yardbarker?

Yardbarker is the largest network of sports blogs and pro athlete blogs on the web. This site is the hub of the Yardbarker Network, where our editors and algorithms curate the best sports content from our network and beyond.