Found December 15, 2012 on State of the Texans:
PLAYERS:
Andrew Luck
,
Vick Ballard
,
Donald Brown
,
Kavell Conner
,
Jerrell Freeman
,
Dwight Freeney
,
J.J. Watt
,
Anthony Castonzo
,
T.Y. Hilton
,
Reggie Wayne
,
Dwayne Allen
,
Coby Fleener
,
LaVon Brazill
,
Robert Mathis
,
Cory Redding
TEAMS:
Indianapolis Colts
,
Houston Texans
,
Minnesota Vikings
,
New England Patriots
Week 15 and a matchup against the long-time-anxiety-causing Indianapolis Colts looms. The Colts don't have the same ability to strike fear in the hearts of Texans these days like they did with Peyton in charge. But the Texans haven't faced the Andrew Luck-led Colts yet. While not a lot is frightening on paper about the 2012 Colts versus the 2012 Texans, this team has troubling intangibles. They're young, on the upswing and are winning games it seems on sheer will alone at times. And the Texans are coming off the second ugly beatdown of the season, this one coming from the AFC East champions New England Patriots.   This weekend, the Houston Texans can lock up the AFC South Division with a victory against the Indianapolis Colts although the Colts can clinch a playoff spot with a win against the Texans. There are huge stakes this weekend and since this is the first time the Texans face the 2012, new-look Colts, we have a ton of questions in this edition of Know Your Opponent. We bring in Kyle Rodriguez of www.ColtsAuthority.com who is an avid Colts blogger and knows what we Texans fans need to be on the look out for in this week 15 battle.   Has the number of significant rookie contributors for the Colts been a surprise, or were they expected to get this much playing time? (@TXBobbumman) I think the quick learning curve of some of the rookies, especially QB Andrew Luck, has been a pleasant surprise but it was pretty expected that they'd be playing a lot. The Colts' roster still is one of the thinnest in the league and full of young guys without a lot of promise. The biggest surprise in terms of playing time has probably been RB Vick Ballard, who has gotten a lot of snaps due to RB Donald Brown being plagued with injuries this season. How do the Colts stop the Texans ground game? (@The_abman_mon) Great question and I'm sure the Colts are wondering the same thing. Fortunately the Colts' run defense hasn't been terrible this season; they're 31st in run DVOA, but that's largely due to an outlier against the Jets. Outside of that game, the Colts have had decent success at limiting the opponents' ground game. The Colts' defensive linemen don't get many stops but they've been able to hold their own on the line and allow the inside linebackers, especially ILBs Kavell Conner and Jerrell Freeman, to fly in and get stops. Do you feel OLB Dwight Freeney has been utilized properly or is he a poor fit in this defense? (@TXBobbumman) I can't complain with how he's being used in the defense but he's not a great fit. However, they're doing what they can with him and he's come up with a couple of good games in the last few weeks. The Colts need more from him in run defense for this scheme, which is not his strength in the least. But in terms of pass rush, the blame for a lack of sacks lies more in the weak secondary and nonexistent push from the interior DL than it does with the way they're utilizing Freeney.      With the Texans' strength being stopping the run, how will the Colts protect Luck with an injury riddled offensive line? Double J.J. Watt. T Anthony Castonzo has done a good job at left tackle during the second half of the season and doesn't need much help. So, the other four will be rotating to keep up with the pressure thrown at them. Luck has gotten riddled by pressure early during the last two weeks, and needs to find a groove early and often against Houston if they're going to have a chance.   Which Colts players on offense and defense should the Texans and their fans be most concerned with? On offense outside of Luck, WR T.Y. Hilton. WR Reggie Wayne gets all the hype,  justifiably, but Hilton has emerged as a guy who can make a big play out of anything. He's lightning-quick, has decent hands, and also returns punts. If Houston pays too much attention to Wayne, Hilton could get a couple of long shots. On defense, Jerrell Freeman has been active all season as a rookie from the CFL. He can get lost in the crowd sometimes, and just make mop-up tackles, but if he's on, the Texans will be hearing his name on every other play. What are fans expectations for the last few games, and quite possibly into the post season for a team who has done so much to exceed expectations this season? Most fans are expecting losses to Houston but there certainly is a sense that anything is possible with this team. Most fans certainly are expecting them to beat KC next week and secure a playoff spot but other than that, fans are pretty happy about where the Colts are right now, which is far better off than anybody seriously expected them to be. Tell the Texans faithful what Andrew Luck has meant to the Colts and which other moves have had a strong impact on their performance this season? Andrew Luck is the force behind the Colts, and it's very difficult to tell through statistics how important he is to the Colts' offense. The Colts run an extremely pass-heavy, vertical offense that has Luck pushing the ball down the field on nearly every play. There's very little dump-offs or safety valves built into it and the support from the run game has been inconsistent at best, meaning the Colts have been forced into a ton of third and long situations. Fortunately, Luck has had the best conversion rate in the league on 3rd and longs, a big reason why they've been able to have so many of these fourth quarter comebacks.   As far as other moves are concerned, the draft has been widely praised, with picks like TEs Dwayne Allen and Coby Fleener contributing, as well as the aforementioned T.Y. Hilton and Vick Ballard. Late pick WR LaVon Brazill has been involved for the last few weeks as well, including a key touchdown pass in the Colts' improbable win at Detroit. The Colts really started coming around after the announcement of HC Chuck Pagano's leukemia diagnosis. How have they kept that momentum going? Without having access to the locker room, it's hard to pinpoint an exact answer to that question, but I think it comes down to a few factors. First, the Colts' interim head coach Bruce Arians has done a very good job keeping the team motivated, especially for a young, inexperienced team. His play-calling can be frustrating but as a leader, the players love him. Second, there are some key veteran leaders on the roster that have been instrumental, such as Reggie Wayne, OLB Robert Mathis, and DE Cory Redding. These guys are vocal in the locker room, and productive on the field, and have played a huge role in the development of the younger players. Third, Andrew Luck has been a leader since Day 1, and the Colts' players already have a ton of confidence in his ability to keep them in almost any game. The amount of praise he gets from his teammates on Twitter after wins has been astounding and is a testament to the respect he gained very quickly.   Finally, Chuck Pagano has kept himself involved with the players, whether it's occasionally visiting the facilities or individually coaching players through texts. The players love him, and I think the effort he's still putting into this team, despite the chemo treatments and everything else, is a huge motivator for his players.   We at Know Your Opponent have mad praise for Kyle and his thoughtful responses to how these divisional foes match up on paper and likely on the field. With no experience playing THIS Colts team, we are extremely grateful for all the insight he shared with us Texans fans. For more intel for week 15 AND week 17, give Kyle a follow on Twitter at @ColtsAuth_Kyle, the Colts Authority Twitter account at @ColtsAuthority and the website at www.ColtsAuthority.com for the updated scoop on all things Indianapolis Colts. We'll be seeing Kyle and the Colts again in week 17. Get your questions ready and shoot them to me via Twitter at @TheClaireBear23. Thanks for reading and we'll see you next week as we prepare to meet the Minnesota Vikings in week 16.
Original Story:
http://www.stateofthetexans.com/?p=9611
THE BACKYARD
BEST OF MAXIM
RELATED ARTICLES
The Indianapolis Colts enter into their week 14 matchup against the rival Houston Texans with two things no one expected at the start of the season: a winning record, and a chance to win the AFC South title. Of course, the biggest obstacle in that second pursuit are the Texans themselves. Houston enters this week with an 11-2 record following an embarrassing loss to New England at...
Interim Indianapolis Colts head coach Bruce Arians can relate to his friend Chuck Pagano. Five years ago, it was Arians who received some bad news from his doctor. He had prostate cancer. He successfully battled it of course, but it really hit home when he received the news from Pagano during the team's bye week. "He had missed Thursday in the office, so I said, '...
The Colts are headed to the playoffs this season and it's due to their MVP caliber QB, Andrew Luck. With only three weeks left in the season it's time to teams to step-up and secure a playoff spot or start looking forward to next season.  After a rough couple weeks I'm sitting at 132-76, I need to step it up. Here's a quick look at this weeks games. NY...
Colts running back Vick Ballard has carried the ball 146 times for 562 yards and one touchdown this season (Credit: AP Photo) After selecting Vick Ballard out of Mississippi State with their fifth round pick this April, I doubt the Indianapolis Colts expected him to play a pivotal role in the offense. Ballard has taken over as the starting running back and last week ran for 94 yards...
The Indianapolis Colts will be without a pair of offensive lineman, Samson Satele and Winston Justice, this weekend, while they are expected to have wide receiver Donnie Avery and tight end Coby Fleener when they take on the Houston Texans. Zbikowski, Satele, Conner and Justice will not make the trip. AQ Shipley and Jeff Linkenbach will start on the line. — Phil Richards ...
A win over the Indianapolis Colts on Sunday would clinch a second straight AFC South title for the playoff-bound Houston Texans. A loss makes the division race much more interesting. The Texans look to bounce back from a blowout loss and prevent the surging Colts from securing a playoff berth as these teams meet in Houston for the first of two meetings over the final three weeks...
The Indianapolis Colts have exceeded even the wildest of expectations this season. The departure of Peyton Manning? A rookie quarterback and a young roster overall, working against a salary cap strapped with dead money? The Colts' task was daunting entering the season. And then, three weeks in, the team's new head coach, Chuck Pagano, was diagnosed with leukemia and would miss...
The Indianapolis Colts will be without two starters on the offensive line Sunday against the Houston Texans. Injured center Samson Satele (ankle) and right tackle Winston Justice (biceps) will not travel with the team to Houston, according to the Indianapolis Star. Center A.Q. Shipley and tackle Jeff Linkenbach will start instead. Running back Delone Carter (ankle), linebacker...
Indianapolis Colts (9-4) at Houston Texans (11-2) The Texans were calling last week's game in New England their biggest game in franchise history and rightfully so. This is a very young franchise that has played just 2 playoff games in its history and going to New England as an 11-1 #1 seed in week 14 on Monday Night Football is almost as big as it gets. The Texans got destroyed...
The 11-2 Texans look to rebound from the Monday night debacle by corralling the AFC South second place Colts.  The 9-4 Colts are led by Houston native and former number one pick quarterback Andrew Luck as well as the emotional spirit of first year head coach Chuck Pagano, who is still recovering from cancer treatment.  Although the sky is falling for some fans outside Reliant Stadium...
  The biggest surprise in the Indianapolis Colts' game against the Houston Texans on Sunday isn't the fact that they lost. In fact, it was so expected that the shock would have been if they hadn't lost. No, the biggest surprise has to be how close they were to almost making another miracle comeback in a season that has seen so many already. Trailing 20-3 after a Pat McAfee's...
Russell Wilson has quietly been keeping up with both Andrew Luck and Robert Griffin III all season with his strong play. On a day when Luck's Colts lost and Griffin sat out with an injury, Wilson may jump both players as the new leader for the offensive rookie of the year award. Wilson has four touchdowns through the first half, with one coming through the air and three on the...
NFL News

Delivered to your inbox

You'll also receive Yardbarker's daily Top 10, featuring the best sports stories from around the web. Customize your newsletter to get articles on your favorite sports and teams. And the best part? It's free!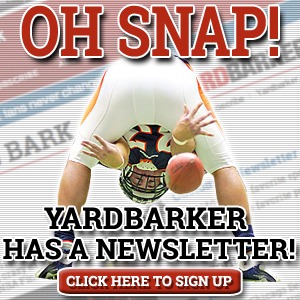 Latest Rumors
Best of Yardbarker

Today's Best Stuff

For Bloggers

Join the Yardbarker Network for more promotion, traffic, and money.

Company Info

Help

What is Yardbarker?

Yardbarker is the largest network of sports blogs and pro athlete blogs on the web. This site is the hub of the Yardbarker Network, where our editors and algorithms curate the best sports content from our network and beyond.