Found November 16, 2012 on State of the Texans:
PLAYERS:
Terrance Knighton
,
Tyson Alualu
,
Daryl Smith
,
Clint Session
,
Arian Foster
,
Ben Tate
,
Blaine Gabbert
,
Justin Blackmon
,
Cecil Shorts
,
Laurent Robinson
,
Rashad Jennings
,
Dion Jordan
TEAMS:
Jacksonville Jaguars
,
Houston Texans
,
Oregon Ducks
  In this week's episode, we check in with Twitter favorite and Jaguars fan everydude, Andy Willis. Andy is as diehard as diehards come. We have a Twitter bet for (apparently) every Texans/Jaguars (not Jags – seems they don't like that) match-up. It's an avatar wager and if I win, he gets this.           If he wins, I get… I don't know. Does it matter? It seems Andy and the rest of Jacksonville have conceded the contest already. Which works for us here at State of the Texans. Although, truthfully, Jaguars fans are my favorite of the AFC South options. Much like Andy, they tend to be self-deprecating (which comes in handy during years like this one), quite good-natured and the smack talk seems to be genuinely respectful. For instance, when I apologize for a perceived rude question, he says "Haha, I WANT to pick early," and "While writing this, I realized how one sided this game will be Sunday. It's going to get ugly. Lol." Andy knows tons about his boys in teal and black. He divulges all and comes to grips with some hard truths in this week's Know Your Opponent. I won't gloat. Promise.     Why is Jacksonville the Jaguars? There aren't any Jaguars in Jacksonville. (@deadi3)   I asked our senior writer a couple years ago on http://jaguars.com  the same question… Just alliteration. I hate it though.     What is responsible for the Jags' rushing defense woes, and can it be fixed before Sunday? (@txbobbumman) Stopping the run obviously begins with your front four on defense. In our 4-3 defense, the DT's are most responsible for stopping the run. The Jaguars were supposed to be building around two young, up-and-coming DTs in Terrance Knighton and 1st round pick Tyson Alualu. Neither had a full offseason. Tyson finally had surgery on an injury that has been bothering him since his rookie season and was recovering from it during the offseason. Terrance Knighton missed the offseason because of eye surgery rehabilitation. Knighton is in a contract year too. When your two top defensive linemen miss an offseason, you're going to have a rough time doing anything on defense. It also doesn't help when you have Daryl Smith and Clint Session out the whole season. Even though Tyson Alualu had his best game of the year last Thursday, and is looking a lot healthier, I still expect Arian Foster and Ben Tate to have plenty of running room Sunday. 
What are Jaguars fans thinking about Blaine Gabbert's ceiling? Most other fans seem to concur he won't work. Do Jaguars fans blame the offensive line or do they also believe Gabbert may not be the guy to lead them? 
(@qtab)   Blaine Gabbert has been really confusing to judge this season. He's been so hot and cold at times. If everything works perfectly on a play, then he does well, and delivers a good ball, and can sometimes 'wow' you with his arm. But if the O-line blocks poorly, or a receiver drops the ball, it seems to just kill the momentum, and Gabbert's confidence. He was drafted by Gene Smith off of pure potential. He didn't have eye-opening stats in college. He came from an offense that basically only threw the ball, and he had prototypical quarterback size. He has an amazing arm and can deliver a pretty ball, but it hasn't been near consistent enough to be acceptable. I'm considering this season his rookie season, because the situation he was thrown into last year just wasn't fair to him. He's shown enough flashes so far this year for me to hold off judgment until the end of the season, but I'm still skeptical if he can be an NFL quarterback.   Does Jacksonville have any match-ups to exploit in this game versus the Texans and do you see any way they can pull out an upset?
   I know what the Jaguars need to do to beat the Texans, but I just can't see them doing it. They need to win at the line of scrimmage on both sides of the ball to win. If they can stop the run with their front seven, they have a chance on defense. But I just don't trust every member of the Jaguars front seven to do that. On offense, the offensive line needs to play their best game of the season to have any chance to do anything on offense. It's going to be a long day for both sides of the ball for the Jaguars.   Is the no-huddle going to be featured more prominently going forward, or only if Gabbert can play?
   Yes, expect the Jaguars to come out in no-huddle on the first or second series against the Texans Sunday. And yes, it will be with Blaine Gabbert.     Has Justin Blackmon's lack of production been due to effort or the quarterback play?   I really don't believe Blackmon isn't giving any effort. When watching the game, he just looks lost sometimes. I could be just rookie growing pains. You don't see him running the routes given to Cecil Shorts or Laurent Robinson. Is it because they don't think he's able? Because he isn't in sync with Gabbert? Most balls Blackmon is targeted all look like routes going towards the sideline, nothing down-field. Mularkey says his targets and routes are based on coverage. If I draft a wide-receiver in the top-5 picks of round one, I want him to be able to run any route regardless of the coverage. It also doesn't help when Blaine Gabbert isn't going through much of his progression. If a ball is thrown to Blackmon, it seems to mean he's the guy Gabbert's targeting from the snap, and first in his progression.     
What is happening with Rashad Jennings lack of production? He had some promising moments early on.   It's been really frustrating watching Rashad play this season in the place of Jones-Drew. I was really rooting for Jennings to take advantage of this opportunity, because he's shown flashes throughout his career of being a capable starting back. This season he's just not running into the open lane or making anyone miss. He's been more effective receiving the ball.     If the Jaguars end up picking early in the 2013 NFL draft, in what direction do you see them going?   It all depends on how Blaine Gabbert looks the rest of the season, and who gets fired. I believe in Shad Khan. Therefore, I believe that Gene Smith will be fired by seasons-end. The new general manager will have the final say on Gabbert's future as a Jaguar. Gabbert does have a chance to prove his worth, however, in the final games of the season. I'm rooting for Gabbert to improve and perform well, because I want one of these pass-rushers that will be entering the draft this year. The Jaguars have been cursed at that position for a long time. I see them going with someone like Montgomery or Mingo from LSU, or Jarvis Jones from Georgia, or Dion Jordan from Oregon. If Gabbert is cut, though, I see the Jaguars going Geno Smith from WVU. There's no clear-cut number one overall pick in this years draft yet. That figures, though, for us Jaguars fans.     There has to be a bright spot for the Jacksonville Jaguars half way through the 2012 season. What is it?   The black uniforms look kinda cool . . . But really, my favorite part about this season is Cecil Shorts. He's a poor-man's Victor Cruz at this point, and I only see him getting better. He had only two catches last season, but has 561 yards this season on 29 receptions.   Special thanks to Andy Willis for being our Jaguars man-on-the-street. His passion is obvious, his knowledge is valuable, and now we, as divisional rival Texans fans know what to expect from the Jacksonville Jaguars this Sunday. The keys? Gabbert better be playing for his job, Blackmon needs to not look lost, and the defensive front seven need to keep it on lock-down for the Jaguars to have any success against the Texans. We can't completely write them off. After all, it's a divisional game and stranger things have happened. I give them a .50% chance of walking out of Reliant with a victory. With that said, we wish the Jaguars and their loyal fans good luck and hope they are ready for a battle. My friend Andy Willis is a great Twitter follow. I have recommended him before on #FF, but I'll do it once more – @ndyWillis. It's more than just Jaguars, it's Twitter entertainment in so many ways. Give him a follow, won't you?    
Original Story:
http://www.stateofthetexans.com/?p=9192
THE BACKYARD
BEST OF MAXIM
RELATED ARTICLES
The 2011 rushing champion Maurice Jones-Drew held out of training camp, lobbying for a new contract. New owner Shad Khan balked, and never budged. Jones returned late in camp, but the damage was already done. All he had left as a negotiating tactic was to put up the same type of numbers that won him the rushing title before. Well, his plan came to a screeching halt as soon as he...
Jaguars QB Blaine Gabbert (shoulder) is probable for Week 11 against the Texans.Fantasy Spin:Gabbert left late in last Thursday's game against the Colts but we suspect it was more of a precautionary measure than something serious. As it stands, Gabbert will try to play the rest of the season with a torn labrum in his non-throwing shoulder. The Texans held a healthy Gabbert to...
JACKSONVILLE, Fla. (AP) -- Greg Jones, meet Greg Jones. The Joneses crossed paths for the first time this week in Jacksonville's locker room, the veteran fullback nicknamed "The Bull" exchanging pleasantries with the second-year linebacker probably best known for proposing to his girlfriend on the field after the Super Bowl. The meeting was a little strange, and being...
Maurice Jones-Drew has been sidelined with a sprained foot.  He was hoping to return by next week, but as of Thursday, Jones-Drew's own assessment of his timetable was foggy.  He hopes to return in a couple weeks, but there is no exact date for his return. According to an interview Jones-Drew did on Fox Sports Radio, Jones-Drew confirmed the injury isn't the type to end...
As week 11 and a second matchup versus the Jacksonville Jaguars looms, we reach out to our favorite Jaguars blog, @BlackandTeal, more specifically, editor @LukeNSims. Luke looks at QB Blaine Gabbert's performance, top 2012 draft pick Justin Blackmon, and the Jaguars bright spot of a disappointing 2012 season… go ahead and read below to find out what that pleasant surprise is...
Jacksonville Jaguars defensive tackle Terrance Knighton was fined $25,000 a helmet-to-helmet hit against Indianapolis Colts quarterback Andrew Luck last Sunday. It was the second time Knighton has been fined this season for the infraction, according to NBC Sports' Pro Football Talk. Knighton was penalized for the hit, which negated an Aaron Ross interception. Jaguars safety...
Last week: 32 (+0) Record: 1-8 Still the worst team in the NFL. I think the Chiefs are more likely than they are to win another game the rest of the way. They rank dead last in both yards per play differential and rate of sustaining drives differential. In yards per play differential, they are at -1.1. No one else is worse than -0.9. In rate of sustaining drives they are -14.8%,...
NEW YORK (AP) -- Jacksonville defensive tackle Terrance Knighton has been fined 25,000 by the NFL for making helmet-to-helmet contact with Colts quarterback Andrew Luck, who was defenseless at the time. The hit came in Indianapolis' victory Nov. 8 at Jacksonville and negated an interception by Aaron Ross. Jaguars safety Dawan Landry was fined 10,000 for a fourth-quarter hit...
The Jacksonville Jaguars are staggering in for round two. In round one at EverBank Field the Jaguars' got smacked around by the Texans. The final score was 7-27. The Jaguars managed 117 total yards.  While the Texans' running back Arian Foster had 110 yards and one touchdown.On the defensive side, soon to be Player of the Year, J.J. Watt had 1.5 sacks with three quarterback...
Other than a few die-hard Jaguars fans, no one expects Jacksonville to put up much of a challenge this week for a hard-hitting Houston team coming off a big road win in tough conditions.Still without their star running back, Maurice Jones-Drew, the Jaguars are averaging just 14.1 points per game and have gotten little help from Blaine Gabbert or this year's first-round draft...
Jacksonville Jaguars (1-8) at Houston Texans (8-1) This week, when the Jacksonville Jaguars go to Houston to play the Texans it will be the latest a 1-win team has played a 1-loss team since 1990, when the Patriots played the Bills, also during week 11, How long ago was that? Well, here's a clue. The Patriots were the 1-win team and the Bills were the 1-loss team. The Bills won...
Houston's defense has done great this year, only allowing just under 200 passing yards and 85 rushing yards per game. The Jacksonville Jaguars offense is the worst in the NFL and the Houston defense will allow only two field goals and no touchdowns. They will also pick off Blaine Gabbert twice and they will get 10-15 points.   Week 11 Top 15 Defense: Houston Atlanta Chicago...
NFL News

Delivered to your inbox

You'll also receive Yardbarker's daily Top 10, featuring the best sports stories from around the web. Customize your newsletter to get articles on your favorite sports and teams. And the best part? It's free!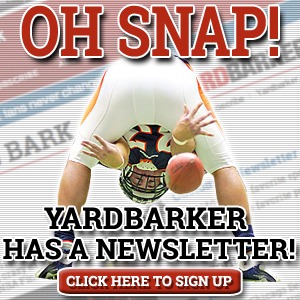 Latest Rumors
The Backyard

Today's Best Stuff

For Bloggers

Join the Yardbarker Network for more promotion, traffic, and money.

Company Info

Help

What is Yardbarker?

Yardbarker is the largest network of sports blogs and pro athlete blogs on the web. This site is the hub of the Yardbarker Network, where our editors and algorithms curate the best sports content from our network and beyond.