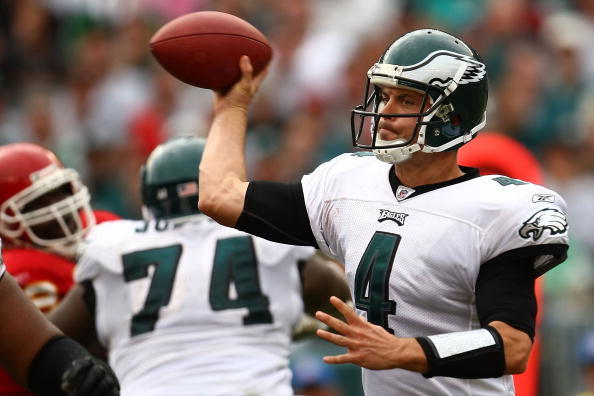 BALTIMORE - NOVEMBER 23: Kevin Kolb #4 of the Philadelphia Eagles throws a pass against the Baltimore Ravens on November 23, 2008 at M&T Bank Stadium in Baltimore, Maryland. The Ravens defeated the Eagles 36-7. (Photo by Jim McIsaac/Getty Images)
Getty Images

It may not be the return of Donovan McNabb or Terrell Owens, but a former franchise quarterback is making his return to Philadelphia this Sunday.
Kevin Kolb, Eagles fan's favorite back up quarterback from last season and now starting quarterback for the Arizona Cardinals, will return to Lincoln Financial Field this week.
While he was never able to become the "man" in Philadelphia, Kolb admittied had he looked forward to building something special with DeSean Jackson, Jeremy Maclin, LeSean McCoy and Brent Celek. While that never came to fruition, Kolb says being in Philadelphia made him a better football player.
"Coming out of college, it made me a man," said Kolb. "It made me a lot better football player and a lot better person. I have a lot of good memories from that part of my life."
It is unlikely that Kolb will play on Sunday- he is still in a walking boot- but that does not mean that returning will be any less special.
"Once it's gone, you realize how great it was," Kolb said to Zach Berman of Philly.com. "Everybody knows the reputation of the fans in Philly . . . Once you get outside and look, you realize it's not always just a negative thing to have fans boo when you're bad. Because there is passion there. And the fact that they care that much, it says a lot about how much you mean to that town and you come to work with a purpose every day and that's a pretty special thing. Not every fan is passionate in that way."
Kolb's time in Philadelphia will likely be remembered by fans more for the trade value he had than his play, as Kolb was never able to take the full-time job Andy Reid desperately wanted to give him. Now that is has been handed the keys in Arizona- and the fat paycheck that goes with it- Kolb is struggling with his full time role.
Kolb is 1-5 as a starter, having thrown for 8 touchdowns, 8 interceptions, and just over 1,700 yards.
The scary part for Eagles fans? Those numbers are not considerably worse then Michael Vick's numbers this year (11 touchdowns, 8 interceptions, 2,065 yards.)
Follow Buzz on Broad Eagles Beat Writer Eliot Shorr-Parks on Twitter at @EliotShorrParks
Read the rest of this story...
MORE FROM YARDBARKER
NFL News

Delivered to your inbox

You'll also receive Yardbarker's daily Top 10, featuring the best sports stories from around the web. Customize your newsletter to get articles on your favorite sports and teams. And the best part? It's free!