Found July 25, 2012 on WhoDeyFans:
The Red Rifle is the definition of professional. We've got approximately 48 hours until training camp starts for our beloved Bengals. I don't know how you all feel, but this has been the longest off season I can ever remember. Not only has this been an incredibly exhausting time off for all us fans, but I'm sure Roger Goodell is ready to get this season started. There have been 31 different arrests since the Giants won the Super Bowl. We've seen big names like Marshawn Lynch, Dez Bryant and even Adrian Peterson mentioned with legal issues these past few weeks. Those 31 arrests have come from 21 different teams, but who is the one team without a single off season issue that somehow gets mentioned in every other story? The Cincinnati Bengals. There is no reason for me to bring up names and crimes from our own players, yet this doesn't stop the media from comparing every incident to some moment in this teams ever-so bright history. We still have some of those players on this roster but has this team changed? Has this team grown? Are they finally professionals? [If you have yet to see this post game speech by Marvin Lewis following a loss to the St. Louis Rams, please watch, but be warned there is a use of some...colorful language.]- Marvin Lewis Speech
"Reach down inside and be a f—ing pro!"
It's hard to say that statement ever reached that team. 2009 was a great year for the Bengals, but the issues were just swept under the rug only to re-emerge in 2010. Marvin Lewis never had that professional team for most of his time here because most of his time here was never about the team. It was about a handful of players that are no longer here. My question is this, what do you, as a fan, expect of this team for 2012? Not as far as wins or losses but as far as how they grow and mature into the veterans who will grasp that illustrious Lombardi Trophy. There is a perceived change of ways around the organization with not only bringing in "professional" players but more competence in the running of the front office and coaching. There is a higher regard to a players character (although there are still instances of possible issues) but the team is also focusing on players who play as a team to win and not as a player looking for a TD just to showboat. There are a million reasons to be excited for this upcoming season, but the one aspect I can't wait to see is how this team handles the success of last year mixed with the pressure of topping that previous success this upcoming season. Will they be the professionals Marvin has longed for or will they take their ball home? Last year was the opening introduction into what can be a long and exciting story for this new professional team of Bengals. As the plot begins to rise we can only hope they thrive as a unified team and take the necessary steps forward. I can't help but recall one of my favorite quotes from Lost, "If we don't live together, we'll die alone." Which one will it be? Win as a team or lose as an individual?
Original Story:
http://whodeyfans.com/2012/07/25/late...
THE BACKYARD
BEST OF MAXIM
RELATED ARTICLES
Fate could have just shut the lights out on the start of Dre Kirkpatrick's career as the promising cornerback from Alabama could miss a large chunk of training camp with a knee injury that could also involve a broken bone in his leg according to... Please click the link below to read this story.
On Monday, Pete Prisco of CBS Sports reported his results after being given the difficult (and silly) task of predicting every NFL game for the 2012 season. We could hammer him for some of his picks. The Patriots go 16-0 again? Child, please. The Browns to go 1-15? I enjoy a good Browns-bashing as much as anyone, and the Browns might be bad, but they aren't that bad. But if I had...
The long offseason is finally over, Training Camp is here! The Bengals report to camp tomorrow with their first practice Friday. In this week's show: Dre Kirkpatrick sidelined with an apparent knee fracture Brandon Thompson finally signs his rookie deal Defensive Coordinator Mike Zimmer agrees to an extension through 2014 We're looking for writers! If you're a Bengals fan and...
A white-topped tent is anchored at the entrance to the Cincinnati Bengals' practice field. Workers are cleaning seats inside Paul Brown Stadium, getting ready for a franchise first. The team opens training camp this weekend without leaving home. The Bengals spent their first 44 training camps at Wilmington College and Georgetown College, small schools that were more than an...
Defensive tackle Brandon Thompson, a third-round pick in April's NFL Draft, signed with the Cincinnati Bengals, the team announced Wednesday. Thompson, 6-foot-2, 320 pounds, played collegiately at Clemson, where he started 37 of 53 games he played. He had a 208 tackles and 22.5 tackles for loss while at the ACC school. He was the last of 10 Bengals draft selections to sign a contract.
AP Photo According to Jason La Canfora of CBSSports.com, Cincinnati Bengals rookie cornerback Dre Kirkpactrick told his teammates that he suffered an injury in his knee area and that he could miss a good part of training camp. This isn't good for Kirkpatrick, since he's a rookie.  With him having to sit out because of an injury now, he's going to miss out on vital on the field...
Jamison Hensley at ESPN has been counting down the top-25 players in the AFC North Division for the past couple of weeks. The list will likely end around Training Camp, as he's been roughly been doing one player writeup per day. Hensley has a good pulse on the players in the AFC North as he is the "four-letter network's" division blogger. In case you've missed...
  It's not easy to make a trilogy. Films that start out with such grand intentions of being "different" and "new" end up just like everything else – trying to appease an audience of the masses. Only at the end of a trilogy the audience of the masses is already built in and you end up with the seemingly 15 hour conclusion to the Lord of the Rings trilogy. A conclusion...
Suspended Saints linebacker Jonathan Vilma is back in federal court on Thursday, seeking a temporary restraining order that would allow him to return to work while his lawsuit against NFL Commissioner Roger Goodell is pending. Goodell suspended Vilma for the entire season for what the NFL has said was his leading role in a player-funded bounty program that paid cash bonuses to Saints...
NFL News

Delivered to your inbox

You'll also receive Yardbarker's daily Top 10, featuring the best sports stories from around the web. Customize your newsletter to get articles on your favorite sports and teams. And the best part? It's free!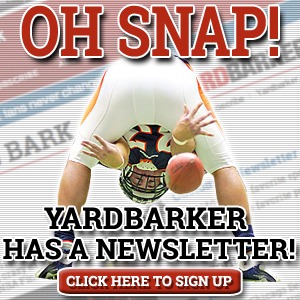 Latest Rumors
Best of Yardbarker

Today's Best Stuff

For Bloggers

Join the Yardbarker Network for more promotion, traffic, and money.

Company Info

Help

What is Yardbarker?

Yardbarker is the largest network of sports blogs and pro athlete blogs on the web. This site is the hub of the Yardbarker Network, where our editors and algorithms curate the best sports content from our network and beyond.