Found June 12, 2012 on BeyondUSports:
LaVar Arrington Wishes He Did More Former star Penn State linebacker LaVar Arrington opened up after the second day of testimony in the Jerry Sandusky child abuse case. Arrington was not called to the witness stand, but shared his feelings with the world in a column in the Washington Post. It's a very honest piece where Arrington admits he wish he had done more to protect one of the victims who took the stand this week:
My preconceived notion was that he was part of Sandusky's Second Mile foundation, so he must live in a troubled home, and I chalked it up to that. I would just tell him to smile every once in a while or laugh, that it would make him feel better. I guess with everything that I had going on, it certainly wasn't a priority for me to try to figure him out. I saw him at the 1999 Alamo Bowl game and shared a couple laughs. I left school for the draft and that was that.
For the full column click here. photo credit: philly.com No former Penn State player has been more vocal than Arrington when it comes to Sandusky. He seems to be one of the few voices who has not been afraid to speak about the subject. Today's column was particularly honest and self reflective. You can really feel Arrington's pain and sense some level of guilt. This case is hard for even an outsider to stomach so it's hard to imagine what Arrington must be going through. Multiply that times a million and you may reach the pain of the victims in this mess. That's how horrible this case is. BeyondU Sports BeyondU Sports - Best College Sports Blog Site
Original Story:
http://feedproxy.google.com/~r/Beyond...
THE BACKYARD
BEST OF MAXIM
RELATED ARTICLES
Former Penn State star linebacker LaVar Arrington has reportedly offered an apology to an alleged sexual abuse victim of former assistant coach Jerry Sandusky. Arrington wrote an emotional story for The Washigton Post about his reaction to Monday's testimony by Victim 4, who testified that he received gifts from Sandusky. Victim 4 said he was allowed to wear Arrington's...
It took just one day of testimony for the Jerry Sandusky trial to dig a little deeper in to the personal connections to former coaches and players at Penn State. LaVar Arrington, the always vocal presence who played linebacker for one of Sandusky's best defensive units (as well as his last), found himself feeling apologetic for his link to one of the victims allegedly harmed...
Former Washington Redskin and Penn State alumnus LaVar Arrington wrote a great piece for the Washington Post about his relationship with one of the victims while he was at Penn State, though he had no idea what the boy was really going through.   
NBC News reports today that law enforcement authorities have uncovered emails that show Penn State President Graham Spanier, PSU Vice President Gary Schultz and PSU Athletic Director Tim Curley "discussed whether they needed to tell authorities about a 2001 allegation involving a late night encounter between a naked Sandusky and a young boy in the Penn State shower room." ...
BELLEFONTE, Pa. -- Former Penn State assistant coach Mike McQueary told jurors in Jerry Sandusky's sex abuse trial Tuesday that he saw his ex-colleague with a prepubescent boy in an on-campus shower and that he that he heard "skin-on-skin smacking sound." His account of the night differed little from his appearance in December at a preliminary hearing for Penn State...
Investigators are mulling whether to bring charges against former Penn State president Graham Spanier for possibly helping to cover up child abuse allegations against Jerry Sandusky, NBC News reported Monday. The report stated authorities have "major new evidence," including emails between Spanier, former university vice president Gary Schultz and ex-athletic director...
Another alleged victim of Jerry Sandusky says the former Penn State assistant football coach pinned him down and performed oral sex on him, then told him he'd never see his family again if he told anyone. The man identified as ''Victim 10'' by prosecutors told the jury at Sandusky's sex abuse trial Wednesday that the two were wrestling in the basement of...
BELLEFONTE, Pa. -- The first witness in Jerry Sandusky's trial said the former Penn State assistant football coach sexually abused him as a young teenager on campus and in hotel saunas and later sent him ''creepy love letters.'' The witness, dubbed Victim No. 4 by prosecutors, said what began as ''soap battles'' in the shower escalated into inappropriate...
If you've been following Penn State recruiting throughout the spring and summer, you know there have been plenty of offers sent out to secondary prospects throughout the country, and, after looking at the newest Penn State depth chart, it's easy to see why.
Jerry Sandusky/File ((ht: pennlive.com)) The much anticipated child molestation trial of former Penn State assistant coach Jerry Sandusky got off to a quick and revelatory start Monday. You'll recall Sandusky is facing more than 50 charges of Molesting young boys over nearly two decades, charges he denies. The trial began just after 10am when Prosecutors delivered...
Happy Flag Day Penn State fans. Penn State fans are welcoming New Jersey linebacker to the pack this morning. Brandon Bell has declared his intention to attend Penn State next year, with the news first reported by Lions247 over night. The consensus three star linebacker is the first in Bill O'Brien's Class of 2013 from the key position, which was needed after recruiting...
NFL News

Delivered to your inbox

You'll also receive Yardbarker's daily Top 10, featuring the best sports stories from around the web. Customize your newsletter to get articles on your favorite sports and teams. And the best part? It's free!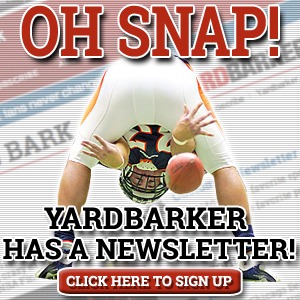 Latest Rumors
Best of Yardbarker

Today's Best Stuff

For Bloggers

Join the Yardbarker Network for more promotion, traffic, and money.

Company Info

Help

What is Yardbarker?

Yardbarker is the largest network of sports blogs and pro athlete blogs on the web. This site is the hub of the Yardbarker Network, where our editors and algorithms curate the best sports content from our network and beyond.