Found January 29, 2013 on Awful Announcing:
Philadelphia Eagles running back LeSean McCoy is known for his highlight stick jukability.  Unfortunately for McCoy, he couldn't escape from one of the most bizarre Twitter meltdowns we've seen from a professional athlete this weekend.  McCoy got in a VERY nasty spat with the mother of his child for all the world to see.  This included McCoy calling his "BM" (baby mama) a "dirty alley girl" and a "waste of life" as well as trying to encourage his followers to bully her on Twitter.  For her part, Angelface0330, or Steph, said some equally nasty and embarrassing things to McCoy including a herpes allegation.  Because there's nothing quite like bringing down a public figure a notch or two than by exposing his various venereal diseases to the world. Here's a helpful tip for all professional athletes out there... what happens on Twitter does not stay on Twitter. Naturally, as does any athlete that gets involved in a regrettable Twitter episode, McCoy claimed he was hacked before deleting his Twitter account altogether.  Naturally... Yesterday, McCoy changed course and (GASP!) took responsibility for his actions on social media saying his Twitter account was not hacked.  (You mean that was a lie?!?!  You mean all those athletes saying their Twitter accounts have been hacked may or may not be telling the truth?!?!  Is there nothing real in the world anymore???) CSNPhilly has McCoy's entire statement, in which he thankfully offers a pretty thorough apology for the events that transpired: "In light of the recent events that played out over Twitter this past weekend, I would like to express how deeply sorry and remorseful I am to my family, the Philadelphia Eagles, my fans, and every young person who views me as a role model. This is not who I am as a person, nor the image I ever wanted to portray of myself. It's definitely not the example I want to set for my son. "My Twitter account was not hacked. I take full responsibility and I apologize for trying to make it seem like it was not me. Due to my bad judgment and frustration, I allowed a very personal matter to be played out on a social network, of all things. It was immature and unprofessional for me to do so and to encourage others to join in. "As a parent, emotions are often magnified when there are stressful and emotional situations concerning them.I take great pride in being a good father and strive to one day be a great one. I've always done everything in my means to provide for my son financially, emotionally, and most importantly with my time and heart. I am sick over the fact that my actions have caused pain to him and all involved. I have decided to handle this matter privately from here on out and I thank everyone for their continued support."   That's a PR statement Lance Armstrong's camp would be proud of.  We've seen plenty of awful examples of sports figures using Twitter and McCoy's rants against the mother of his son certainly rank among the most unseemly.  It amazes me that after countless examples of the dark side of Twitter, athletes can still be thoughtless enough to fall into its shady traps.  Is it really that difficult to find some sort of reasonable social media real estate between McCoy's meltdown, Darnell Dockett's insanity, and Tim Tebow answering RT requests?  Sadly, I already know the answer to that question.
Original Story:
http://www.awfulannouncing.com/2013/j...
THE BACKYARD
BEST OF MAXIM
RELATED ARTICLES
I can respect this. We all get caught up from time to time, but you just have to man up and admit you made a mistake and keep it moving. It was unfortunate that LeSean McCoy let his personal business spill over into Social Media, but it won't be the first or last time someone has that type of lapse in judgement. LeSean McCoy & Baby Mama Twitter Battle About Child Support &amp...
I can respect this. We all get caught up from time to time, but you just have to man up and admit you made a mistake and keep it moving. It was unfortunate that LeSean McCoy let his personal business spill over into Social Media, but it won't be the first or last time someone has that type of lapse in judgement. LeSean McCoy & Baby Mama Twitter Battle About Child Support &amp...
1. Quarterback The Philadelphia Eagles are expected to end the Michael Vick era this offseason. And while Nick Foles may be worth developing, he isn't an immediate answer to their issues at quarterback. If they're interested in keeping Foles, then signing a veteran makes the most sense. But if the new regime isn't interested in Foles, Geno Smith may be a first-round option...
According to Jason La Canfora of CBS Sports, the Philadelphia Eagles aren't worried about releasing quarterback Michael Vick before his February 6th roster bonus kicks in.  The bonus will guarantee him $3 million of his $16.5 million 2013 salary.  Vick's contract likely won't be resolved by then. New coach Chip Kelly is evaluating the situation and how Vick fits in his spread...
The Philadelphia Eagles have reportedly hired Virginia offensive coordinator Bill Lazor. Lazor has been the offensive coordinator at Virginia since 2010 and has an extensive resume of working with quarterbacks. The Scranton Native coached in the NFL from 2001-2009. He was the quarterback coach with the Washington Redskins and Seattle Seahawks during that time. It appears as though Pat...
sports.gunaxin.com / Twitter.com Philadelphia Eagles running back LeSean "Shady" McCoy could easily be at the Pro Bowl this weekend, just like he was last season, if a concussion, a patchwork offensive line and Andy Reid's pass-heavy play calling hadn't helped keep his numbers down. Well, instead of hanging in Hawaii, Shady McCoy (@CutonDime25) spent late Saturday night and...
Howie Roseman and the Philadelphia Eagles have a history of drafting players who participated in the Senior Bowl.  With this year's Senior Bowl week in the books, we may be able to start identifying potential Eagles targets. With Chip Kelly and a new coaching staff involved, we don't have any drafting trends to look at so we could see Howie alter his M.O.  Another thing...
People familiar with the situation say offensive coordinator Bill Lazor is leaving Virginia to join the Philadelphia Eagles. The people said Tuesday that Lazor said he will join Chip Kelly's staff. The people spoke to The Associated Press on condition of anonymity because no formal announcement has been made by the university or the Eagles. Lazor's departure was first reported...
Philadelphia Eagles quarterback Michael Vick has a clause in his contract in which he'll be guaranteed $3 million for next year on Feb. 6. Still, the Eagles aren't in a hurry to make a decision on Vick's future, as the guaranteed money isn't a major issue for the team. For this reason, Vick's situation and Philadelphia's ultimate decision on the veteran doesn't appear...
NFL News

Delivered to your inbox

You'll also receive Yardbarker's daily Top 10, featuring the best sports stories from around the web. Customize your newsletter to get articles on your favorite sports and teams. And the best part? It's free!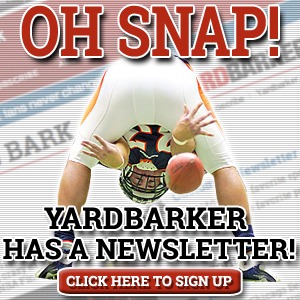 Latest Rumors
Best of Yardbarker

Today's Best Stuff

For Bloggers

Join the Yardbarker Network for more promotion, traffic, and money.

Company Info

Help

What is Yardbarker?

Yardbarker is the largest network of sports blogs and pro athlete blogs on the web. This site is the hub of the Yardbarker Network, where our editors and algorithms curate the best sports content from our network and beyond.