Found December 14, 2011 on Busted Coverage:
….counting down the days until the 2012 ESPYs when Tim Tebow and Lindsey Vonn announce that their relationship is on and that they "were just friends for at least 8 months" before taking things to the next level with friendship bracelets and Lindsey getting Tim's letterman jacket. The more we look into Vonn's antics back in November, the more we think she's been up to something with this Tebow character. Does it matter? It does if Baby Jesus helped break up a marriage.  While everyone is focused on Vonn attending Sunday's game against the Bears, it wasn't her first rodeo at Mile High. In fact, Vonn attended the Nov. 17 game against the Jets and seemed to have private box seats from what we can decipher from this Facebook photo. A couple days later the divorce papers were drawn up, according to this NY Times article.
I'm at the Broncos vs. Jets game in Denver. It's my first ever NFL game and I'm loving it! Go Broncos! :) xo LV
The facts: • Meets Tebow at ESPYs. • Becomes fast friends with Tebows (Robby & Timmy) • Attends Nov. 17 Broncos-Jets game • Nov. 20-ish files divorce papers • Dec. 7 she goes Tebowing after World Cup victory • Robby Tebow attends World Cup victory • Dec. 11 Lindsey Vonn attends Broncos game & sits in private Tebow family box The more we look at this story, the more angles it's taking. Is it possible Vonn is dating Robby instead of Timmy? Is Robby using his brother's fame to romance Vonn? Is Tebow helping to hook up his brother's chick who's still going through a divorce. [@RobbyTebow]  [Lindsey Vonn - Facebook]
Filed under: NFL
Original Story:
http://bustedcoverage.com/2011/12/14/...
THE BACKYARD
BEST OF MAXIM
RELATED ARTICLES
In case you haven't seen it every 10 minutes on ESPN's First Take, here's a relentlessly annoying video (unless you love to here Skip Bayless slurp on Tim Tebow) put together by DJ Steve Porter. You may remember Porter from the much better Decision remix. You won't be able to get Skip's whinny voice proclaiming, "Unleash!" out of your head for the rest of the day....
Ask and ye shall receive.  Responding to an outpouring of demand from fans looking for a Fathead of the Broncos quarterback in his now iconic pose, the Dan Gilbert owned company released the Tim Tebow "Tebowing" Fathead this past Tuesday, and I'll give you one guess as to which giant wall graphic is the top seller for the week. The 4-foot-5 by 4-foot-8 image of Tebow doing...
He's got folk hero status across the country. He's winning when everybody was betting against him. He's won over fans outside of football. Could Tim Tebow one day win elections like he's winning football games now? It's clearly way too soon to predict, before you scoff at the notion of an athlete leveraging success on the field or court to success in politics, remember...
Ladies and gentlemen, you may not have realized this, but until today, Tim Tebow's stranglehold on the media and pop culture wasn't quite complete. But now with the "Tim Tebow in 10 Hot Shots" "photo special" treatment from People, the Denver Broncos quarterback has finally arrived. The star treatment usually reserved for Hollywood hunks like [...]
In the updated fan vote totals for the Pro Bowl, the Broncos' Tim Tebow has the third-most tallies among AFC quarterbacks. This is significant because three quarterbacks are named to the Pro Bowl team. According to Mike Reiss of ESPNBoston.com, New England's Tom Brady has the most votes among AFC quarterbacks with 1.1 million. Pittsburgh's Ben Roethlisberger is second. Tebow...
Tim Tebow vs. Tom Brady:  Are they similar?  With the impending Sunday matchup of the New England Patriots and the Denver Broncos in Mile High Stadium, much has been made of the differences of the two quarterbacks Tom Brady and Tim Tebow.  Yes we know, Tom Brady is a pocket passer who meticulously reads defenses and uses his mind to overcome the opposition and Tebow uses his...
It has been a hectic, Tim Tebow-filled week in Patriots land. Sure, sure, we discussed other things, but no one dominated the discussion like the Broncos quarterback. Before we ship out to Denver to get ready for Sunday's matchup, colleague Karen Guregian and I broke down the week that was in our weekly video. Here it is, as edited by Bob Greim:
By Jeremy Gottlieb, Patriots Daily Staff It's finally here. The Patriots trip to Denver comes in just two days and that means it's time for them to get their taste of TEBOWMANIA! The Broncos QB is Tim Tebow, in case you haven't heard of him, and at last look, he's 7-1 as a starter, has his team in first place in its division and primed for the post-season and is able to leap...
Power rankings. You hate them. They're so arbitrary and pointless, especially when they include all 32 NFL teams. All you want to know after a good week of NFL action is who the bestest team in the NFL right now, and which one is the absolute barrel-scraping worst. That's why we have TOP AND BOTTOM OF THE NFL, where we go to great lengths to tell you who's the top dog in...
Broncos News

Delivered to your inbox

You'll also receive Yardbarker's daily Top 10, featuring the best sports stories from around the web. Customize your newsletter to get articles on your favorite sports and teams. And the best part? It's free!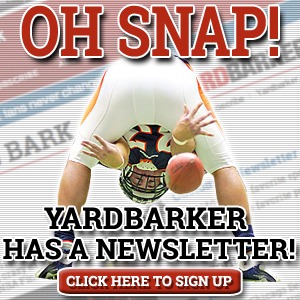 Latest Rumors
Best of Yardbarker

Today's Best Stuff

For Bloggers

Join the Yardbarker Network for more promotion, traffic, and money.

Company Info

Help

What is Yardbarker?

Yardbarker is the largest network of sports blogs and pro athlete blogs on the web. This site is the hub of the Yardbarker Network, where our editors and algorithms curate the best sports content from our network and beyond.