Posted November 14, 2012 on AP on Fox
PLAYERS:
Peyton Manning
,
Charles Johnson
,
Orlando Franklin
,
Ryan Clady
,
Zane Beadles
,
Dan Koppen
,
Chris Kuper
,
John Fox
,
Jay Cutler
,
Jake Plummer
,
Elvis Dumervil
,
D.J. Williams
TEAMS:
Carolina Panthers
,
Denver Broncos
,
Chicago Bears
(Eds: Updates with details. With AP Photos.) By EDDIE PELLS AP National Writer It's one thing to block for a quarterback. It's quite another when that quarterback is Peyton Manning, the NFL version of a national treasure. As soon as the Broncos signed Manning in the offseason, the stakes for the Denver offensive linemen rose considerably. For sure, nobody wants to be the guy who gives up a sack, and in this case, nobody wants to be the guy who gives up the hit that could do serious damage to their quarterback's surgically repaired neck. ''I don't know if you can say it's added pressure,'' offensive line coach Dave Magazu said. ''I think they respect the fact of who we have back there. If their job is to protect you as a quarterback back there, I believe they would put forth their best effort.'' So far, all is going well for Manning and his new line. Through nine games, the Broncos (6-3) have allowed only 11 sacks - tied with Houston for the least allowed and alone in the lead with the fewest number of sacks allowed per pass play. Before a protection mix-up in last week's game against Carolina, when Charles Johnson went in untouched for a sack and strip against Manning, the Broncos had gone three games without allowing a quarterback sack. Despite that hiccup, the linemen - Orlando Franklin, Ryan Clady, Zane Beadles, Dan Koppen and Chris Kuper - have done a solid job keeping Manning's jersey clean and his body free of injuries. ''They have done a great job and certainly every quarterback appreciates it when you don't get sacked,'' Manning said. That the Bronco linemen are turning into stout pass protectors is a tribute to the versatility every holdover from the 2011 offense has shown as Denver has transformed itself from a running to a passing team. Last year, with Tim Tebow at quarterback, Denver ran 56 percent of the time, and quite often against defenses playing eight- and nine-man fronts. This year, the Broncos throw it 57 percent of the time. A running game that finished last season ranked first has dropped to 22nd. A pass offense that finished last season ranked 31st is now third. Maybe most importantly, the Broncos won eight regular-season games last year; with a victory Sunday against the Chargers, they'll reach No. 7 this year before Thanksgiving. ''There's definitely a transition,'' Beadles said. ''But having a guy like Peyton, he knows where he's going with the ball. He gets rid of the ball. That's helped a lot with the transition. Now, we've kind of settled in. We've had a couple good games here and we've got to keep doing that.'' Manning will never be known as fleet and he certainly didn't win any style points with a six-yard scramble last Sunday that ended with him plunking awkwardly to the turf as he tried to slide legs-first but got tangled up by his knee brace. ''Not pretty,'' Manning called both the play and the ribbing that's ensued. But he has shown some nimbleness this year, picking and poking his way through the pocket, throwing on the run and sometimes across his body. As is the case with the relationship with his receivers, time has been Manning's biggest friend when it comes to building chemistry with the linemen. Manning's communication doesn't stop with his trademark audibles at the line of scrimmage. He is constantly coaching on the sideline. An NFL Films clip from last week's game shows him urging the linemen to put the mistakes behind them and get ready for the next series after the Broncos lost fumbles on consecutive drives against the Panthers. ''We kind of call it our `debriefing session,''' Manning said. ''We had some military guys come in and speak to us, and that was something that they talked about. So, Coach Fox really encouraged us to buy into it. It's something where Dan Koppen will say something, Zane will say something, and it's just everybody kind of saying, `Hey, what's going on out there, here's what I need to do better, here's what we can do better.' I think it's been pretty effective for us.'' Coach John Fox gives credit to the linemen, but says running backs, tight ends and receivers have also played into one of Denver's best seasons in the sack department. This team is still in the running to become only the third in Broncos history to allow fewer than 20 sacks. The 2008 team, with Jay Cutler at quarterback, allowed only 12, and the 2004 team, with Jake Plummer, allowed 15. ''It's guys in film study understanding what's happening before it happens,'' Fox said. What the linemen don't focus on, so much, is the resume of the man they're protecting. ''You can't consciously think about that,'' Beadles said. ''Nobody wants to be that guy who gives up the sack, obviously. That's our whole job. But you're not thinking about who's back there. You're thinking about your technique, what you've got to do to get the job done. That's pretty much it.'' Notes: DE Elvis Dumervil missed practice with a shoulder strain suffered in Sunday's game against Carolina. ... LB D.J. Williams said he felt good in his first practice of the season after missing nine games on suspension. ''Just good to be back out there,'' he said. He said he was nervous about getting winded but it turned out to not be a problem. Fox on Williams: ''He definitely has been working. He's been getting ready physically, paying attention in the meetings and he had a good first day.'' ... OL Chris Kuper (ankle) was limited. --- Online: http://pro32.ap.org/poll and http://twitter.com/AP-NFL --- AP Pro Football Writer Arnie Stapleton contributed to this report.
Original Story:
http://msn.foxsports.com/nfl/story/Li...
THE BACKYARD
BEST OF MAXIM
RELATED ARTICLES
Below is NFL Film's 'SoundFx' footage from Denver Broncos quarterback Peyton Manning's performance against the Carolina Panthers last weekend: Manning is on pace to break several of John Elway's franchise records with 4,808 passing yards and 36 scores through the air.  The Broncos, 6-3, currently lead the AFC West and will take on the 4-5 San Diego Chargers this weekend...
In the current 2012 NFL season, we have witnessed Peyton Manning's career revived after a serious neck injury that caused him to miss the entire 2011 season in Indianapolis. Many doubted Manning coming into the season saying things like "one hit and he's done" or "he can't throw the long ball". Well, most of these doubters have been hushed by Manning...
I don't.To me, the Patriots-Colts rivalry died with Peyton Manning's 1000th neck surgery. The whole rivalry was always more of a Brady vs Manning thing anyway. There was always the debate of who is better and the games seemed to be ways to find out, for some reason.I'm not sure how Colts fans feel, but honestly I don't give a crap about their team anymore. I actually...
Ryan Grigson came to Indianapolis with a plan to rebuild the Colts. A little more than eight months after cutting Peyton Manning, Indy (6-3) is in an improbable battle to make the playoffs. One of the reasons has been Grigson's penchant for finding talent. The first-year general manager has made all the right moves: drafting Andrew Luck, surrounding him with young teammates...
Per a report for the New York Daily News Gary Myers, New York Giants head coach Tom Coughlin was so frustrated with his 2-time Super Bowl MVP quarterback Eli Manning that he used "terrible" and "foolish" to describe instances where Manning should have protected the ball better versus trying to make a play. Coughlin typically generalizes his criticism publicly, rarely singling...
The NFL Pro-Bowl is still scheduled to take place after this season the week before the Super Bowl, unless Roger Goodell has anything to do with cancelling the All-Star game that features absolutely no defense and points galore. One special thing about selecting Pro-Bowl players is that it is not strictly up to the fans, so these players are not just the most popular. They are also...
Adrian Peterson has stiff competition for the Comeback Player of the Year award from Peyton Manning. Both are making strong cases for the award that will likely be decided in the final six games of the season.
Because he might be the best quarterback that the Patriots will face this year. Or maybe second best, behind Peyton Manning.The Patriots have really had a run of not so great quarterbacks. Really, other than Peyton I guess Joe Flacco's the best one?They've faced Jake Locker, Matt Hasselbeck, Kevin Kolb, Joe Flacco, Ryan Fitzpatrick, Peyton Manning, Russell Wilson, Mark Sanchez...
The word "elite" get thrown around in football a lot, but no one really knows what it refers to. Does it mean that player is currently Top 5 among their position? Does it mean they're Top 10 at their position all time? Or does it mean that they're a future hall of famer? To Phil Simms, it may be an even higher honor. Simms created some controversy on Monday when he said that...
The starting quarterback is the most important person on the football field at any given time, regardless of the team.  The quarterback is the general of the team and no matter if it is Peyton Manning or Blaine Gabbert they hold the future of your team in their hands.Now, I don't mean that the quarterback is necessarily the best player on the field.  We all know Adrian Peterson...
In my early years of being an NFL fan, one of the things that was a constant part of life was hating the Indianapolis Colts. The only reason I did so was because I was a New England Patriots fan and they were the biggest obstacle to my team being the best. Having started to follow the NFL (& Patriots) in the 2000 season and really beginning to pay attention in 2002; that was...
You'd think with Peyton Manning in Denver the once-fierce Colts-Patriots rivalry would be diminished. No such "Luck." Now that Indianapolis has its new franchise quarterback -- rookie Andrew Luck, the overall No. 1 pick in this year's draft -- it's become quite clear this rivalry could remain intense. Through nine games, Luck has looked incredibly poised...
NFL News

Delivered to your inbox

You'll also receive Yardbarker's daily Top 10, featuring the best sports stories from around the web. Customize your newsletter to get articles on your favorite sports and teams. And the best part? It's free!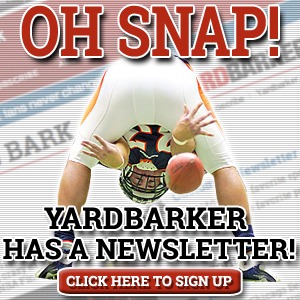 Latest Rumors
The Backyard

Today's Best Stuff

For Bloggers

Join the Yardbarker Network for more promotion, traffic, and money.

Company Info

Help

What is Yardbarker?

Yardbarker is the largest network of sports blogs and pro athlete blogs on the web. This site is the hub of the Yardbarker Network, where our editors and algorithms curate the best sports content from our network and beyond.