Found September 11, 2012 on Denver Sports Chat:
Denver, CO. Things could not have gone more perfectly for the Denver Broncos in week 1. A lot of the question marks this team had heading into the season seemed to be answered to varying degrees, and Peyton Manning proved he is far from washed up. The young receivers looked outstanding, as Demaryius Thomas running down the field in open space once again will haunt Pittsburgh fans for quite some time. The running game was serviceable, and did just enough to be effective. It was the defense though, that potentially made the biggest impression in the home opener. The pressure on the QB was very good, and the signing of Tracy Porter has already paid off. Porter sealed a Denver Broncos victory with a "pick-six" in the 4th quarter, and once again showed his innate ability to make game-changing plays. This defense showed some things that Broncos fans really haven't seen in several years. The tandem of Elvis Dumervil and Von Miller appear to be a duo that will harass opposing QB's for the next decade. Derek Wolfe is rapidly developing into a stud lineman to compliment those sack masters. Champ Bailey is still Champ Bailey, as his intelligence on the field just cannot be taught. It was the defense as a whole that showed marked improvement over previous years, and the ability to make huge plays is there now. But as nice as the win in week 1 was, this Denver Broncos team, and more specifically the defense, will face an entirely new challenge this Monday night. Facing Atlanta in their building will be a much tougher task for Miller, Dumervil, and the gang. The Falcons are already flying high, and looking to keep the air show rollin on Monday Night Football.





How good is Atlanta at home? Over the last four seasons, the Falcons are 26-6 in the Georgia Dome during the regular season. They have designed a team that utilizes the fast track there quite well, and their skill players are some of the league's best. Say what you will about Atlanta's ability to win in the playoffs, as that has obviously been a problem for a few years now. However, if anyone watched them in week 1 versus the Chiefs, this team is already firing on all cylinders. Matt Ryan is on the verge of becoming an elite NFL QB, and his weapons down the field are extremely dynamic. Roddy White can do it all, and is simply one of the best wideouts around. Julio Jones is now in his second year, and appears to be headed towards stardom. Jones is a freakish athlete, who can either run past defenders, or right over them. If an opposing defense focuses on stopping the passing game, they still have Michael Turner, who is a bowling ball on legs. The ageless Tony Gonzalez is still in the mix, and can still reel em in in the red zone. The bottom line is, the Denver Broncos are going to have their hands full trying to even contain this Falcons offense. Factor in that this will be Atlanta's home opener, and coming of a resounding blowout win over Kansas City, the home crowd will be juiced.
There are a few things that could be in Denver's favor in this matchup, though. Peyton Manning returns to a dome, where he excelled throughout his career in Indy. He looked really good outdoors against Pittsburgh, but may look even better in the air-conditioned Georgia Dome. If any balls sail or are off the mark, weather obviously cannot be to blame. Also, as great as the Falcons have been at home, one of their six losses during the past four years was to the Denver Broncos. The last time Denver traveled to Atlanta, the Broncos came out on top, 24-20. This game was back in the fall of 2008, and of course both teams rosters are drastically different now. But if John Fox wants to bring up this fact heading into this game, it could serve a purpose to give the team confidence that Atlanta can be beaten in their own building. It will be interesting to see how Peyton handles the crowd noise in the dome, and the various things he will do at the line of scrimmage to battle the hostile fans. It will also be interesting to see who the Broncos put Champ Bailey on. Do they put him on the veteran White, or the young stud Jones? However you wanna analyze this game, one thing should be for sure….the scoreboard should be getting quite a workout come Monday night.
Do the Denver Broncos have to win this game? Absolutely not. In fact, with the Falcons being favored, it would be a small surprise if they did. If Denver comes back to town at 1-1, it's really all anyone could have asked for after two weeks. After this road game, the Broncos have two home games, vs Houston and vs Oakland, which are much more important in the grand scheme of things. But if Denver can somehow outlast the Falcons and get a win, this 2-0 start could be what propels this team to huge things in 2012, and puts them right in the hunt in the AFC's elite.
Denver Sports by J Simp





The post New litmus test awaits Denver Broncos defense at Atlanta appeared first on Denver Sports Chat.
Original Story:
http://feedproxy.google.com/~r/Denver...
THE BACKYARD
BEST OF MAXIM
RELATED ARTICLES
Well, Peyton Manning-mania is in full bloom in Colorado, as mysterious crop circles emerge in the image of the star Broncos QB. OK, they're not mysterious. But it would better if aliens had left them behind.
Turns out, Peyton Manning does have a favorite wide receiver in Denver - the one who's open. That's the thing about the Broncos quarterback: He doesn't particularly play favorites. The four-time NFL MVP is so adept at spreading the wealth around that he's not choosy about his choices. All he demands is a little bit of open space. Manning completed passes to six...
Both the Broncos and Falcons are coming off of double-digit wins in Week 1, albeit against much different teams. The Broncos defeated the Steelers in Peyton Manning's Denver debut, while the Falcons easily defeated the lowly Chiefs, who are playing like the worst team in football right now. This game will be very evenly matched and will feature two explosive offenses. Peyton Manning...
Tonight should prove to be an exciting game when the Broncos roll into Atlanta to take on the Falcons.  Both of these teams had promising starts in week 1 and handled their opponents rather easily. Peyton Manning became the "Manning of Old" around the Broncos third or fourth drive last week, speeding up to the line and running a no huddle offense to perfection.  He has...
Matt Ryan and Peyton Manning will get into a classic QB duel tonight which will be great for fantasy football owners. Week two of the NFL season was filled with plenty of surprises, upsets, big plays and dominant fantasy football performances. So what can we expect in the final game of the week tonight when the Atlanta Falcons play host to Peyton Manning and the Denver Broncos...
Denver Broncos News The Denver Broncos face a tough test in three days when they face the Atlanta Falcons in the Georgia Dome. A win here could set the tone for very solid season, though a loss likely won't mean much as the Falcons are dominant in their own house. [DenverBroncos.com] The Playbook guys think Peyton Manning and the Broncos are poised to go 2-0 this week, with Von...
In just the second game of the season, the Atlanta Falcons will be on the big stage as they host Peyton Manning and the Denver Broncos. Earlier we looked at some keys for a Falcons victory. Now let's take a lap around the interweb and see who everyone is saying will win this battle.... Christopher Owens will need to be more than charming tonight Picking Broncos: ...
As long as you didn't do something silly like draft Peyton Manning No. 3 overall because you like his Buick commercial or take a kicker in the 5th round because he went to your college, you still have a good shot at the title.Be active and pay attention and you have a huge advantage against most of your competitors.Last season Cowboys running back Felix Jones suffered a high...
Denver Broncos (1-0) at Atlanta Falcons (1-0) If it wasn't for Green Bay/Chicago, this would be the game of the week. Actually, scratch that, Green Bay/Chicago was an incredibly ugly game that should have been the game of the week, but wasn't because teams only had 3 days to prepare and played much worse than they normally do. I hate this new one game on Thursday every week thing...
Monday Night Football!! I am loving this game between Atlanta and Denver. Two excellent QBs with excellent weapons. One trying to regain the title of best in the game after missing a year with injury and swapping teams. While the other is just trying to get into any conversation over the best in the game. He has the wins and stats, but no postseason success. But take heart Matty...
Affiliate – Will the Steelers rebound after losing to the Denver Broncos in Week 1? They will host the Jets this weekend and are currently the favorites to win. Right now the NFL odds board lists Pittsburgh as a six-point favorite, even though they were beaten pretty bad by the Broncos and the Jets looked dominant against the Buffalo Bills. Still, people realize the Steelers aren't...
Last week: 10-6 WEEK 2 THURSDAY Bears @ Packers MY PICK SUNDAY Kansas City Chiefs (0-1) @ Buffalo Bills (0-1) 1 p.m. Both of these teams have high expectations for their season, especially the Bills after they rebuilt their defensive line.  Last week they looked bad against the Jets on offense, defense and special teams. The good news is that they have no where to...
Broncos News

Delivered to your inbox

You'll also receive Yardbarker's daily Top 10, featuring the best sports stories from around the web. Customize your newsletter to get articles on your favorite sports and teams. And the best part? It's free!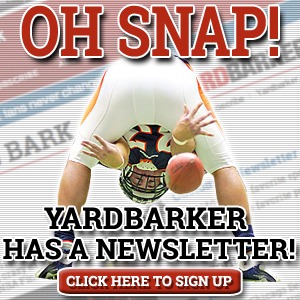 Latest Rumors
Best of Yardbarker

Today's Best Stuff

For Bloggers

Join the Yardbarker Network for more promotion, traffic, and money.

Company Info

Help

What is Yardbarker?

Yardbarker is the largest network of sports blogs and pro athlete blogs on the web. This site is the hub of the Yardbarker Network, where our editors and algorithms curate the best sports content from our network and beyond.